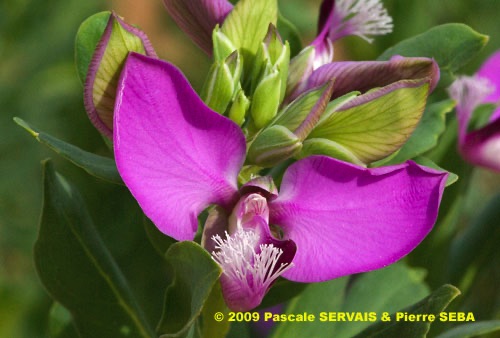 © Pascale SERVAIS & Pierre SEBA, 2018. Tilo Botanica: Flore de Tilos et du Dodécanèse / Flora of Tilos and of the Dodecanese
English translation by Brenda Bradbury, Howard Bradbury and Stéphane Léonard
Arbrisseau hermaphrodite, à rameaux érigés, très ramifiés, poilus. Plante originaire d'Afrique du Sud.
Feuilles alternes, simples, elliptiques à oblongues, entières, étroites, persistantes, à limbe glabre et à nervures poilues, dépourvues de stipules.
Fleurs à symétrie bilatérale, mauves, lilas, roses ou blanches, de 15 à 20 mm de long, réunies en courtes grappes terminales de 3 à 6 cm de long. Corolle à 3 pétales soudés, veinés de mauve vif, l'inférieur plus grand et caréné. Carène à apex violet. Calice à 5 sépales libres, 3 petits, herbacés et 2 plus grands (ailes), disposés latéralement, pétaloïdes et veinés. 8 étamines bifides, saillantes, retroussées, à filets soudés entre eux. 1 style, 2 stigmates. Ovaire supère.
Fruits, capsules membraneuses, ailées, sèches, aplaties, d'environ 1 cm de long, à 2 loges contenant chacune 1 graine dure, pendante, ovoïde, brun foncé brillant.
___________________________
Shrub hermaphrodite, native to South Africa. Branches erect, very branched, hairy.
Leaves alternate, simple, elliptic to oblong, entire, narrow, persistent, with a glabrous blade and hairy veins, without stipules.
Flowers bilaterally symmetrical, mauve, lilac, pink or white, from 15 to 20 mm long, joined together in short terminal racemes from 3 to 6 cm long. Corolla with 3 fused petals, with bright mauve veins, the inferior one larger and carinate. Keel with a violet apex. Calyx with 5 free sepals, 3 small, herbaceous and 2 larger (wings), laid out laterally, petaloid and veined. 8 bifid, protruding, rolled up stamens, with filaments fused with each other. 1 style, 2 stigmas. Ovary superior.
Fruits, membranous, winged, dry, flattened capsules, from approximately 1 cm long, with 2 loculi each one containing 1 hard, hanging, ovoid, bright dark brown seed.
Descripteurs / Identifying features: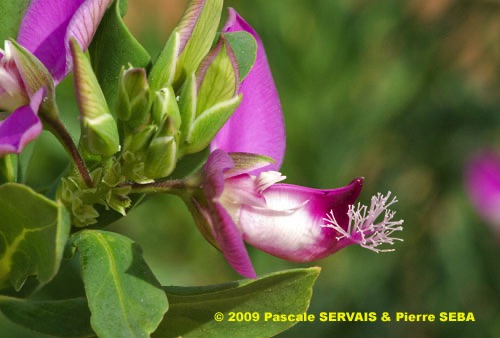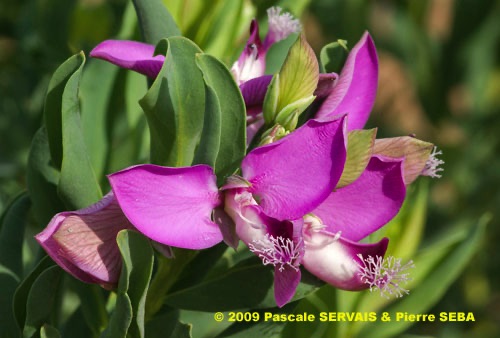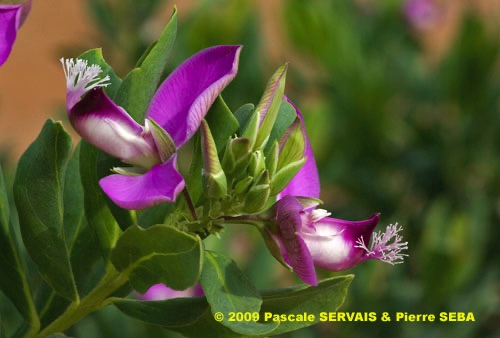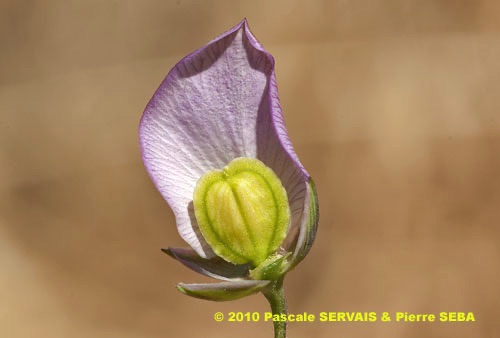 Étymologie / Etymology :
Polygala : emprunt du latin polygala, -ae (nom) = le polygala, nom donné
à la plante par Pline, naturaliste latin mort en 79 apr. J.-C.,
forme latinisée du grec ancien πολύγαλον, -ου (nom)
[ < πολύς, πολλή, πολύ (adj.) = beaucoup + γάλα, γάλακτος (nom)
= le lait ] = le polygala, nom donné à la plante par Dioscoride, médecin
et botaniste grec mort en 90 apr. J.-C., en référence à la croyance que
le bétail qui broute cette plante produit plus de lait.
Myrtifolia : adjectif créé par les botanistes [ < myrtus (murtus), -i (nom)
= le myrte + folium, -i (nom) = la feuille ] = à feuilles de myrte, qui a
des feuilles semblables à celles du myrte.
Polygala : borrowed from Latin polygala, -ae (noun) = milkwort, name
given to the plant by Plinius, Latin naturalist died in 79 AD, Latinized
form of the Classical Greek πολύγαλον, -ου (noun)
[ < πολύς, πολλή, πολύ (adj) = beaucoup + γάλα, γάλακτος (noun)
= le lait ] = milkwort, name given to the plant by Dioscorides, Greek
doctor and botanist died in 90 AD, referring to the belief that cattle
grazing this plant produces more milk.
Myrtifolia : adjective created by botanists [ < myrtus (murtus), -i
(noun) = myrtle + folium, -i (noun) = leaf ] = with myrtle-like leaves,
which has leaves similar to those of the myrtle.
Synonyme / Synonym :
Psychanthus myrtifolius (L.) Raf.
Noms vernaculaires / Common names :
Noms français / French names :
Polygala à feuilles de myrte — Polygale à feuilles de myrte.
Noms grecs / Greek names :
Πολυγάλα μυρτόφυλλος — Πολυγάλα το μυρτόφυλλον.
Noms anglais / English names :
Butterfly bush — Cape milkwort — Myrtle-leaf milkwort —
September bush.
Habitat :
Jardins.
Gardens.
Île / Island :
Tilos.
Hauteur / Height range :
De 50 cm à 2 m.
From 50 cm to 2 m.
Floraison / Flowering time :
De février à novembre.
From February to November.
Groupe / Classification :
Dicotylédones.
Dicotyledons.
Pérennité / Lifespan :
Vivace.
Perennial.
Description :
Descripteurs distinctifs des 3 espèces / Distinctive identifying features of the 3 species
Photo 1 :
Localisation / Location : Tilos, Livadia
Date : 15/10/2009
GPS : Lat. 36,41624° N / Long. 27,38539° E / Alt. 5 m
Type : Photographie numérique / Digital Photograph (10 mégapixels)
Photo 2 :
Localisation / Location : Tilos, Livadia
Date : 15/10/2009
GPS : Lat. 36,41624° N / Long. 27,38539° E / Alt. 5 m
Type : Photographie numérique / Digital Photograph (10 mégapixels)
Photo 3 :
Localisation / Location : Tilos, Livadia
Date : 15/10/2009
GPS : Lat. 36,41624° N / Long. 27,38539° E / Alt. 5 m
Type : Photographie numérique / Digital Photograph (10 mégapixels)
Photo 4 :
Localisation / Location : Tilos, Livadia
Date : 15/10/2009
GPS : Lat. 36,41624° N / Long. 27,38539° E / Alt. 5 m
Type : Photographie numérique / Digital Photograph (10 mégapixels)
Photo 5 :
Localisation / Location : Tilos, Livadia
Date : 07/05/2010
GPS : Lat. 36,41322° N / Long. 27,38379° E / Alt. 19 m
Type : Photographie numérique / Digital Photograph (10 mégapixels)
Photo 6 :
Localisation / Location : Tilos, Livadia
Date : 15/10/2009
GPS : Lat. 36,41624° N / Long. 27,38539° E / Alt. 5 m
Type : Photographie numérique / Digital Photograph (10 mégapixels)