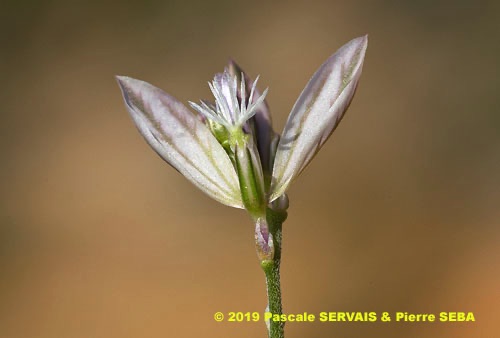 © Pascale SERVAIS & Pierre SEBA, 2019. Tilo Botanica: Flore de Tilos et du Dodécanèse / Flora of Tilos and of the Dodecanese
English translation by Brenda Bradbury, Howard Bradbury and Stéphane Léonard
Plante herbacée, hermaphrodite, à tiges peu ramifiées, dressées, à petits poils fins appliqués, sans rosette de feuilles à la base.
Feuilles alternes, simples, linéaires à lancéolées, longues de 10 à 25 mm, glabres, ciliées (poils très courts), à sommet très aigu, sans stipules.
Fleurs à symétrie bilatérale, mauves ou blanchâtres, de 6 à 8 mm de long, réunies en grappes lâches de 5 à 15 cm de long. Calice à 2 grandes ailes de 6 à 9 mm de long, blanc verdâtre, jusqu'à 2 fois plus longues que les pétales. Carène à large crête. Ovaire supère.
Fruits, capsules sessiles, sèches, aplaties, à 2 loges, chacune à une graine.
___________________________
Plant herbaceous, hermaphrodite. Stems not very branched, erect, with small, thin, appressed hairs, without a rosette of leaves at the base.
Leaves alternate, simple, linear to lanceolate, from 10 to 25 mm long, glabrous, ciliate (very short hairs), with a very acute top, without stipules.
Flowers bilaterally symmetrical, mauve or whitish, from 6 to 8 mm long, joined together in loose racemes from 5 to 15 cm long. Calyx with 2 large wings from 6 to 9 mm long, greenish white, up to twice longer than the petals. Keel with a wide crest. Ovary superior.
Fruits, sessile, dry, flattened capsules, with 2 loculi, each one with a seed.
Descripteurs / Identifying features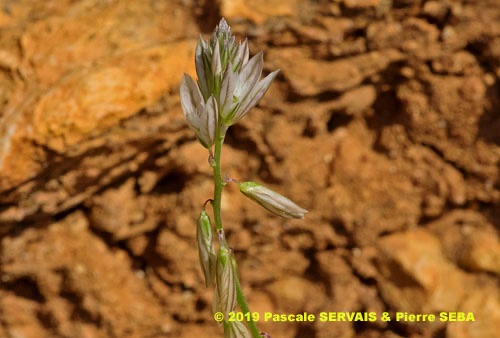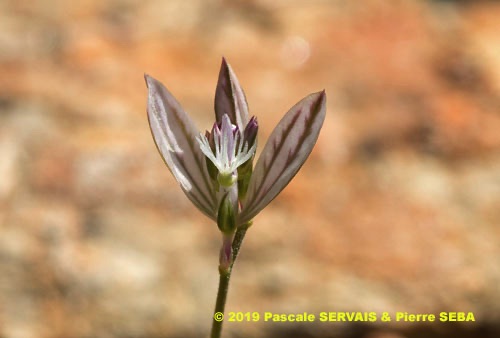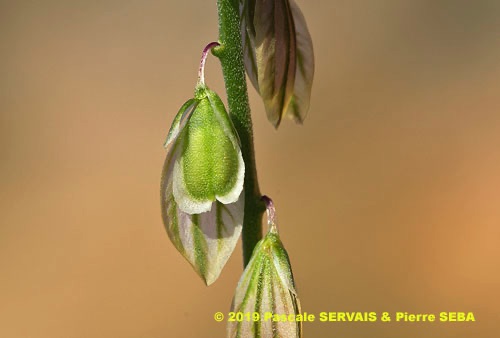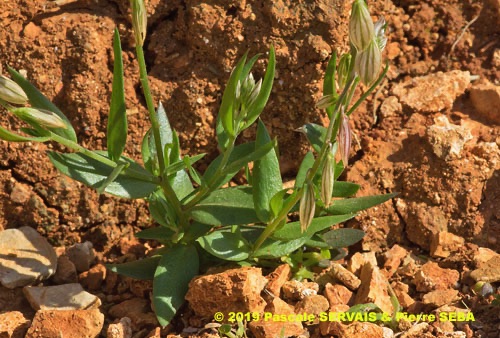 Étymologie / Etymology :
Polygala : emprunt du latin polygala, -ae (nom) = le polygala, nom donné
à la plante par Pline, naturaliste latin mort en 79 apr. J.-C.,
forme latinisée du grec ancien πολύγαλον, -ου (nom)
[ < πολύς, πολλή, πολύ (adj.) = beaucoup + γάλα, γάλακτος (nom)
= le lait ] = le polygala, nom donné à la plante par Dioscoride, médecin
et botaniste grec mort en 90 apr. J.-C., en référence à la croyance que
le bétail qui broute cette plante produit plus de lait.
Monspeliaca : emprunt du latin médiéval monspeliacus, -a, -um (adj.)
= de Montpellier, qui vient de Montpellier (ville du sud de la France).
Polygala : borrowed from Latin polygala, -ae (noun) = milkwort, name
given to the plant by Plinius, Latin naturalist died in 79 AD, Latinized
form of the Classical Greek πολύγαλον, -ου (noun)
[ < πολύς, πολλή, πολύ (adj) = much, a lot + γάλα, γάλακτος (noun)
= le lait ] = milkwort, name given to the plant by Dioscorides, Greek
doctor and botanist died in 90 AD, referring to the belief that cattle
grazing this plant produces more milk.
Monspeliaca : borrowed from medieval Latin monspeliacus, -a, -um (adj)
= of or from Montpellier (a city in southern France).
Synonymes / Synonyms :
Polygala glumacea Sm.
Polygala sicula Ten. ex Tornab.
Polygala straminea C.Presl
Tricholophus monspeliacus (L.) Spach
Noms vernaculaires / Common names :
Noms français / French names :
Polygala de Montpellier — Polygale de Montpellier.
Nom anglais / English name :
Mediterranean milkwort.
Nom allemand / German name :
Montpellier-Kreuzblume.
Nom italien / Italian name :
Poligala di Montpellier.
Habitat :
Forêts - Lieux pierreux - Lieux incultes - Chemins.
Forests - Stony places - Waste ground - Waysides.
Île / Island :
Tilos.
Hauteur / Height range :
De 5 cm à 30 cm.
From 5 cm to 30 cm.
Floraison / Flowering time :
De février à juillet.
From February to July.
Groupe / Classification :
Dicotylédones.
Dicotyledons.
Pérennité / Lifespan :
Annuelle.
Annual.
Description :
Clés dichotomiques et descripteurs distinctifs des 3 espèces / Dichotomous keys and distinctive identifying features of the 3 species
Photo 1 :
Localisation / Location : Tilos, Aghios Stephanos
Date : 02/04/2019
GPS : Lat. 36,41156° N / Long. 27,40195° E / Alt. 3 m
Type : Photographie numérique / Digital Photograph (24 mégapixels)
Photo 2 :
Localisation / Location : Tilos, Aghios Stephanos
Date : 02/04/2019
GPS : Lat. 36,41156° N / Long. 27,40195° E / Alt. 3 m
Type : Photographie numérique / Digital Photograph (24 mégapixels)
Photo 3 :
Localisation / Location : Tilos, Aghios Stephanos
Date : 02/04/2019
GPS : Lat. 36,41156° N / Long. 27,40195° E / Alt. 3 m
Type : Photographie numérique / Digital Photograph (24 mégapixels)
Photo 4 :
Localisation / Location : Tilos, Aghios Stephanos
Date : 02/04/2019
GPS : Lat. 36,41156° N / Long. 27,40195° E / Alt. 3 m
Type : Photographie numérique / Digital Photograph (24 mégapixels)
Photo 5 :
Localisation / Location : Tilos, Aghios Stephanos
Date : 02/04/2019
GPS : Lat. 36,41156° N / Long. 27,40195° E / Alt. 3 m
Type : Photographie numérique / Digital Photograph (24 mégapixels)
Photo 6 :
Localisation / Location : Tilos, Aghios Stephanos
Date : 02/04/2019
GPS : Lat. 36,41156° N / Long. 27,40195° E / Alt. 3 m
Type : Photographie numérique / Digital Photograph (24 mégapixels)