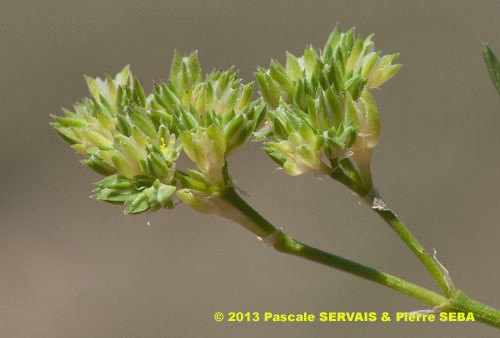 Polycarpon tetraphyllum (L.) L.
© Pascale SERVAIS & Pierre SEBA, 2018. Tilo Botanica: Flore de Tilos et du Dodécanèse / Flora of Tilos and of the Dodecanese
English translation by Brenda Bradbury, Howard Bradbury and Stéphane Léonard
Plante herbacée, hermaphrodite, en touffe étalée à prostrée, à tiges glabres, cylindriques, très ramifiées, vertes teintées de rouge.
Feuilles opposées ou verticillées par 4, simples, ovales, entières, vertes ou pourprées, courtement pétiolées, de 7 à 15 mm de long, de 5 à 10 mm de large. Stipules membraneuses blanchâtres, un peu charnues.
Fleurs à symétrie radiaire, blanches, de 2 à 3 mm de diamètre, réunies en bouquets compacts de 8 à 25 mm de large. Corolle à 5 pétales libres, échancrés, plus courts que les sépales. Calice à 5 sépales libres, verts, fortement carénés, glabres, à larges bords blancs, aigus au sommet. 3 à 5 étamines. Style trilobé. Ovaire supère.
Fruits, capsules vertes, ovales, glabres, de 2 mm de diamètre, plus courtes que le calice persistant qui les entoure.
___________________________
Plant herbaceous, hermaphrodite, tufted, spread out to prostrate. Stems glabrous, cylindrical, very branched, green tinted of red.
Leaves opposite or whorled by 4, simple, ovate, entire, green or purplish, a little petiolate, from 7 to 15 mm long, from 5 to 10 mm across. Stipules membranous, whitish, a little fleshy.
Flowers radially symmetrical, white, from 2 to 3 mm in diameter, joined together in compact clusters from 8 to 25 mm across. Corolla with 5 free, indented petals, shorter than the sepals. Calyx with 5 free, green, strongly keeled sepals, glabrous, with wide white edges, acute at the top. 3 to 5 stamens. Style three-lobed. Ovary superior.
Fruits, green, ovate, glabrous capsules, 2 mm in diameter, shorter than the persistent calyx which surrounds them.
Descripteurs / Identifying features: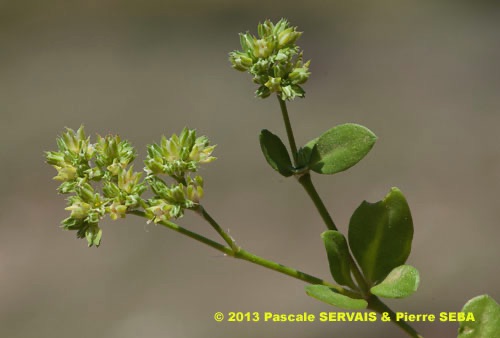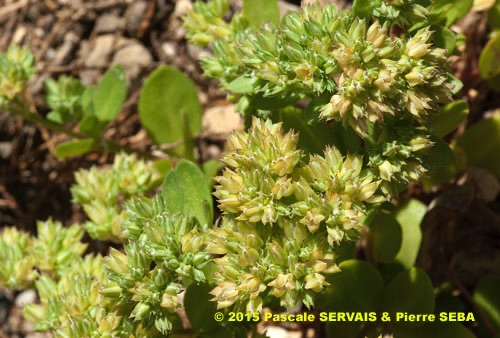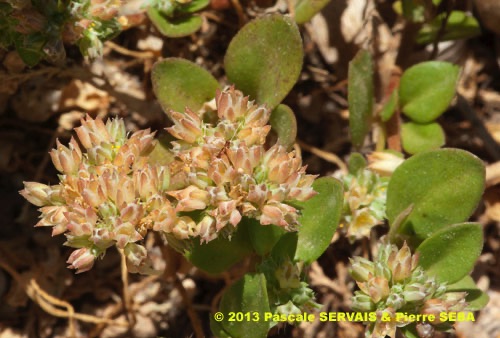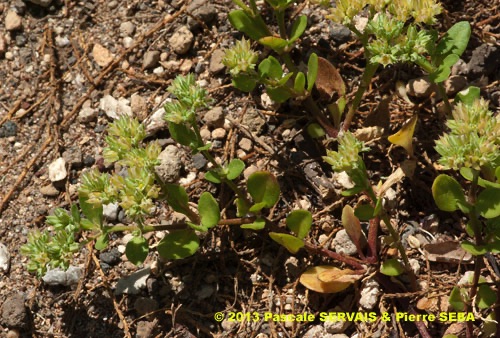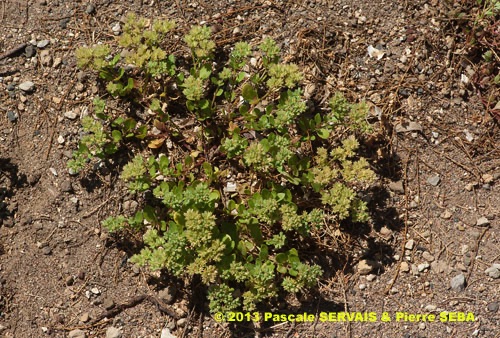 Étymologie / Etymology :
Polycarpon : emprunt du latin polycarpos, -i (nom) = la renouée, forme
latinisée du grec ancien πολύκαρπος, -ου (adj.)
[ < πολύς, πολλή, πολύ (adj.) = beaucoup + καρπός, -ου (nom)
= le fruit ] = qui a beaucoup de fruits, en référence aux inflorescences
qui portent beaucoup de fruits.
Tetraphyllum : adjectif créé par les botanistes [ < τετρα- (préfixe)
= quatre + φύλλον, -ου (nom) = la feuille ] = à quatre feuilles,
en référence aux feuilles verticillées par 4.
Polycarpon : borrowed from Latin polycarpos, -i (noun) = knotweed,
Latinized form of the Classical Greek πολύκαρπος, -ου (adj)
[ < πολύς, πολλή, πολύ (adj) = many + καρπός, -ου (noun) = fruit ]
= that has a lot of fruits, referring to the inflorescences that bear
many fruits.
Tetraphyllum : adjective created by botanists [ < τετρα- (prefix) = four
+ φύλλον, -ου (noun) = leaf ] = with four leaves, referring to the
leaves whorled by 4.
Synonymes / Synonyms :
Alsine polycarpon Crantz
Holosteum tetraphyllum (L.) Thunb.
Mollugo tetraphylla L.
Noms vernaculaires / Common names :
Noms français / French names :
Polycarpe à quatre feuilles —
Polycarpon à feuilles par quatre —
Polycarpon à quatre feuilles.
Noms anglais / English names :
Four-leaved allseed — Fourleaf manyseed.
Nom allemand / German name :
Vierblättriges Nagelkraut.
Nom italien / Italian name :
Migliarina a quattro foglie.
Habitat :
Cultures - Lieux incultes - Sols sableux.
Cultivated places - Waste ground - Sandy soils.
Île / Island :
Tilos.
Hauteur / Height range :
De 5 cm à 10 cm.
From 5 cm to 10 cm.
Floraison / Flowering time :
De mars à juillet.
From March to July.
Groupe / Classification :
Dicotylédones.
Dicotyledons.
Pérennité / Lifespan :
Annuelle.
Annual.
Description :
Photo 1 :
Localisation / Location : Tilos, Erystos
Date : 30/04/2013
GPS : Lat. 36,43269° N / Long. 27,35234° E / Alt. 3 m
Type : Photographie numérique / Digital Photograph (10 mégapixels)
Photo 2 :
Localisation / Location : Tilos, Erystos
Date : 30/04/2013
GPS : Lat. 36,43269° N / Long. 27,35234° E / Alt. 3 m
Type : Photographie numérique / Digital Photograph (10 mégapixels)
Photo 3 :
Localisation / Location : Tilos, Erystos
Date : 30/04/2013
GPS : Lat. 36,43269° N / Long. 27,35234° E / Alt. 3 m
Type : Photographie numérique / Digital Photograph (10 mégapixels)
Photo 4 :
Localisation / Location : Tilos, Erystos
Date : 30/04/2013
GPS : Lat. 36,43269° N / Long. 27,35234° E / Alt. 3 m
Type : Photographie numérique / Digital Photograph (10 mégapixels)
Photo 5 :
Localisation / Location : Tilos, Erystos
Date : 30/04/2013
GPS : Lat. 36,43269° N / Long. 27,35234° E / Alt. 3 m
Type : Photographie numérique / Digital Photograph (10 mégapixels)
Photo 6 :
Localisation / Location : Tilos, Erystos
Date : 30/04/2013
GPS : Lat. 36,43269° N / Long. 27,35234° E / Alt. 3 m
Type : Photographie numérique / Digital Photograph (10 mégapixels)