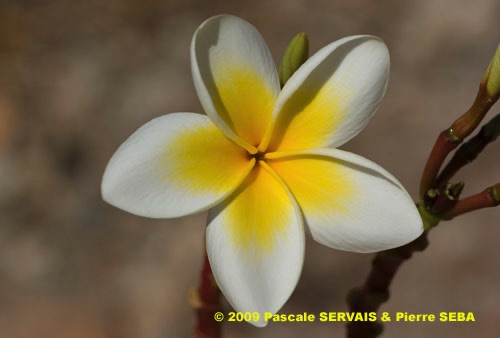 © Pascale SERVAIS & Pierre SEBA, 2018. Tilo Botanica: Flore de Tilos et du Dodécanèse / Flora of Tilos and of the Dodecanese
English translation by Brenda Bradbury, Howard Bradbury and Stéphane Léonard
Arbrisseau hermaphrodite, originaire d'Amérique centrale. Rameaux érigés, glabres, longs, nus, abondamment marqués de cicatrices laissées par les anciennes feuilles, ce qui lui confère un aspect raboteux. Plante sécrétant un latex blanc quand on la coupe, à écorce mince et fragile.
Feuilles alternes, groupées au sommet des branches, simples, lancéolées à elliptiques, entières, glabres, de 25 à 45 cm de long, caduques, à nervures saillantes pennées.
Fleurs à symétrie radiaire, blanches à centre jaune, de 4 à 6 cm de diamètre, réunies en panicules de 12 à 20 cm, à parfum agréable. Corolle à 5 pétales soudés à la base, à tube étroit, poilu à l'intérieur. Calice à 5 sépales libres, vert rougeâtre, de 1 à 2 mm de long. 5 étamines au fond de la gorge. 1 style, 1 stigmate. Ovaire supère.
Fruits, follicules coriaces, allongés, de 15 à 30 cm de long, brun noirâtre, lisses, persistant sur l'arbre. Graines plates, avec une aile membraneuse.
___________________________
Shrub hermaphrodite, native to Central America. Branches erect, glabrous, long, naked, abundantly marked with scars left by the old leaves, which give it a rough aspect. Plant secreting a white latex when it is cut, with a thin and brittle bark.
Leaves alternate, grouped at the top of the branches, simple, lanceolate to elliptic, entire, glabrous, from 25 to 45 cm long, deciduous, with pinnate protruding veins.
Flowers radially symmetrical, white with a yellow centre, from 4 to 6 cm in diameter, joined together in panicles from 12 to 20 cm, with a pleasant smell. Corolla with 5 partly fused petals, with a narrow tube, hairy inside. Calyx with 5 free, reddish green sepals, from 1 to 2 mm long. 5 stamens at the bottom of the throat. 1 style, 1 stigma. Ovary superior.
Fruits, tough follicles, lengthened, brown blackish, smooth, from 15 to 30 cm long, persistent on the tree. Seeds flat, with a membranous wing.
Descripteurs / Identifying features: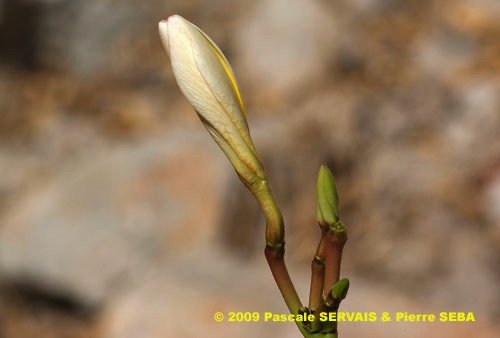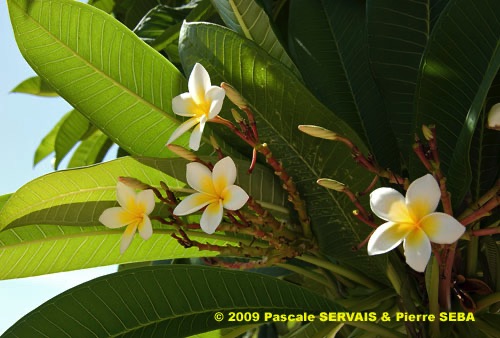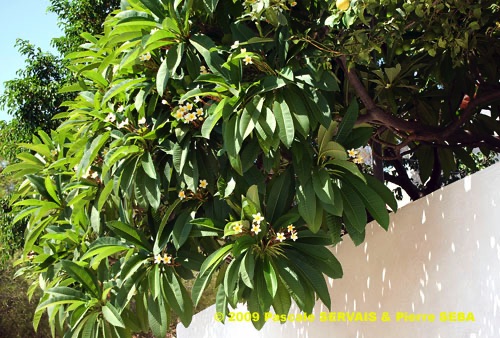 Étymologie / Etymology :
Plumeria : nom donné en l'honneur de Charles Plumier (1646-1704),
moine marseillais qui a étudié la flore américaine.
Alba : emprunt du latin albus, -a, -um (adj.) = blanc.
Plumeria : name given in honour of Charles Plumier (1646-1704),
monk from Marseilles who studied American flora.
Alba : borrowed from Latin albus, -a, -um (adj) = white.
Synonyme / Synonym :
—
Noms vernaculaires / Common names :
Noms français / French names :
Fleur des temples — Frangipanier — Frangipanier blanc.
Noms anglais / English names :
Caterpillar-tree — Indian jasmine — Milktree — Nosegay tree —
Pagoda-tree — Pigeonwood — White frangipani — Wild frangipani.
Habitat :
Jardins.
Gardens.
Île / Island :
Tilos.
Hauteur / Height range :
De 1,50 m à 5 m.
From 1.50 m to 5 m.
Floraison / Flowering time :
De juin à novembre.
From June to November.
Groupe / Classification :
Dicotylédones.
Dicotyledons.
Pérennité / Lifespan :
Vivace.
Perennial.
Description :

Photo 1 :
Localisation / Location : Tilos, Megalochorio
Date : 12/10/2009
GPS : Lat. 36,45420° N / Long. 27,34475° E / Alt. 85 m
Type : Photographie numérique / Digital Photograph (10 mégapixels)
Photo 2 :
Localisation / Location : Tilos, Megalochorio
Date : 12/10/2009
GPS : Lat. 36,45420° N / Long. 27,34475° E / Alt. 85 m
Type : Photographie numérique / Digital Photograph (10 mégapixels)
Photo 3 :
Localisation / Location : Tilos, Megalochorio
Date : 13/09/2008
GPS : Lat. 36,45420° N / Long. 27,34475° E / Alt. 85 m
Type : Photographie numérique / Digital Photograph (10 mégapixels)
Photo 4 :
Localisation / Location : Tilos, Megalochorio
Date : 14/10/2009
GPS : Lat. 36,45420° N / Long. 27,34475° E / Alt. 85 m
Type : Photographie numérique / Digital Photograph (10 mégapixels)
Photo 5 :
Localisation / Location : Tilos, Megalochorio
Date : 13/09/2008
GPS : Lat. 36,45420° N / Long. 27,34475° E / Alt. 85 m
Type : Photographie numérique / Digital Photograph (10 mégapixels)