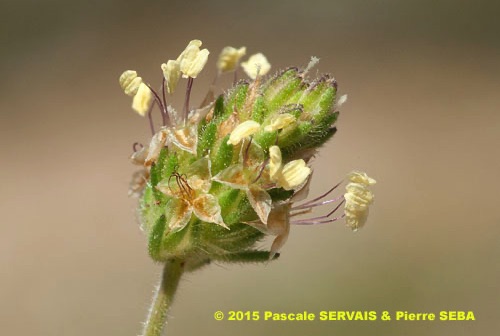 © Pascale SERVAIS & Pierre SEBA, 2018. Tilo Botanica: Flore de Tilos et du Dodécanèse / Flora of Tilos and of the Dodecanese
English translation by Brenda Bradbury, Howard Bradbury and Stéphane Léonard
Plante herbacée, hermaphrodite, à tiges dressées ou ascendantes, nettement poilues, feuillées, glanduleuses et visqueuses au sommet.
Feuilles opposées, rarement verticillées par 3, simples, étroites, linéaires à lancéolées, entières ou peu dentées, de 8 cm de long au plus, couvertes de poils glanduleux.
Fleurs à symétrie radiaire, blanc brunâtre, de 2,5 à 5 mm de diamètre, à l'aisselle de petites bractées ovales, aiguës et d'égale longueur, réunies en épis ovoïdes et presque globuleux, d'environ 6 mm de diamètre et de 12 mm de long, portés par un long pédoncule à l'aisselle des feuilles supérieures. Calice à 4 sépales ovales, aigus, égaux entre eux. Ovaire supère.
Fruits, capsules à graines oblongues.
___________________________
Plant herbaceous, hermaphrodite. Stems erect or ascending, definitely hairy, leafy, glandulous and viscous at the top.
Leaves opposite, seldom whorled by 3, simple, narrow, linear to lanceolate, entire or little toothed, 8 cm long at most, covered in glandulous hairs.
Flowers radially symmetrical, brownish white, from 2.5 to 5 mm in diameter, at the axil of small ovate and acute bracts equal length, joined together in ovoid and almost globose spikes, approximately 6 mm in diameter and 12 mm long, carried by a long peduncle at the axil of the upper leaves. Calyx with 4 ovate and acute sepals, equal to each other. Ovary superior.
Fruits, capsules with oblong seeds.
Descripteurs / Identifying features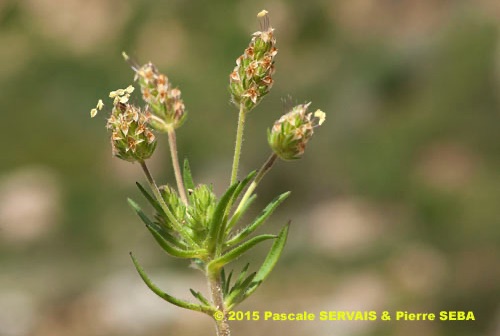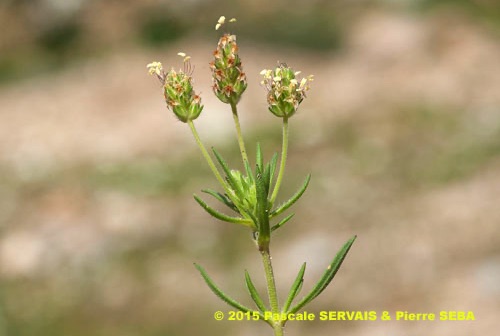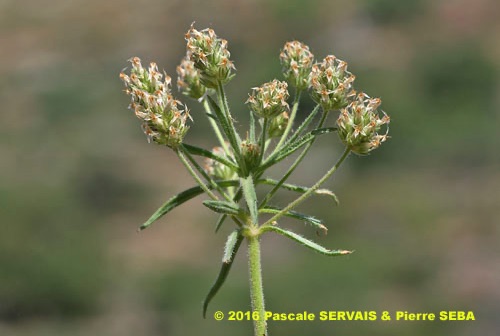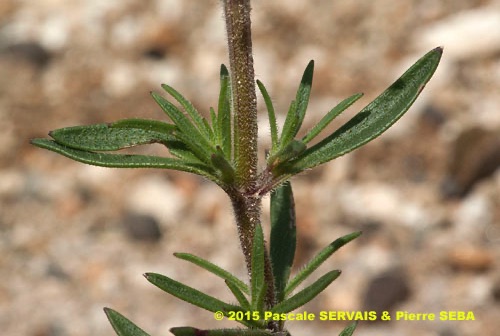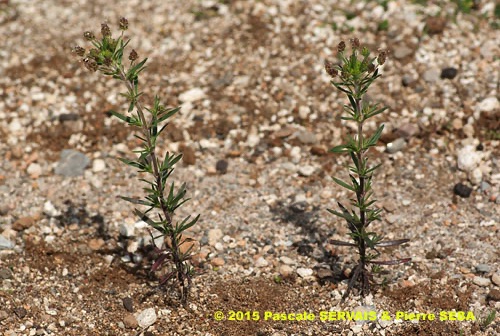 Étymologie / Etymology :
Plantago : emprunt du latin plantago, -inis (nom) [ < planta, -ae (nom)
= la plante + ago, -is, -ere (verbe) = faire, agir ] = le plantain, nom
donné à la plante par Pline, naturaliste latin mort en 79 apr. J.-C.,
en référence à ses nombreuses propriétés médicinales.
Afra : emprunt du latin afer, -ra, -rum (adj.) = africain, d'Afrique.
Plantago : borrowed from Latin plantago, -inis (noun)
[ < planta, -ae (noun) = plant + ago, -is, -ere (verb) = to do, to act ]
= plantain, name given to the plant by Plinius, Latin naturalist died
in 79 AD, referring to its medicinal properties.
Afra : borrowed from Latin afer, -ra, -rum (adj) = African, of or
from Africa.
Synonymes / Synonyms :
Plantago psyllium L.
Plantago cynops L.
Plantago durandoi Pomel
Plantago garganica Decne.
Plantago parviflora Desf.
Plantago pseudopsyllium Decne.
Plantago sicula C.Presl
Plantago squalida Salisb.
Plantago stricta Schousb.
Psyllium afrum (L.) Mirb.
Psyllium parviflorum Mirb.
Psyllium squalidum (Salisb.) Soják
Noms vernaculaires / Common names :
Noms français / French names :
Herbe aux puces — Plantain pucier — Pucier.
Noms grecs / Greek names :
Πεντάνευρο — Ψυλλόχορτο.
Noms anglais / English names :
Glandular plantain — Psyllion.
Noms allemands / German names :
Floh-Wegerich — Flohsamen-Wegerich — Flohsamenwegerich —
Sand-Wegerich.
Nom espagnol / Spanish name :
Zaragatona.
Noms italiens / Italian names :
Piantaggine pulicaria — Psillio.
Habitat :
Cultures - Lieux pierreux - Lieux incultes - Chemins.
Cultivated places - Stony places - Waste ground - Waysides.
Île / Island :
Tilos.
Hauteur / Height range :
De 10 cm à 50 cm.
From 10 cm to 50 cm.
Floraison / Flowering time :
De mars à juillet.
From March to July.
Groupe / Classification :
Dicotylédones.
Dicotyledons.
Pérennité / Lifespan :
Annuelle.
Annual.
Description :
Clés dichotomiques et descripteurs distinctifs des 7 espèces / Dichotomous keys and distinctive identifying features of the 7 species
Photo 1 :
Localisation / Location : Tilos, Megalochorio (gorges / gorge)
Date : 15/03/2015
GPS : Lat. 36,44379° N / Long. 27,36151° E / Alt. 56 m
Type : Photographie numérique / Digital Photograph (10 mégapixels)
Photo 2 :
Localisation / Location : Tilos, Megalochorio (gorges / gorge)
Date : 15/03/2015
GPS : Lat. 36,44379° N / Long. 27,36151° E / Alt. 56 m
Type : Photographie numérique / Digital Photograph (10 mégapixels)
Photo 3 :
Localisation / Location : Tilos, Megalochorio (gorges / gorge)
Date : 15/03/2015
GPS : Lat. 36,44379° N / Long. 27,36151° E / Alt. 56 m
Type : Photographie numérique / Digital Photograph (10 mégapixels)
Photo 4 :
Localisation / Location : Tilos, Megalochorio (environs / surroundings)
Date : 17/04/2016
GPS : Lat. 36,45109° N / Long. 27,34014° E / Alt. 23 m
Type : Photographie numérique / Digital Photograph (24 mégapixels)
Photo 5 :
Localisation / Location : Tilos, Megalochorio (gorges / gorge)
Date : 15/03/2015
GPS : Lat. 36,44379° N / Long. 27,36151° E / Alt. 56 m
Type : Photographie numérique / Digital Photograph (10 mégapixels)
Photo 6 :
Localisation / Location : Tilos, Megalochorio (gorges / gorge)
Date : 15/03/2015
GPS : Lat. 36,44379° N / Long. 27,36151° E / Alt. 56 m
Type : Photographie numérique / Digital Photograph (10 mégapixels)