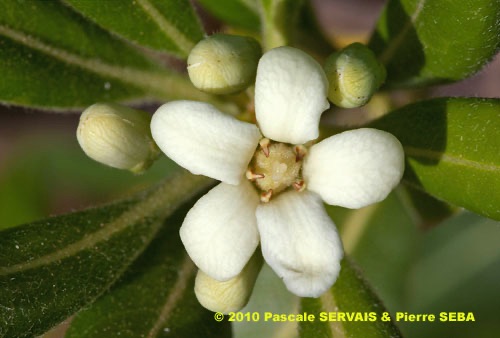 Pittosporum tobira (Thunb.) W.T.Aiton
© Pascale SERVAIS & Pierre SEBA, 2018. Tilo Botanica: Flore de Tilos et du Dodécanèse / Flora of Tilos and of the Dodecanese
English translation by Brenda Bradbury, Howard Bradbury and Stéphane Léonard
Arbuste hermaphrodite, touffu.
Feuilles verticillées ou alternes, disposées en rosette au sommet des rameaux, simples, oblongues à ovales, vert foncé, plus pâles dessous, de 5 à 8 cm de long, glabres, coriaces, à bords lisses et enroulés vers le dessous.
Fleurs à symétrie radiaire, blanches devenant crème, de 18 à 22 mm de long, très parfumées, réunies en bouquets terminaux denses et aplatis rappelant des ombelles. Corolle à 5 pétales. Ovaire supère.
Fruits, baies coriaces, marron à maturité.
___________________________
Treelet hermaphrodite, thick.
Leaves whorled or alternate, in a rosette at the top of branches, simple, oblong to ovate, dark green, paler below, from 5 to 8 cm long, glabrous, tough, with smooth edges and coiled towards below.
Flowers radially symmetrical, white becoming cream-coloured, from 18 to 22 mm long, very fragrant, joined together in dense and flattened terminal clusters reminding umbels. Corolla with 5 petals. Ovary superior.
Fruits, tough berries, brown at maturity.
Descripteurs / Identifying features: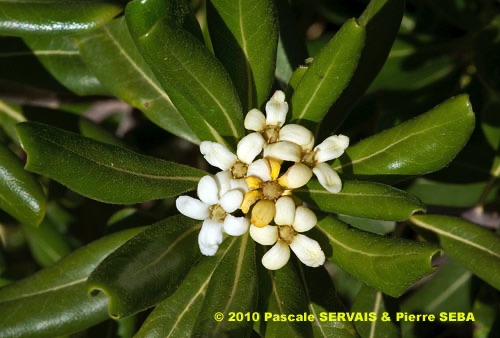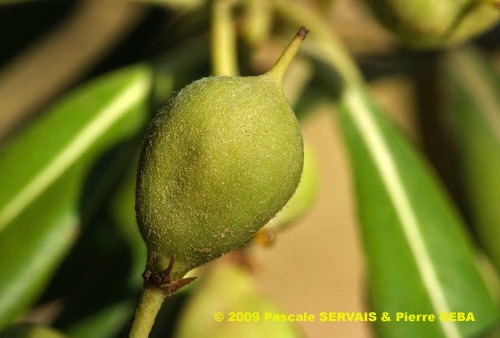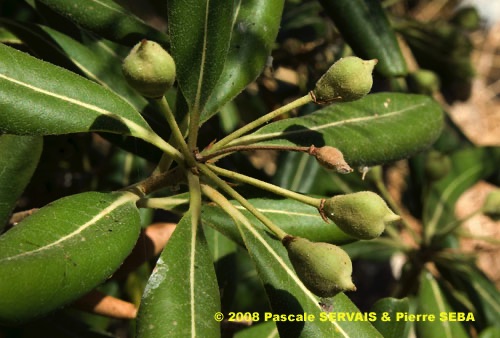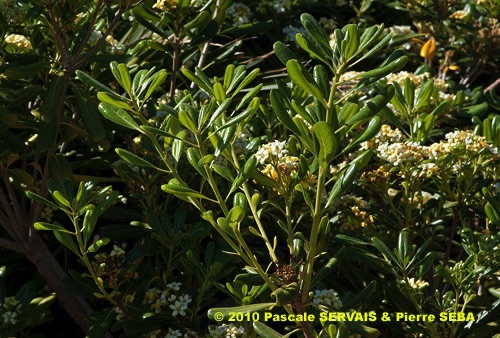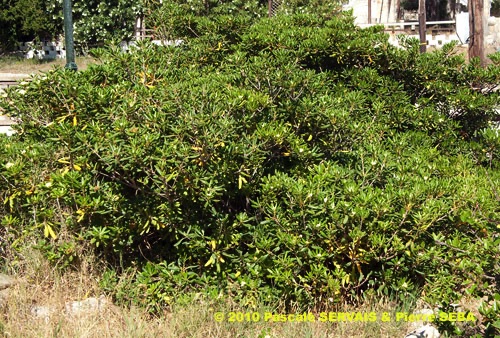 Étymologie / Etymology :
Pittosporum : nom créé par les botanistes [ < πίττα, -ης (nom) = la poix,
la résine + σπορά, -ᾶς (nom) = l'ensemencement, la semence, la
graine ] = la graine résineuse, en référence à la substance poisseuse
qui enrobe les graines.
Tobira : emprunt du japonais tobira (nom), nom de la plante dans
son pays d'origine.
Pittosporum : name created by botanists [ < πίττα, -ης (noun)
= pitch, resin + σπορά, -ᾶς (noun) = sowing, seed ] = resinous seed,
referring to the viscous liquid that coats the seeds.
Tobira : borrowed from Japanese tobira (noun), name of the plant in
its home country.
Synonymes / Synonyms :
Euonymus tobira Thunb.
Pittosporum makinoi Nakai
Noms vernaculaires / Common names :
Noms français / French names :
Arbre des Hottentots — Pittospore de Chine —
Pittospore odorant — Pittosporum de Chine.
Noms grecs / Greek names :
Αγγελική — Πιττόσπορος.
Noms anglais / English names :
Australian laurel — Japanese cheesewood.
Noms allemands / German names :
Klebsame — Pechsamenstrauch — Scheinorange.
Noms espagnols / Spanish names :
Pitosporo del Japón — Pitósporo japonés.
Noms italiens / Italian names :
Fitosforo — Pittosporo cinese.
Habitat :
Jardins.
Gardens.
Îles / Islands :
Patmos - Rhodos - Tilos.
Hauteur / Height range :
De 2 m à 5 m.
From 2 m to 5 m.
Floraison / Flowering time :
De mars à septembre.
From March to September.
Groupe / Classification :
Dicotylédones.
Dicotyledons.
Pérennité / Lifespan :
Vivace.
Perennial.
Description :
Photo 1 :
Localisation / Location : Tilos, Aghios Stephanos
Date : 11/05/2010
GPS : Lat. 36,40996° N / Long. 27,39455° E / Alt. 1 m
Type : Photographie numérique / Digital Photograph (10 mégapixels)
Photo 2 :
Localisation / Location : Tilos, Aghios Stephanos
Date : 11/05/2010
GPS : Lat. 36,40996° N / Long. 27,39455° E / Alt. 1 m
Type : Photographie numérique / Digital Photograph (10 mégapixels)
Photo 3 :
Localisation / Location : Tilos, Panaghia Kamariani
Date : 11/10/2009
GPS : Lat. 36,45669° N / Long. 27,32291° E / Alt. 52 m
Type : Photographie numérique / Digital Photograph (10 mégapixels)
Photo 4 :
Localisation / Location : Tilos, Panaghia Kamariani
Date : 14/09/2008
GPS : Lat. 36,45669° N / Long. 27,32291° E / Alt. 52 m
Type : Photographie numérique / Digital Photograph (10 mégapixels)
Photo 5 :
Localisation / Location : Tilos, Aghios Stephanos
Date : 11/05/2010
GPS : Lat. 36,40996° N / Long. 27,39455° E / Alt. 1 m
Type : Photographie numérique / Digital Photograph (10 mégapixels)
Photo 6 :
Localisation / Location : Tilos, Aghios Stephanos
Date : 11/05/2010
GPS : Lat. 36,40996° N / Long. 27,39455° E / Alt. 1 m
Type : Photographie numérique / Digital Photograph (10 mégapixels)