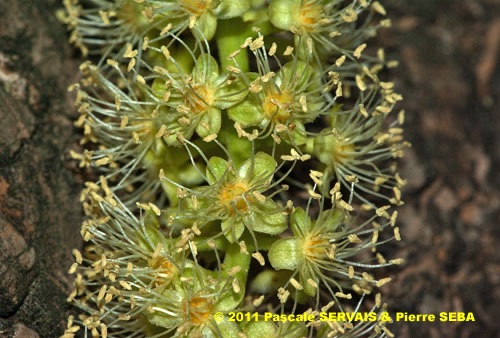 © Pascale SERVAIS & Pierre SEBA, 2018. Tilo Botanica: Flore de Tilos et du Dodécanèse / Flora of Tilos and of the Dodecanese
English translation by Brenda Bradbury, Howard Bradbury and Stéphane Léonard
Arbre dioïque, à jeunes rameaux glabres.
Feuilles alternes, simples, ovales, entières, persistantes, à nervures saillantes dessous, à pétiole rose, à face inférieure glabre, à face supérieure couverte de poils blancs extrêmement courts.
Fleurs à symétrie radiaire, verdâtres, réunies en grappes pendantes de 10 à 15 cm de long, mâles et femelles sur des pieds différents. Périanthe à 5 tépales libres. Fleurs mâles à 20 à 30 étamines longuement saillantes, portées par des pédicelles plus longs que les pédicelles des fleurs femelles. Ovaire supère.
Fruits, baies arrondies, de 9 à 10 mm de diamètre, vertes, devenant noir luisant à maturité.
___________________________
Tree dioecious. Youthful branches glabrous.
Leaves alternate, simple, ovate, entire, persistent, with protruding veins below, with a pink petiole, with the lower surface glabrous, with the upper surface covered in white, extremely short hairs.
Flowers radially symmetrical, greenish, joined together in hanging racemes from 10 to 15 cm long, male and female on distinct feet. Perianth with 5 free tepals. Male flowers with 20 to 30 lengthily protruding stamens, carried by pedicels longer than the pedicels of the female flowers. Ovary superior.
Fruits, rounded berries, from 9 to 10 mm in diameter, green, becoming shining black at maturity.
Descripteurs / Identifying features: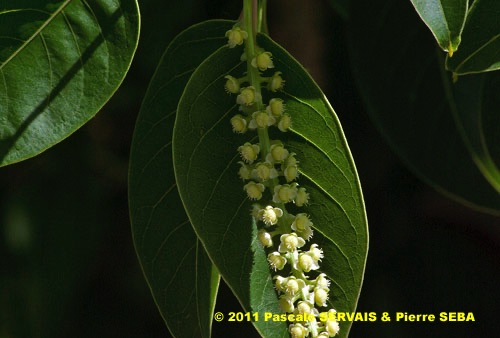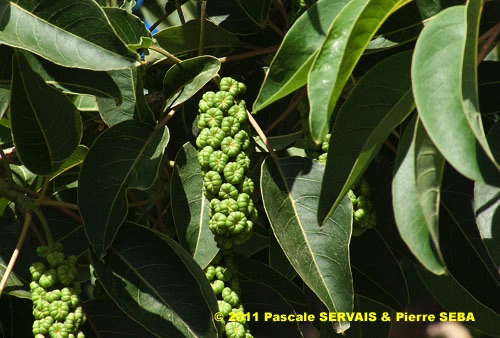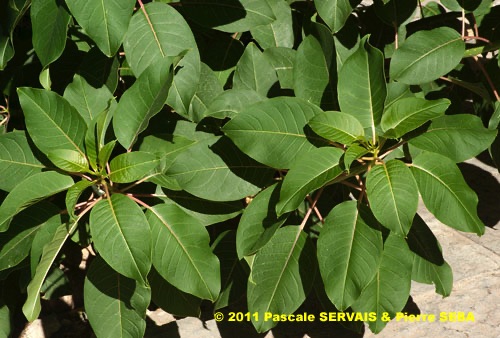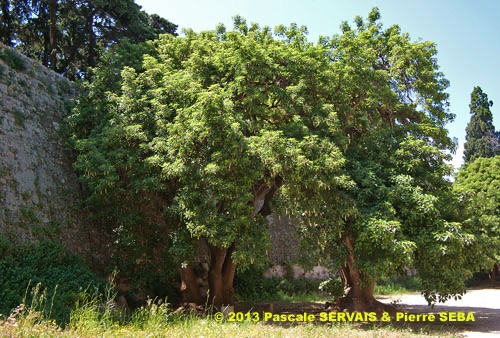 Étymologie / Etymology :
Phytolacca : nom créé par les botanistes [ < φυτόν, -ου (nom) = la plante
+ lakk (sanscrit) = la laque, le colorant violacé ], en référence au suc
rouge des fruits.
Dioica : emprunt du grec ancien δι(ς)- (préfixe) = deux, deux fois
+ οἶκος, -ου (nom) = la maison [ cf. διοικέω = habiter à part ].
L'adjectif latin dioicus signifie: dioïque, avec les fleurs mâles et
femelles sur des plantes différentes.
Phytolacca : name created by botanists [ < φυτόν, -ου (noun)
= plant + lakk (Sanskrit) = lacquer, purplish dye ], referring to the red
juice of the berries.
Dioica : borrowed from Classical Greek δι(ς)- (prefix) = two, twice
+ οἶκος, -ου (noun) = house [ cf. διοικέω = to live separately ].
The Latin adjective dioicus, -a, -um means: dioecious, with male and
female flowers on separate plants.
Synonymes / Synonyms :
Phytolacca populifolia Salisb.
Pircunia dioica (L.) Moq.
Noms vernaculaires / Common names :
Noms français / French names :
Belombra — Raisinier dioïque.
Nom grec / Greek name :
Φυτολάκκα διόϊκη.
Nom anglais / English name :
Ombu tree.
Noms allemands / German names :
Maumartige Kermesbeere — Südamerikanische Kermesbeere.
Noms espagnols / Spanish names :
Bella sombra — Fitolaca — Ombú.
Noms italiens / Italian names :
Cremesina ad albero — Fitolacca arborea.
Habitat :
Jardins.
Gardens.
Île / Island :
Rhodos.
Hauteur / Height range :
De 3 m à 10 m.
From 3 m to 10 m.
Floraison / Flowering time :
De mai à septembre.
From May to September.
Groupe / Classification :
Dicotylédones.
Dicotyledons.
Pérennité / Lifespan :
Vivace.
Perennial.
Description :
Photo 1 :
Localisation / Location : Rhodes, Rhodes
Date : 19/05/2011
GPS : Lat. 36,44907° N / Long. 28,22498° E / Alt. 8 m
Type : Photographie numérique / Digital Photograph (10 mégapixels)
Photo 2 :
Localisation / Location : Rhodes, Rhodes
Date : 11/06/2011
GPS : Lat. 36,45061° N / Long. 28,22307° E / Alt. 8 m
Type : Photographie numérique / Digital Photograph (10 mégapixels)
Photo 3 :
Localisation / Location : Rhodes, Rhodes
Date : 19/05/2011
GPS : Lat. 36,44907° N / Long. 28,22498° E / Alt. 8 m
Type : Photographie numérique / Digital Photograph (10 mégapixels)
Photo 4 :
Localisation / Location : Rhodes, Rhodes
Date : 11/06/2011
GPS : Lat. 36,45061° N / Long. 28,22307° E / Alt. 8 m
Type : Photographie numérique / Digital Photograph (10 mégapixels)
Photo 5 :
Localisation / Location : Rhodes, Rhodes
Date : 11/06/2011
GPS : Lat. 36,45061° N / Long. 28,22307° E / Alt. 8 m
Type : Photographie numérique / Digital Photograph (10 mégapixels)
Photo 6 :
Localisation / Location : Rhodes, Rhodes
Date : 11/05/2013
GPS : Lat. 36,43992° N / Long. 28,22391° E / Alt. 31 m
Type : Photographie numérique / Digital Photograph (10 mégapixels)