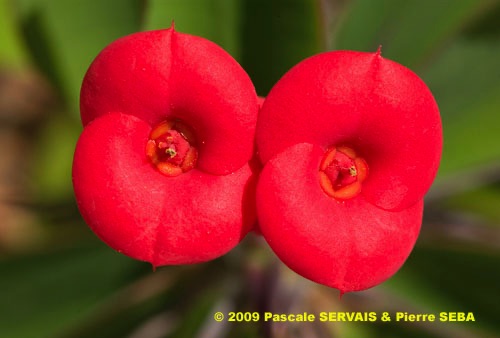 Euphorbia milii Des Moul. ex Boiss.
© Pascale SERVAIS & Pierre SEBA, 2018. Tilo Botanica: Flore de Tilos et du Dodécanèse / Flora of Tilos and of the Dodecanese
English translation by Brenda Bradbury, Howard Bradbury and Stéphane Léonard
Plante ligneuse à la base, monoïque, en touffe érigée, à tiges brunâtres avec des épines blanchâtres de 15 mm de long. Plante originaire de Madagascar.
Feuilles verticillées, simples, ovales, glabres, vertes bordées de rouge.
Fleurs à symétrie radiaire, rouges à orange, réunies par 2 en inflorescences de 15 à 25 mm de large, avec à la base des bractées rouges terminées par une pointe. 5 glandes nectarifères sans cornes, orange, bordées de rouge. Ovaire supère.
Fruits, capsules trilobées, de 2 à 4 mm de diamètre.
___________________________
Plant woody at the base, monoecious, tufted, erect, native to Madagascar. Stems brownish with whitish thorns of 15 mm long.
Leaves whorled, simple, ovate, glabrous, green fringed with red.
Flowers radially symmetrical, red to orange, joined together by 2 in inflorescences from 15 to 25 mm across, with at the base red bracts finished by a point. 5 nectariferous glands without horns, orange, bordered by red. Ovary superior.
Fruits, three-lobed capsules from 2 to 4 mm in diameter.
Descripteurs / Identifying features: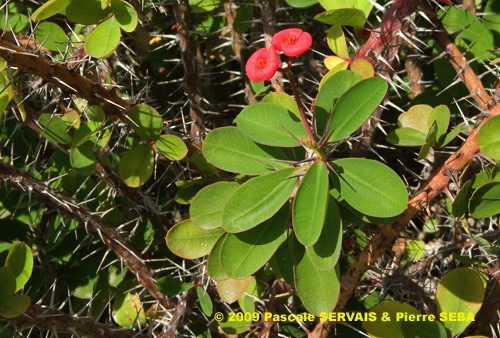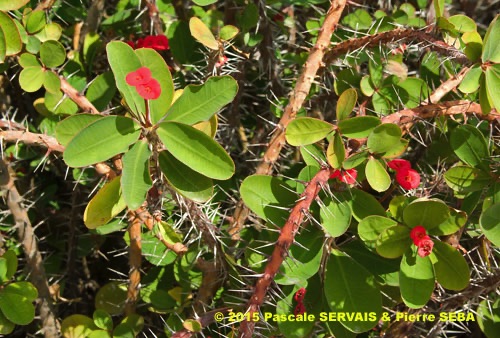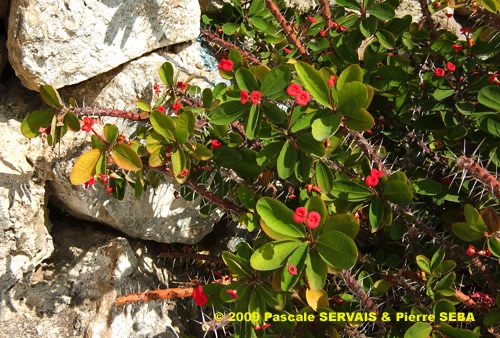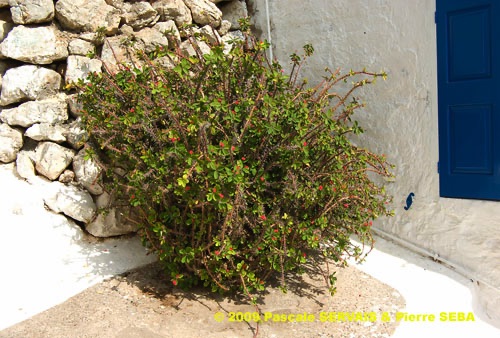 Étymologie / Etymology :
Euphorbia : emprunt du latin euphorbia, -ae (nom), nom donné à la
plante par Pline, naturaliste latin mort en 79 apr. J.-C., forme latinisée
du grec ancien εὐφόρβιον, -ου (nom) [ < εὖ (adv.) = bien +
φέρβω (verbe) = nourrir ] = bien nourri, gras, nom donné à la plante
par Dioscoride, médecin et botaniste grec mort en 90 apr. J.-C.
OU
nom donné en l'honneur d'Euphorbe, médecin du roi Juba de
Mauritanie au 1er siècle après J.-C.
Milii : nom donné en l'honneur de l'explorateur français le baron
Pierre Bernard de Milius (1773-1829), gouverneur de l'île de la
Réunion de 1818 à 1821, qui introduisit cette plante en France
en 1821.
Euphorbia : borrowed from Latin euphorbia, -ae (noun), name given to
the plant by Plinius, Latin naturalist died in 79 AD, Latinized form of
the Classical Greek εὐφόρβιον, -ου (noun) [ < εὖ (adv) = well +
φέρβω (verb) = to feed ] = well fed, fat, name given to the plant by
Dioscorides, Greek doctor and botanist died in 90 AD.
OR
name given in honour of Euphorbos, doctor of king Juba of Mauritania
in the 1st century AD.
Milii : name given in honour of French explorer the baron
Pierre Bernard de Milius (1773-1829), governor of the island of
Reunion from 1818 to 1821, who introduced this plant in France
in 1821.
Synonyme / Synonym :
—
Noms vernaculaires / Common names :
Noms français / French names :
Couronne d'épines — Couronne du Christ — Épine du Christ —
Euphorbe de Milius — Euphorbe écarlate.
Noms grecs / Greek names :
Αγκάθι του Χριστού — Ευφόρβιες — Εφόρμπια.
Noms anglais / English names :
Christ's thorn — Christ's-plant — Crown of thorns.
Nom allemand / German name :
Christusdorn.
Noms espagnols / Spanish names :
Corona de Cristo — Corona de espinas — Espinas de Cristo.
Noms italiens / Italian names :
Corona di spine — Spina di Cristo.
Habitat :
Jardins.
Gardens.
Île / Island :
Tilos.
Hauteur / Height range :
De 50 cm à 1 m.
From 50 cm to 1 m.
Floraison / Flowering time :
De février à novembre.
From February to November.
Groupe / Classification :
Dicotylédones.
Dicotyledons.
Pérennité / Lifespan :
Vivace.
Perennial.
Description :
Descripteurs distinctifs des 13 espèces / Distinctive identifying features of the 13 species
Photo 1 :
Localisation / Location : Tilos, Megalochorio
Date : 13/10/2009
GPS : Lat. 36,45428° N / Long. 27,34489° E / Alt. 89 m
Type : Photographie numérique / Digital Photograph (10 mégapixels)
Photo 2 :
Localisation / Location : Tilos, Megalochorio
Date : 13/10/2009
GPS : Lat. 36,45428° N / Long. 27,34489° E / Alt. 89 m
Type : Photographie numérique / Digital Photograph (10 mégapixels)
Photo 3 :
Localisation / Location : Tilos, Megalochorio
Date : 13/10/2009
GPS : Lat. 36,45428° N / Long. 27,34489° E / Alt. 89 m
Type : Photographie numérique / Digital Photograph (10 mégapixels)
Photo 4 :
Localisation / Location : Tilos, Megalochorio
Date : 13/10/2009
GPS : Lat. 36,45428° N / Long. 27,34489° E / Alt. 89 m
Type : Photographie numérique / Digital Photograph (10 mégapixels)
Photo 5 :
Localisation / Location : Tilos, Megalochorio
Date : 13/10/2009
GPS : Lat. 36,45428° N / Long. 27,34489° E / Alt. 89 m
Type : Photographie numérique / Digital Photograph (10 mégapixels)
Photo 6 :
Localisation / Location : Tilos, Megalochorio
Date : 13/10/2009
GPS : Lat. 36,45428° N / Long. 27,34489° E / Alt. 89 m
Type : Photographie numérique / Digital Photograph (10 mégapixels)