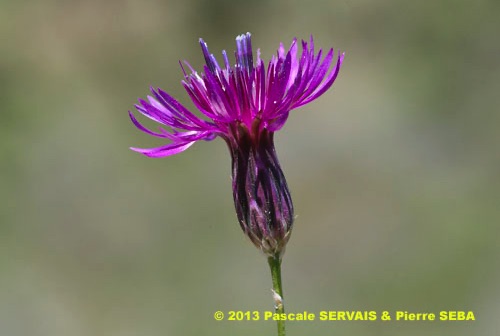 Crupina crupinastrum (Moris) Vis.
© Pascale SERVAIS & Pierre SEBA, 2018. Tilo Botanica: Flore de Tilos et du Dodécanèse / Flora of Tilos and of the Dodecanese
English translation by Brenda Bradbury, Howard Bradbury and Stéphane Léonard
Plante herbacée, hermaphrodite, non épineuse, à ramifications nues au sommet, feuillées seulement dans leur moitié inférieure, à tiges poilues.
Feuilles alternes, poilues sur leur face inférieure et sur le rachis, les basilaires divisées pennatifides à pennatipartites, divisées en segments linéaires, étroits, dentés, les supérieures simples, oblongues, dentées.
Fleurs pourpres, réunies en capitules de 9 à 15 fleurs, ovoïdes, solitaires au sommet des tiges, de 15 à 25 mm de long. Involucre à bractées vert pâle à rouge noirâtre, oblongues à lancéolées, pointues. Ovaire infère.
Fruits, akènes à aigrette de poils dorés.
___________________________
Plant herbaceous, hermaphrodite, nonspiny, with hairy stems. Ramifications naked at the top, leafy only in their lower half.
Leaves alternate, hairy on their lower surface and on the midrib, the basilar ones dissected pinnatifid to pinnatipartite, divided into linear, narrow, toothed segments, the superior ones oblong, toothed.
Flowers purple, joined together in capitula from 9 to 15 flowers, ovoid, solitary at the top of the stems, from 15 to 25 mm long. Involucre with pale green to blackish red bracts, oblong to lanceolate, pointed. Ovary inferior.
Fruits, achenes with a pappus of golden hairs.
Descripteurs / Identifying features: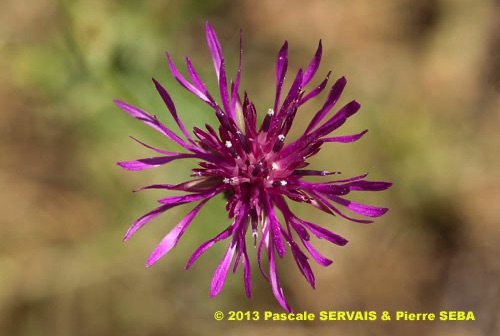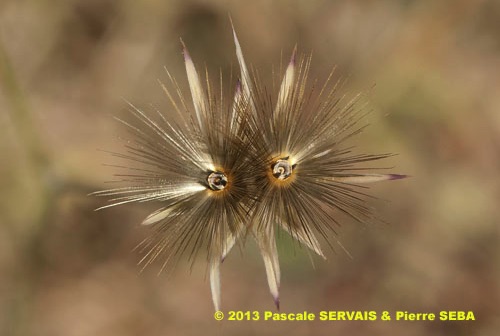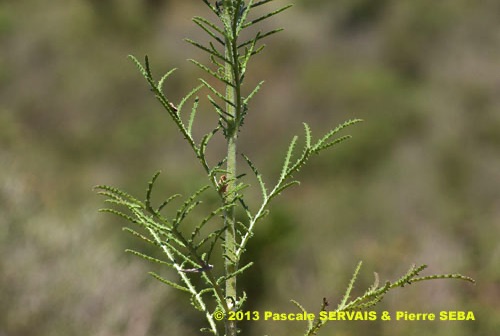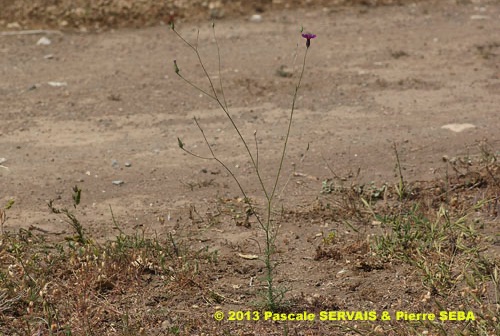 Étymologie / Etymology :
Crupina : emprunt du néerlandais kruipen = ramper, en référence
aux akènes garnis d'une aigrette noire semblable à des pattes
d'insecte; au moindre souffle de vent, on prendrait ces aigrettes pour
un insecte qui court.
Crupinastrum : terme de botanique dont l'origine est inconnue.
Crupina : borrowed from Dutch kruipen = to crawl, referring to the
achenes provided with black pappus similar to the legs of an insect;
with the slightest breath of wind, we would take these pappus for a
running insect.
Crupinastrum : botanical term whose origin is unknown.
Synonymes / Synonyms :
Centaurea crupina var. maculata Pers.
Centaurea crupinastrum Moris
Centaurea pseudocrupina Mutel
Crupina crupinastrum proles morisii Rouy
Crupina crupinastrum proles visianus Rouy
Crupina crupinastrum subsp. morisii (Rouy) P.Fourn.
Crupina crupinastrum var. subinclusa Rouy
Crupina maculata Grande
Crupina morisii Boreau
Crupina pseudocrupina (Mutel) Walp.
Crupina vulgaris subsp. crupinastrum (Moris) Batt.
Noms vernaculaires / Common names :
Nom français / French name :
Crupine du Midi.
Noms grecs / Greek names :
Κρουπίνα η κρουπινάστρος — Κρουπίνα κρουπινάστρος.
Noms anglais / English names :
Common crupina — False saw-wort — Southern crupina.
Nom allemand / German name :
Schlupfsame.
Nom italien / Italian name :
Crupina mediterranea.
Habitat :
Lieux pierreux - Lieux incultes - Sols sableux.
Stony places - Waste ground - Sandy soils.
Îles / Islands :
Patmos - Tilos.
Hauteur / Height range :
De 20 cm à 1 m.
From 20 cm to 1 m.
Floraison / Flowering time :
D'avril à juillet.
From April to July.
Groupe / Classification :
Dicotylédones.
Dicotyledons.
Pérennité / Lifespan :
Annuelle.
Annual.
Description :
Photo 1 :
Localisation / Location : Tilos, Plaine d'Erystos / Plain of Erystos
Date : 26/04/2013
GPS : Lat. 36,44588° N / Long. 27,34521° E / Alt. 39 m
Type : Photographie numérique / Digital Photograph (10 mégapixels)
Photo 2 :
Localisation / Location : Tilos, Plaine d'Erystos / Plain of Erystos
Date : 26/04/2013
GPS : Lat. 36,44588° N / Long. 27,34521° E / Alt. 39 m
Type : Photographie numérique / Digital Photograph (10 mégapixels)
Photo 3 :
Localisation / Location : Tilos, Plaine d'Erystos / Plain of Erystos
Date : 26/04/2013
GPS : Lat. 36,44588° N / Long. 27,34521° E / Alt. 39 m
Type : Photographie numérique / Digital Photograph (10 mégapixels)
Photo 4 :
Localisation / Location : Tilos, Plaine d'Erystos / Plain of Erystos
Date : 26/04/2013
GPS : Lat. 36,44734° N / Long. 27,34469° E / Alt. 30 m
Type : Photographie numérique / Digital Photograph (10 mégapixels)
Photo 5 :
Localisation / Location : Tilos, Plaine d'Erystos / Plain of Erystos
Date : 26/04/2013
GPS : Lat. 36,44588° N / Long. 27,34521° E / Alt. 39 m
Type : Photographie numérique / Digital Photograph (10 mégapixels)
Photo 6 :
Localisation / Location : Tilos, Plaine d'Erystos / Plain of Erystos
Date : 26/04/2013
GPS : Lat. 36,44734° N / Long. 27,34469° E / Alt. 30 m
Type : Photographie numérique / Digital Photograph (10 mégapixels)