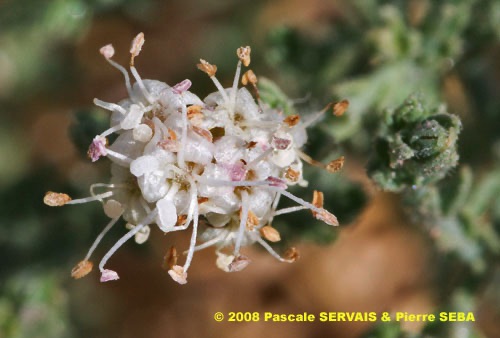 © Pascale SERVAIS & Pierre SEBA, 2018. Tilo Botanica: Flore de Tilos et du Dodécanèse / Flora of Tilos and of the Dodecanese
English translation by Brenda Bradbury, Howard Bradbury and Stéphane Léonard
Sous-arbrisseau à souche ligneuse robuste, à tiges velues, dressées à étalées.
Feuilles alternes, simples, lancéolées à ovales, cordiformes, entières, de 3 à 7 mm de long, couvertes de poils.
Fleurs à symétrie radiaire, blanc rosâtre, parfois jaunâtres, de 3 à 5 mm de diamètre, groupées en glomérules à l'extrémité des rameaux. Corolle à 5 pétales étalés, soudés à la base, à tube court égalant le calice. Calice à 5 sépales allongés, libres, poilus. 5 étamines dressées, saillantes. 2 styles entièrement distincts, à stigmate blanc. Ovaire supère.
Fruits, capsules à une seule graine, s'ouvrant par 2 valves.
___________________________
Shrublet with a robust woody stock. Stems hairy, erect to spread out.
Leaves alternate, simple, lanceolate to ovate, heart-shaped, entire, from 3 to 7 mm long, covered in hairs.
Flowers radially symmetrical, pinkish white, sometimes yellowish, from 3 to 5 mm in diameter, grouped in glomeruli at the end of the branches. Corolla with 5 spread out petals, partly fused, with a short tube equalizing the calyx. Calyx with 5 free, hairy, lengthened sepals. 5 erect, protruding stamens. 2 entirely distinct styles, with a white stigma. Ovary superior.
Fruits, capsules with only one seed, opening by 2 valves.
Descripteurs / Identifying features: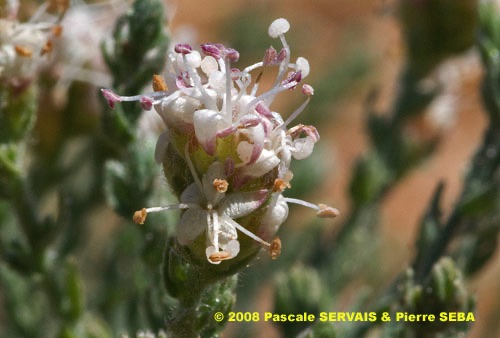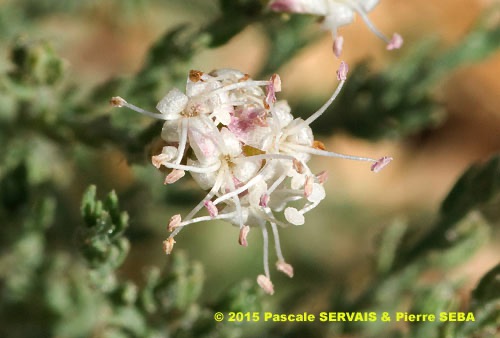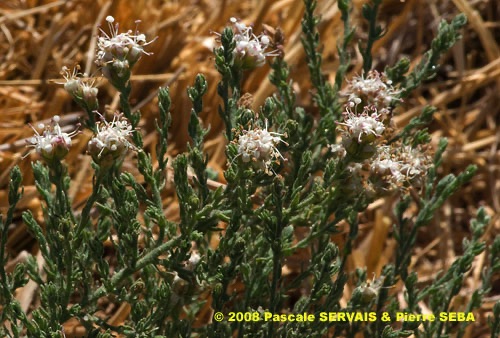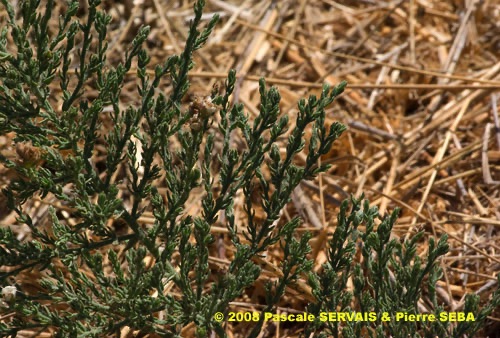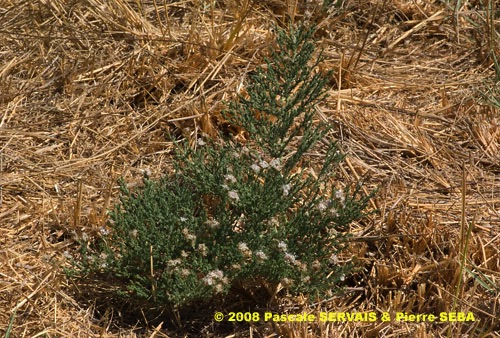 Étymologie / Etymology :
Cressa : forme latinisée du grec ancien Κρῆσσα, -ης (nom propre)
= la Crétoise, c'est-à-dire Ariane, fille de Minos, roi de Crète, qui aida
Thésée à sortir du labyrinthe du Minotaure.
Cretica : emprunt du latin creticus, -a, -um (adj.)
[ < Creta, -ae (nom propre) = la Crète ] = de Crète, qui vient de Crète.
Cressa : Latinized form of the Classical Greek Κρῆσσα, -ης (proper noun)
= Cretan women, i.e. Ariadne, daughter of Minos, king of Crete,
who helped Theseus to get out of the Minotaur's labyrinth.
Cretica : borrowed from Latin creticus, -a, -um (adj)
[ < Creta, -ae  (proper noun) = Crete ] = of or from Crete, which comes
from Crete.
Synonymes / Synonyms :
Cressa australis R.Br.
Cressa cretica var. villosa Choisy
Cressa humifusa Lam.
Cressa indica Retz.
Cressa loscosii Tremols
Cressa microphylla St.-Lag.
Cressa monosperma Stokes
Cressa villosa Hoffmanns. & Link
Noms vernaculaires / Common names :
Noms français / French names :
Cressa de Crète — Cresse de Crète.
Noms anglais / English names :
Cretan alkaliweed — Medterranean bindweed.
Noms allemands / German names :
Kretische Salzkresse — Rudravanti.
Noms italiens / Italian names :
Cressa — Cressa di Creta.
Habitat :
Lieux humides, mares - Lieux saumâtres, bords de mer - Sols sableux.
Damp places, ponds - Salty places, seaside - Sandy soils.
Île / Island :
Tilos.
Hauteur / Height range :
De 10 cm à 30 cm.
From 10 cm to 30 cm.
Floraison / Flowering time :
De juin à octobre.
From June to October.
Groupe / Classification :
Dicotylédones.
Dicotyledons.
Pérennité / Lifespan :
Vivace.
Perennial.
Description :
Photo 1 :
Localisation / Location : Tilos, Livadia
Date : 19/09/2008
GPS : Lat. 36,41196° N / Long. 27,38803° E / Alt. 4 m
Type : Photographie numérique / Digital Photograph (10 mégapixels)
Photo 2 :
Localisation / Location : Tilos, Livadia
Date : 19/09/2008
GPS : Lat. 36,41196° N / Long. 27,38803° E / Alt. 4 m
Type : Photographie numérique / Digital Photograph (10 mégapixels)
Photo 3 :
Localisation / Location : Tilos, Livadia
Date : 19/09/2008
GPS : Lat. 36,41196° N / Long. 27,38803° E / Alt. 4 m
Type : Photographie numérique / Digital Photograph (10 mégapixels)
Photo 4 :
Localisation / Location : Tilos, Livadia
Date : 19/09/2008
GPS : Lat. 36,41196° N / Long. 27,38803° E / Alt. 4 m
Type : Photographie numérique / Digital Photograph (10 mégapixels)
Photo 5 :
Localisation / Location : Tilos, Livadia
Date : 19/09/2008
GPS : Lat. 36,41196° N / Long. 27,38803° E / Alt. 4 m
Type : Photographie numérique / Digital Photograph (10 mégapixels)
Photo 6 :
Localisation / Location : Tilos, Livadia
Date : 19/09/2008
GPS : Lat. 36,41196° N / Long. 27,38803° E / Alt. 4 m
Type : Photographie numérique / Digital Photograph (10 mégapixels)