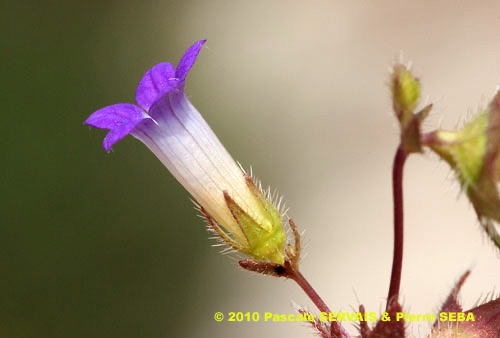 Campanula simulans Carlström
© Pascale SERVAIS & Pierre SEBA, 2018. Tilo Botanica: Flore de Tilos et du Dodécanèse / Flora of Tilos and of the Dodecanese
English translation by Brenda Bradbury, Howard Bradbury and Stéphane Léonard
Plante herbacée, hermaphrodite, délicate, à poils rudes.
Feuilles alternes, simples, obovales, dentées et sessiles.
Fleurs à symétrie radiaire, bleu pâle, de 10 à 12 mm de long et de 6 à 9 mm de diamètre. Corolle sur un court pédoncule, à 5 pétales soudés en tube blanc veiné de violet à l'intérieur, au moins 2 fois plus long que le calice. 5 sépales, soudés à la base, poilus. Ovaire infère hérissé de soies.
Fruits, capsules pendantes, en forme de disque plat, de 4 mm de diamètre, entourées des sépales étalés.
___________________________
Plant herbaceous, hermaphrodite, delicate, with hard hairs.
Leaves alternate, simple, obovate, toothed and sessile.
Flowers radially symmetrical, pale blue, from 10 to 12 mm long and 6 to 9 mm in diameter. Corolla on a short peduncle, with 5 petals fused in a white tube with violet veins inside, at least twice longer than the calyx. 5 partly fused, hairy sepals. Ovary inferior covered in bristles.
Fruits, hanging capsules, in the shape of a flat disc, 4 mm in diameter, surrounded by the spread out sepals.
Descripteurs / Identifying features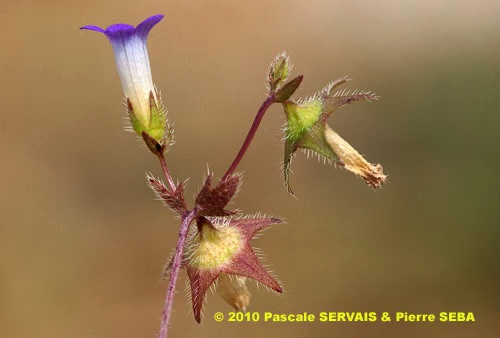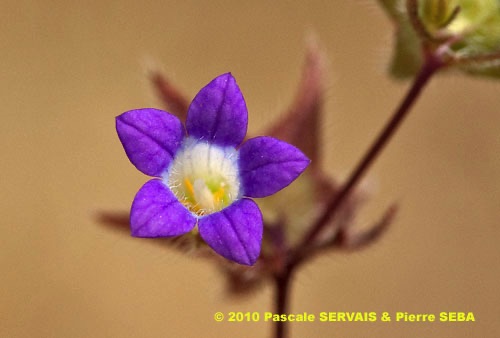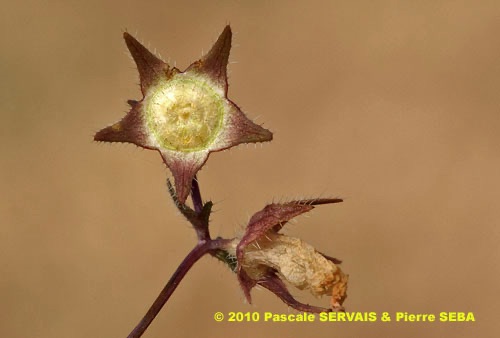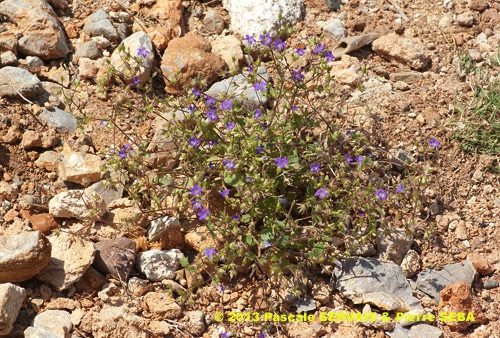 Étymologie / Etymology :
Campanula : emprunt du latin campanula, -ae (nom)
[ < campana, -ae (nom) = la cloche + -ulus (suffixe) = petit, un peu ]
= la petite cloche, en référence à la forme de sa corolle à pétales
soudés.
Simulans : emprunt du latin simulans (part. présent)
[ < simulo, -as, -are (verbe) = simuler, feindre ] = imitant, copiant.
Campanula : borrowed from Latin campanula, -ae (noun)
[ < campana, -ae (noun) = bell + -ulus (suffix) = small, a little ]
= small bell, referring to the shape of its corolla with fused petals.
Simulans : borrowed from Latin simulans (pres participle)
[ < simulo, -as, -are (verb) = to simulate, to pretend ] = imitating,
copying.
Synonyme / Synonym :
—
Noms vernaculaires / Common names :
Nom français / French name :
Campanule trompeuse.
Nom grec / Greek name :
Καμπανούλα.
Nom anglais / English name :
Small bellflower.
Nom allemand / German name :
Alpenbalsam-Glockenblume.
Habitat :
Cultures - Lieux pierreux - Lieux incultes - Chemins.
Cultivated places - Stony places - Waste ground - Waysides.
Île / Island :
Tilos.
Hauteur / Height range :
De 5 cm à 10 cm.
From 5 cm to 10 cm.
Floraison / Flowering time :
D'avril à mai.
From April to May.
Groupe / Classification :
Dicotylédones.
Dicotyledons.
Pérennité / Lifespan :
Annuelle.
Annual.
Description :
Clés dichotomiques et descripteurs distinctifs des 2 espèces / Dichotomous keys and distinctive identifying features of the 2 species
Photo 1 :
Localisation / Location : Tilos, Aghios Stephanos
Date : 08/05/2010
GPS : Lat. 36,41418° N / Long. 27,40280° E / Alt. 1 m
Type : Photographie numérique / Digital Photograph (10 mégapixels)
Photo 2 :
Localisation / Location : Tilos, Aghios Stephanos
Date : 08/05/2010
GPS : Lat. 36,41418° N / Long. 27,40280° E / Alt. 1 m
Type : Photographie numérique / Digital Photograph (10 mégapixels)
Photo 3 :
Localisation / Location : Tilos, Aghios Stephanos
Date : 08/05/2010
GPS : Lat. 36,41418° N / Long. 27,40280° E / Alt. 1 m
Type : Photographie numérique / Digital Photograph (10 mégapixels)
Photo 4 :
Localisation / Location : Tilos, Aghios Stephanos
Date : 08/05/2010
GPS : Lat. 36,41418° N / Long. 27,40280° E / Alt. 1 m
Type : Photographie numérique / Digital Photograph (10 mégapixels)
Photo 5 :
Localisation / Location : Tilos, Aghios Stephanos
Date : 03/05/2013
GPS : Lat. 36,41418° N / Long. 27,40280° E / Alt. 1 m
Type : Photographie numérique / Digital Photograph (10 mégapixels)