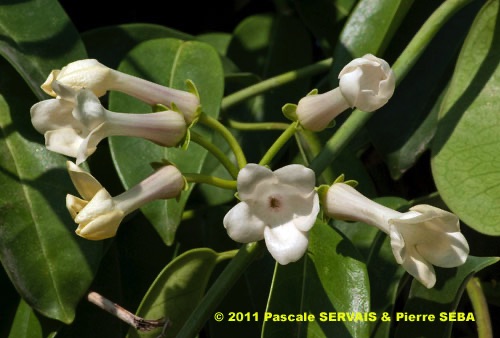 © Pascale SERVAIS & Pierre SEBA, 2018. Tilo Botanica: Flore de Tilos et du Dodécanèse / Flora of Tilos and of the Dodecanese
English translation by Brenda Bradbury, Howard Bradbury and Stéphane Léonard
Liane hermaphrodite, volubile, originaire d'Amérique du Sud, souvent naturalisée en région méditerranéenne.
Feuilles opposées décussées, simples, entières, oblongues à obovales, à base tronquée, charnues, glabres, persistantes ou semi-persistantes, à stipules très courtes, à pétiole de 10 à 40 mm de long.
Fleurs à symétrie radiaire, blanc crème veiné de rose, réunies en bouquets à l'aisselle des feuilles, portées par un pédicelle de 12 à 25 mm. Corolle à 5 pétales soudés en tube, à lobes gondolés, légèrement réfléchis. Calice à 5 sépales obovales, dressés, libres ou à peine soudés à la base, espacés de la corolle, persistants. 5 étamines à filet soudé autour de l'ovaire. Ovaire supère.
Fruits, baies orange ou rouges, ovoïdes, de 5 à 11 cm de long et de 5 à 7 cm de diamètre, charnues, devenant coriaces à maturité, remplies de nombreuses graines noires surmontées de plumets de longues soies blanches.
___________________________
Liana hermaphrodite, twining, native to South America, often naturalized in Mediterranean area.
Leaves opposite decussate, simple, entire, oblong to obovate, truncate at the base, fleshy, glabrous, persistent or semi-persistent, with very short stipules, with a petiole from 10 to 40 mm long.
Flowers radially symmetrical, white cream-coloured with pink veins, joined together in clusters at the axil of the leaves, carried by a pedicel from 12 to 25 mm. Corolla with 5 petals fused in tube, with curling, slightly resupinate lobes. Calyx with 5 obovate, erect, persistent sepals, free or scarcely partly fused, spaced from corolla. 5 stamens with a filament fused around the ovary. Ovary superior.
Fruits, orange or red berries, ovoid, from 5 to 11 cm long and from 5 to 7 cm in diameter, fleshy, becoming tough at maturity, filled with many black seeds surmounted by long, white, silky tufts.
Descripteurs / Identifying features: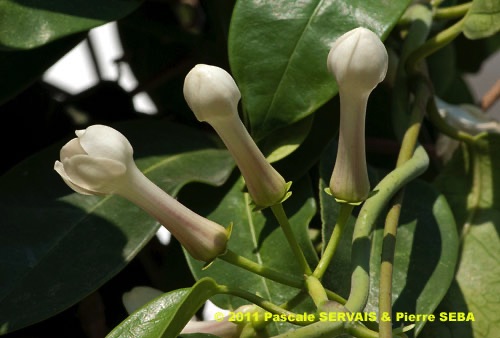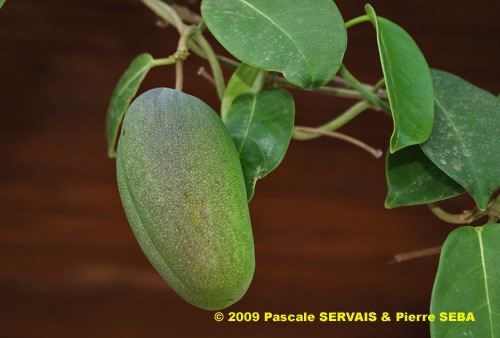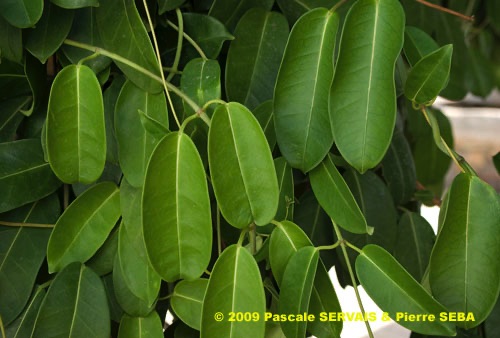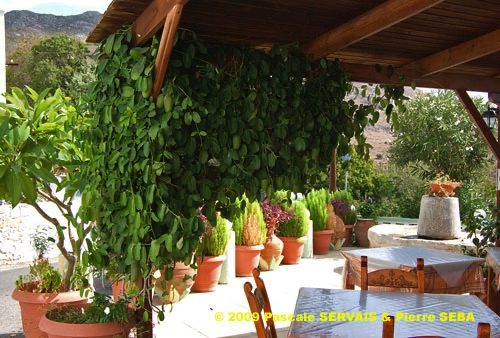 Étymologie / Etymology :
Araujia : nom donné en l'honneur d'António de Araújo e Azevedo,
homme d'État portugais et collectionneur de plantes du 19ème siècle.
Sericifera : adjectif créé par les botanistes [ < sericum, -i (nom)
= la soie + -fer, -era, -erum (suffixe) = qui porte ] = porte-soie, en
référence aux poils soyeux blancs qui surmontent les graines noires
à l'intérieur du fruit.
Araujia : name given in honour of António de Araújo e Azevedo,
Portugese statesman and plant collector of the 19th century.
Sericifera : adjective created by botanists [ < sericum, -i (noun)
= silk + -fer, -era, -erum (suffix) = bearing ] = silk-bearing, referring
to the silky white hairs surrounding the black seeds inside the fruits.
Synonymes / Synonyms :
Araujia albens (Mart.) G.Don
Araujia hortorum Fourn.
Araujia sericofera Brot.
Physianthus albens Mart.
Noms vernaculaires / Common names :
Noms français / French names :
Araujia — Kapok — Plante cruelle.
Noms anglais / English names :
Bladder vine — Bladderflower — Cruel plant — Cruel vine —
Moth plant — Moth vine — White bladderflower.
Nom allemand / German name :
Folterpflanze.
Nom espagnol / Spanish name :
Planta cruel.
Nom italien / Italian name :
Albero della seta.
Habitat :
Jardins.
Gardens.
Île / Island :
Tilos.
Hauteur / Height range :
De 1 m à 5 m.
From 1 m to 5 m.
Floraison / Flowering time :
De mai à octobre.
From May to October.
Groupe / Classification :
Dicotylédones.
Dicotyledons.
Pérennité / Lifespan :
Vivace.
Perennial.
Description :
Photo 1 :
Localisation / Location : Tilos, Megalochorio
Date : 29/09/2011
GPS : Lat. 36,45403° N / Long. 27,34535° E / Alt. 71 m
Type : Photographie numérique / Digital Photograph (10 mégapixels)
Photo 2 :
Localisation / Location : Tilos, Megalochorio
Date : 29/09/2011
GPS : Lat. 36,45403° N / Long. 27,34535° E / Alt. 71 m
Type : Photographie numérique / Digital Photograph (10 mégapixels)
Photo 3 :
Localisation / Location : Tilos, Megalochorio
Date : 14/10/2009
GPS : Lat. 36,45403° N / Long. 27,34535° E / Alt. 71 m
Type : Photographie numérique / Digital Photograph (10 mégapixels)
Photo 4 :
Localisation / Location : Tilos, Megalochorio
Date : 14/10/2009
GPS : Lat. 36,45403° N / Long. 27,34535° E / Alt. 71 m
Type : Photographie numérique / Digital Photograph (10 mégapixels)
Photo 5 :
Localisation / Location : Tilos, Megalochorio
Date : 14/10/2009
GPS : Lat. 36,45403° N / Long. 27,34535° E / Alt. 71 m
Type : Photographie numérique / Digital Photograph (10 mégapixels)
Photo 6 :
Localisation / Location : Tilos, Megalochorio
Date : 14/10/2009
GPS : Lat. 36,45403° N / Long. 27,34535° E / Alt. 71 m
Type : Photographie numérique / Digital Photograph (10 mégapixels)