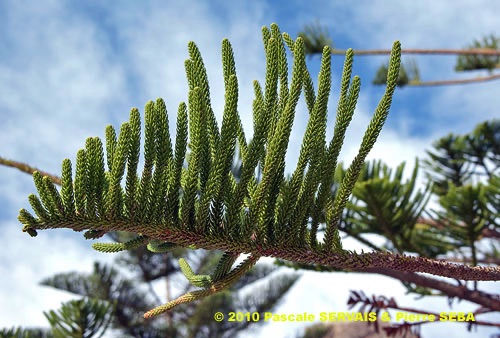 Araucaria heterophylla (Salisb.) Franco
© Pascale SERVAIS & Pierre SEBA, 2018. Tilo Botanica: Flore de Tilos et du Dodécanèse / Flora of Tilos and of the Dodecanese
English translation by Brenda Bradbury, Howard Bradbury and Stéphane Léonard
Arbre dioïque, à couronne pyramidale, à rameaux verticillés par 4 à 7, disposés en étages et étalés dans un plan horizontal, parfois pendants. Écorce brun gris, ridée, couverte de minces écailles à l'âge adulte. Plante originaire d'Australie.
Feuilles persistantes, disposées en spirales compactes, d'abord cunéiformes puis squamiformes: jeunes feuilles courbées en forme d'alêne, vertes, en aiguille, de 6 à 12 mm de long; feuilles adultes en forme d'écailles courbées de 5 à 9 mm de long, plus larges à la base, collées les unes contre les autres, vert sombre brillant.
Fleurs sans calice ni corolle. Fleurs mâles réunies en chatons cylindriques allongés de 4 cm de long, brun jaunâtre ou rougeâtres. Fleurs femelles réunies en cônes habituellement dressés, subglobuleux à ovoïdes, parfois plus larges que longs, à écailles triangulaires et à longue bractée incurvée.
Fruits, cônes de 12 à 15 cm de long, sessiles ou à pédoncule très court, mûrissant en deux ans puis tombant à maturité. Graines de 25 à 30 mm de long sur 12 mm de large, aplaties, avec une aile latérale.
___________________________
Tree dioecious, with a pyramidal crown. Branches whorled by 4 to 7, tiered and spread out in an horizontal plane, sometimes hanging. Bark grey brown, wrinkled, covered in thin scales at the adulthood. Plant native to Australia.
Leaves persistent, laid out in compact spirals, initially wedge-shaped then squamiform: youthful leaves curved in the shape of a awl, green, needle-like, from 6 to 12 mm long; adult leaves in the shape of curved scales from 5 to 9 mm long, wider at the base, stuck to each other, bright dark green.
Flowers without a calyx or a corolla. Male flowers joined together in lengthened cylindrical catkins, 4 cm long, yellowish brown or reddish. Female flowers joined together in usually erect, subglobose to ovoid cones, sometimes wider than long, with triangular scales and with a long curved bract.
Fruits, cones from 12 to 15 cm long, sessile or with a very short peduncle, ripening in two years then falling at maturity. Seeds from 25 to 30 mm long and 12 mm across, flattened, with a lateral wing.
Descripteurs / Identifying features: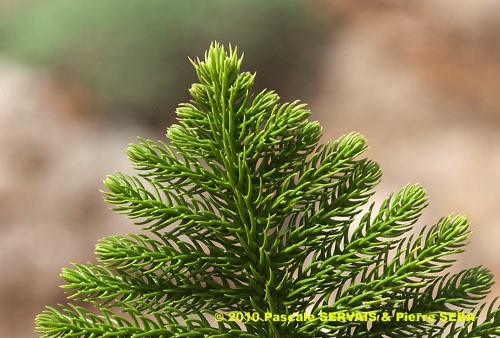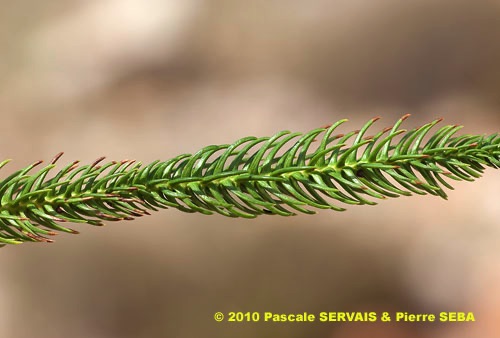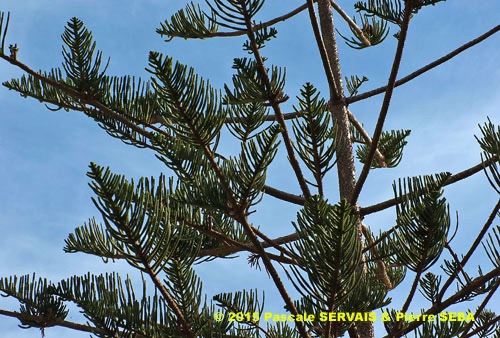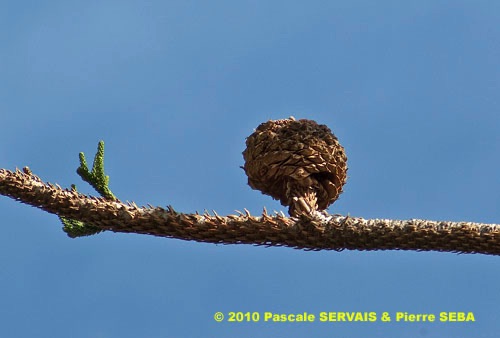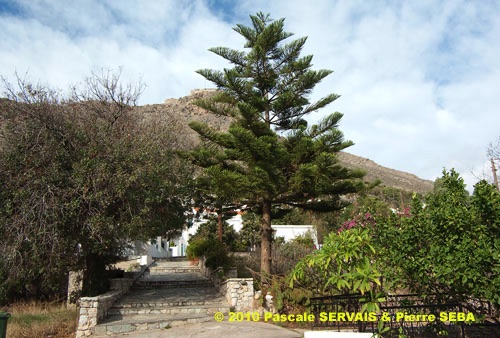 Étymologie / Etymology :
Araucaria : emprunt du chilien Arauco, province chilienne d'où
provient cet arbre.
Heterophylla : emprunt du latin heterophyllus, -a, -um (adj.), forme
latinisée du grec ancien ἑτερόφυλλος, -ος, -ον (adj.)
[ < ἕτερος, -α, -ον (adj.) = autre, différent + φύλλον, -ου (nom)
= la feuille ] = à feuilles différentes, en référence à ses feuilles d'abord
cunéiformes puis squamiformes.
Araucaria : borrowed from Chilean Arauco, Chilean province from
which this tree comes.
Heterophylla : borrowed from Latin heterophyllus, -a, -um (adj),
Latinized form of the Classical Greek ἑτερόφυλλος, -ος, -ον (adj)
[ < ἕτερος, -α, -ον (adj) = other, different + φύλλον, -ου (noun)
= leaf ] = differing leaved, referring to its initially wedge-shaped
then squamiform leaves.
Synonymes / Synonyms :
Araucaria excelsa R.Br. ex Aiton
Dombeya excelsa D.Don
Eutassa heterophylla Salisb.
Noms vernaculaires / Common names :
Noms français / French names :
Araucaria de Norfolk — Araucaria élévé — Pin de Norfolk —
Sapin d'intérieur.
Nom anglais / English name :
Norfolk island pine.
Nom allemand / German name :
Zimmertanne.
Habitat :
Jardins.
Gardens.
Îles / Islands :
Rhodos - Tilos.
Hauteur / Height range :
De 10 m à plus de 15 m.
From 10 m to 15 m and more.
Floraison / Flowering time :
De janvier à décembre.
From January to December.
Groupe / Classification :
Gymnospermes.
Gymnosperms.
Pérennité / Lifespan :
Vivace.
Perennial.
Description :
Photo 1 :
Localisation / Location : Tilos, Megalochorio
Date : 27/11/2010
GPS : Lat. 36,45408° N / Long. 27,34609° E / Alt. 69 m
Type : Photographie numérique / Digital Photograph (10 mégapixels)
Photo 2 :
Localisation / Location : Tilos, Megalochorio
Date : 28/11/2010
GPS : Lat. 36,45408° N / Long. 27,34609° E / Alt. 69 m
Type : Photographie numérique / Digital Photograph (10 mégapixels)
Photo 3 :
Localisation / Location : Tilos, Megalochorio
Date : 28/11/2010
GPS : Lat. 36,45408° N / Long. 27,34609° E / Alt. 69 m
Type : Photographie numérique / Digital Photograph (10 mégapixels)
Photo 4 :
Localisation / Location : Tilos, Megalochorio
Date : 27/11/2010
GPS : Lat. 36,45408° N / Long. 27,34609° E / Alt. 69 m
Type : Photographie numérique / Digital Photograph (10 mégapixels)
Photo 5 :
Localisation / Location : Tilos, Megalochorio
Date : 27/11/2010
GPS : Lat. 36,45497° N / Long. 27,34642° E / Alt. 80 m
Type : Photographie numérique / Digital Photograph (10 mégapixels)
Photo 6 :
Localisation / Location : Tilos, Megalochorio
Date : 27/11/2010
GPS : Lat. 36,45408° N / Long. 27,34609° E / Alt. 69 m
Type : Photographie numérique / Digital Photograph (10 mégapixels)