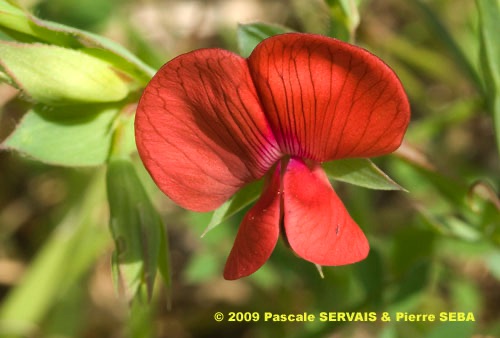 © Pascale SERVAIS & Pierre SEBA, 2018. Tilo Botanica: Flore de Tilos et du Dodécanèse / Flora of Tilos and of the Dodecanese
English translation by Brenda Bradbury, Howard Bradbury and Stéphane Léonard
Plante herbacée, hermaphrodite, grimpante, à tiges étroitement ailées, glabres.
Feuilles existantes, alternes, composées pennées, glabres, à 2 folioles linéaires à lancéolées formant un V, de 5 à 10 mm de large et de 90 mm de long au maximum, à vrille centrale ramifiée. 2 stipules de 20 à 25 mm de long, ciliées.
Fleurs à symétrie bilatérale, cramoisies, orange ou rouge brique, de 8 à 16 mm de long, solitaires, à pédoncule souvent plus long que la fleur. Corolle papilionacée. Ovaire supère.
Fruits, gousses glabres, brunes à maturité, de 20 à 40 mm de long, à suture supérieure présentant 2 rebords épais.
___________________________
Plant herbaceous, hermaphrodite, climbing. Stems glabrous, narrowly winged.
Leaves developed, alternate, compound pinnate, glabrous, with 2 linear to lanceolate leaflets forming a V, from 5 to 10 mm across and 90 mm long at most, with a branched central tendril. 2 ciliate stipules from 20 to 25 mm long.
Flowers bilaterally symmetrical, crimson, orange or brick red, from 8 to 16 mm long, solitary, with a peduncle often longer than the flower. Corolla papilionaceous. Ovary superior.
Fruits, glabrous pods, brown at maturity, from 20 to 40 mm long, with the higher suture presenting 2 thick edges.
Descripteurs / Identifying features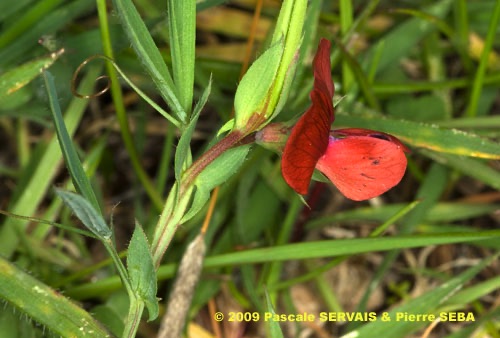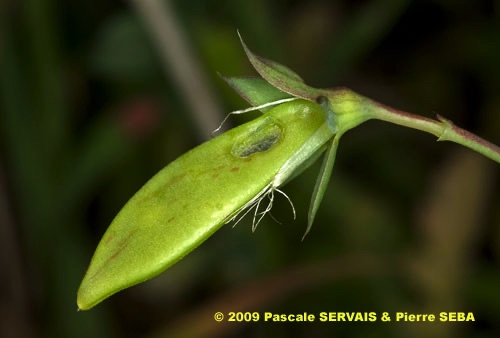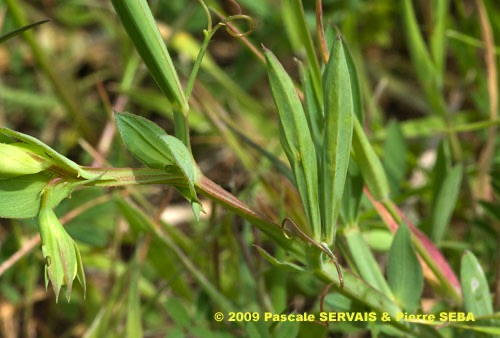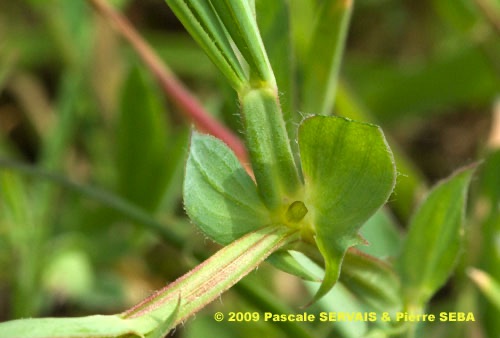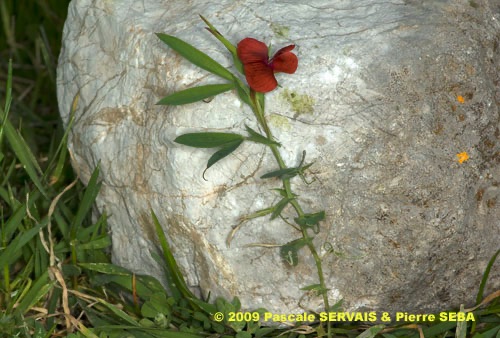 Étymologie / Etymology :
Lathyrus : emprunt du grec ancien λάθυρος, -ου (nom) = le pois chiche,
nom donné à la plante par Théophraste, philosophe péripatéticien,
disciple d'Aristote, botaniste et naturaliste, mort vers 288 av. J.-C.
Cicera : emprunt du latin cicera, -ae (nom) = la gesse, nom donné à la
plante par Columelle, agronome romain du 1er siècle de notre ère.
Lathyrus : borrowed from Classical Greek λάθυρος, -ου (noun)
= chickpea, name given to the plant by Theophrastus, peripatetic
philosopher, disciple of Aristotle, botanist and naturalist, died
towards 288 BC.
Cicera : borrowed from Latin cicera, -ae (noun) = grass pea, name given
to the plant by Columella, Roman agronomist of the 1st century.
Synonymes / Synonyms :
Cicercula anceps Moench
Cicercula cicera (L.) Alef.
Lathyrus aegaeus Davidov
Lathyrus cicera var. angustifolius Rouy
Lathyrus cicera var. latifolius Rouy
Lathyrus dubius Ten.
Lathyrus erythrinus C.Presl
Lathyrus purpureus C.Presl
Pisum rubrum E.H.L.Krause
Noms vernaculaires / Common names :
Noms français / French names :
Gesse chiche — Gessette — Jarosse — Pois breton.
Noms grecs / Greek names :
Αφάκα — Λαθούρι ερεβενθοειδές — Λαθούρι το ερεβενθοειδές.
Noms anglais / English names :
Chickling vetch — Dwarf chickling-vetch — Flat-pod peavine —
Flat-podded vetchling — Flatpod peavine — Lesser chickpea —
Red pea — Red vetchling.
Noms allemands / German names :
Futterplatterbse — Kicher-Platterbse — Kleine Kichererbse —
Kleine Platterbse — Platterbse — Rote Platterbse.
Noms espagnols / Spanish names :
Almorta del monte — Almorta silvestre — Cicercha — Cicércula —
Cicérula — Diente de muerto — Galgana — Guija —
Lenteja forrajera — Titarro.
Noms italiens / Italian names :
Cicerchia Cicerchiella — Mechi — Mochi — Moco.
Habitat :
Cultures - Prairies - Lieux pierreux - Lieux incultes.
Cultivated places - Meadows - Stony places - Waste ground.
Île / Island :
Tilos.
Hauteur / Height range :
De 10 cm à 1 m.
From 10 cm to 1 m.
Floraison / Flowering time :
De février à mai.
From February to May.
Groupe / Classification :
Dicotylédones.
Dicotyledons.
Pérennité / Lifespan :
Annuelle.
Annual.
Description :
Clés dichotomiques et descripteurs distinctifs des 6 espèces / Dichotomous keys and distinctive identifying features of the 6 species
Photo 1 :
Localisation / Location : Tilos, Megalochorio, Chemin de Skafi
Date : 24/03/2009
GPS : Lat. 36,45377° N / Long. 27,34999° E / Alt. 47 m
Type : Photographie numérique / Digital Photograph (10 mégapixels)
Photo 2 :
Localisation / Location : Tilos, Megalochorio, Chemin de Skafi
Date : 24/03/2009
GPS : Lat. 36,45377° N / Long. 27,34999° E / Alt. 47 m
Type : Photographie numérique / Digital Photograph (10 mégapixels)
Photo 3 :
Localisation / Location : Tilos, Megalochorio, Chemin de Skafi
Date : 24/03/2009
GPS : Lat. 36,45377° N / Long. 27,34999° E / Alt. 47 m
Type : Photographie numérique / Digital Photograph (10 mégapixels)
Photo 4 :
Localisation / Location : Tilos, Megalochorio, Chemin de Skafi
Date : 24/03/2009
GPS : Lat. 36,45377° N / Long. 27,34999° E / Alt. 47 m
Type : Photographie numérique / Digital Photograph (10 mégapixels)
Photo 5 :
Localisation / Location : Tilos, Megalochorio, Chemin de Skafi
Date : 24/03/2009
GPS : Lat. 36,45377° N / Long. 27,34999° E / Alt. 47 m
Type : Photographie numérique / Digital Photograph (10 mégapixels)
Photo 6 :
Localisation / Location : Tilos, Megalochorio, Chemin de Skafi
Date : 24/03/2009
GPS : Lat. 36,45377° N / Long. 27,34999° E / Alt. 47 m
Type : Photographie numérique / Digital Photograph (10 mégapixels)