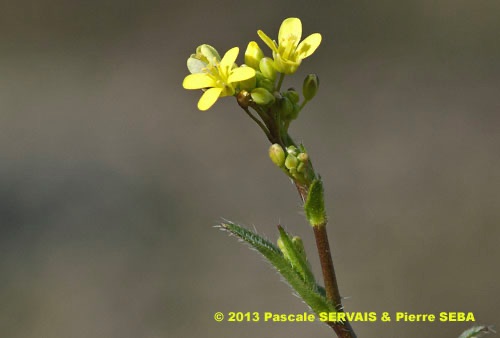 © Pascale SERVAIS & Pierre SEBA, 2018. Tilo Botanica: Flore de Tilos et du Dodécanèse / Flora of Tilos and of the Dodecanese
English translation by Brenda Bradbury, Howard Bradbury and Stéphane Léonard
Plante herbacée, hermaphrodite, mince, dressée, velue, à tiges simples ou ramifiées.
Feuilles en rosette basale ou alternes, simples, elliptiques à oblongues, finement dentées, vertes. Feuilles supérieures linéaires et entières.
Fleurs à symétrie radiaire, jaune pâle, parfois teintées de lilas, de 3 à 5 mm de long, réunies en grappes denses et allongées. Corolle à 4 pétales libres de 2 à 4 mm de long, entiers. Ovaire supère.
Fruits, silicules formées de 2 disques de 4 à 7 mm de diamètre chacun et poilus sur les bords.
___________________________
Plant herbaceous, hermaphrodite, thin, erect, very hairy. Stems simple or branched.
Leaves in a rosette at the base or alternate, simple, elliptic to oblong, finely toothed, green. Upper leaves linear and entire.
Flowers radially symmetrical, pale yellow, sometimes tinted of lilac, from 3 to 5 mm long, joined together in dense and lengthened racemes. Corolla with 4 free petals from 2 to 4 mm long, entire. Ovary superior.
Fruits, siliculas formed of 2 discs from 4 to 7 mm in diameter each and hairy on edges.
Descripteurs / Identifying features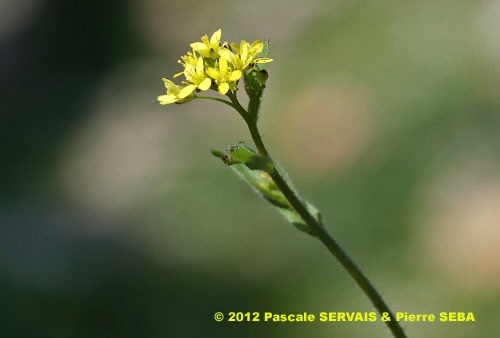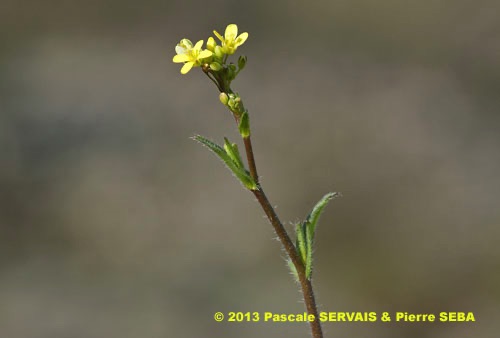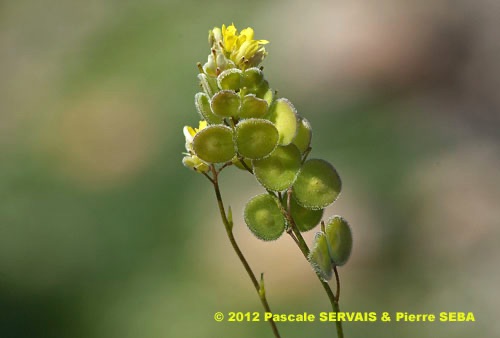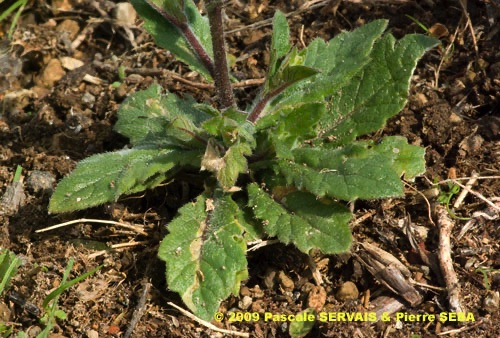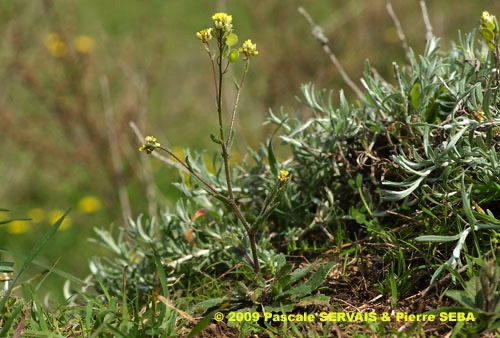 Étymologie / Etymology :
Biscutella : nom créé par les botanistes [ < bis (adv.) = deux fois
+ scuta, -ae (nom) = l'écuelle, l'assiette + -ella (suffixe) = petit ]
= petite assiette plate, soucoupe, en référence à la forme circulaire
des fruits attachés par deux.
Didyma : forme latinisée du grec ancien δίδυμος, -η / -ος, -ον (adj.)
= double, jumeau, en référence aux fruits attachés par deux.
Biscutella : name created by botanists [ < bis (adv) = twice
+ scuta, -ae (noun) = flat dish + -ella (suffix) = small ]
= small flat dish, saucer, referring to the circle-shaped fruits attached
by two.
Didyma : Latinized form of the Classical Greek δίδυμος, -η / -ος, -ον
(adj) = double, twin, referring to the fruits attached by two.
Synonyme / Synonym :
—
Noms vernaculaires / Common names :
Noms français / French names :
Biscutelle — Lunetière.
Noms grecs / Greek names :
Βισκουτέλλα — Μπισκουτέλλα η δίδυμη — Παραδάκια.
Nom anglais / English name :
Mediterranean biscutella.
Nom allemand / German name :
Einjähriges Brillenschötchen.
Nom italien / Italian name :
Biscutella annuale.
Habitat :
Cultures - Lieux pierreux - Lieux incultes.
Cultivated places - Stony places - Waste ground.
Île / Island :
Tilos.
Hauteur / Height range :
De 10 cm à 50 cm.
From 10 cm to 50 cm.
Floraison / Flowering time :
De janvier à mai.
From January to May.
Groupe / Classification :
Dicotylédones.
Dicotyledons.
Pérennité / Lifespan :
Annuelle.
Annual.
Description :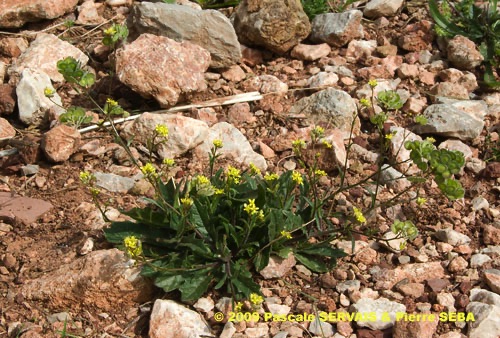 Photo 1 :
Localisation / Location : Tilos, Lethra (gorges / gorge)
Date : 15/01/2013
GPS : Lat. 36,43536° N / Long. 27,38677° E / Alt. 50 m
Type : Photographie numérique / Digital Photograph (10 mégapixels)
Photo 2 :
Localisation / Location : Tilos, Panaghia Kamariani
Date : 07/03/2012
GPS : Lat. 36,45677° N / Long. 27,32197° E / Alt. 61 m
Type : Photographie numérique / Digital Photograph (10 mégapixels)
Photo 3 :
Localisation / Location : Tilos, Lethra (gorges / gorge)
Date : 15/01/2013
GPS : Lat. 36,43536° N / Long. 27,38677° E / Alt. 50 m
Type : Photographie numérique / Digital Photograph (10 mégapixels)
Photo 4 :
Localisation / Location : Tilos, Panaghia Kamariani
Date : 07/03/2012
GPS : Lat. 36,45677° N / Long. 27,32197° E / Alt. 61 m
Type : Photographie numérique / Digital Photograph (10 mégapixels)
Photo 5 :
Localisation / Location : Tilos, Aghios Andonis
Date : 18/03/2009
GPS : —
Type : Photographie numérique / Digital Photograph (10 mégapixels)
Photo 6 :
Localisation / Location : Tilos, Aghios Andonis
Date : 18/03/2009
GPS : —
Type : Photographie numérique / Digital Photograph (10 mégapixels)
Photo 7 :
Localisation / Location : Tilos, Chemin de Lethra / Path to Lethra
Date : 31/03/2009
GPS : —
Type : Photographie numérique / Digital Photograph (10 mégapixels)