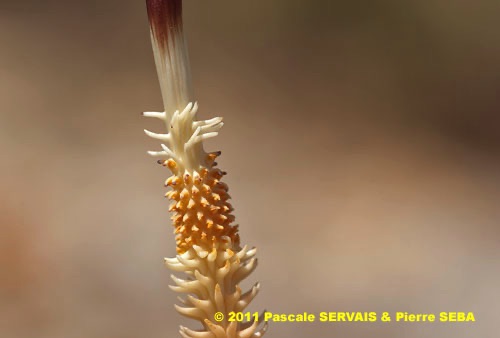 Biarum tenuifolium (L.) Schott
© Pascale SERVAIS & Pierre SEBA, 2020. Tilo Botanica: Flore de Tilos et du Dodécanèse / Flora of Tilos and of the Dodecanese
English translation by Brenda Bradbury, Howard Bradbury and Stéphane Léonard
Plante herbacée, monoïque, vivace, tubéreuse, dégageant une odeur fétide à la floraison.
Feuilles à la base, simples, étroites, oblongues à linéaires, entières, de 10 à 20 mm de large, à bords parfois très ondulés, présentes avant ou après l'apparition de la spathe.
Fleurs sans périanthe, les mâles au-dessus des femelles, groupées en épi autour d'un spadice pourpre noirâtre foncé, projeté bien au-delà de la spathe. Spathe de 8 à 30 cm de long, vert brunâtre pâle à marron, dressée à réfléchie ou en casque. Fleurs stériles filiformes au-dessus et en dessous des fleurs mâles. Ovaire supère.
Fruits, baies blanchâtres ou verdâtres, en épi sur le sol ou un peu au-dessus.
___________________________
Plant herbaceous, monoecious, perennial, tuberose, releasing a stinking odor at flowering.
Leaves at the base, simple, narrow, oblong to linear, entire, from 10 to 20 mm across, with sometimes very wavy edges, present before or after the appearance of the spathe.
Flowers without a perianth, the male ones above the female ones, grouped in a spike around a blackish purple spadix projected well beyond the spathe. Spathe from 8 to 30 cm long, pale brownish green to brown, erect to resupinate or helmet-shaped. Sterile flowers threadlike above and below the male flowers. Ovary superior.
Fruits, whitish or greenish berries in a spike on the ground or a little above.
Descripteurs / Identifying features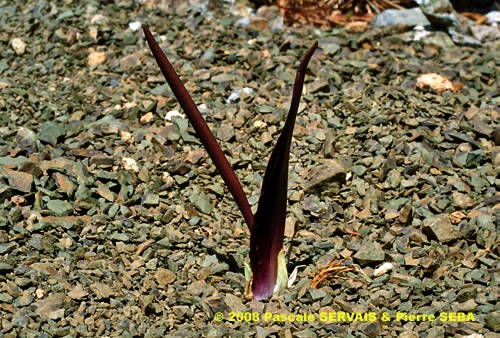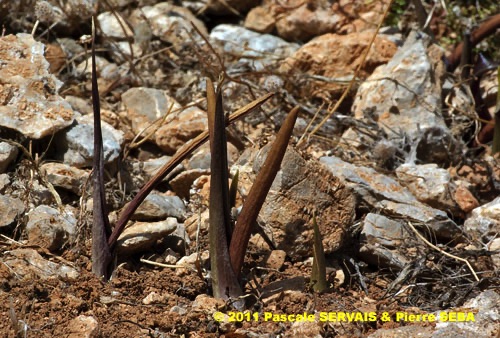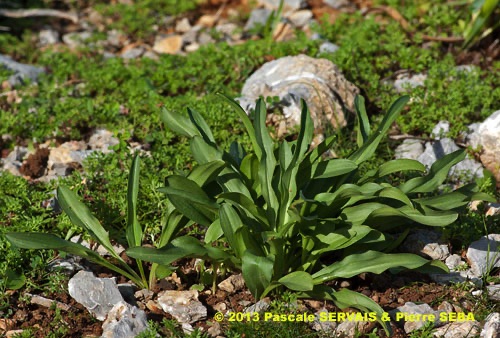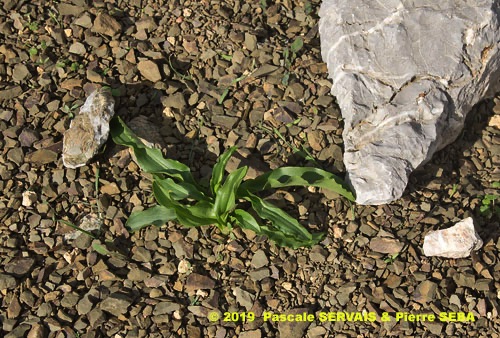 Étymologie / Etymology :
Biarum : emprunt du latin bis = deux fois, double + aron, -i (arum, -i)
(nom) = arum. Le nom latin biarum, -i signifie: double arum.
Tenuifolium : adjectif créé par les botanistes [ < tenuis, -is, -e (adj.)
= mince, fin, grêle + folium, -i (nom) = la feuille ] = à feuilles grêles.
Biarum : borrowed from Latin bis = twice, double + aron, -i (arum, -i)
(noun) = arum. The Latin noun biarum, -i means: double arum.
Tenuifolium : adjective created by botanists [ < tenuis, -is, -e (adj)
= slender, thin, slim + folium, -i (noun) = leaf ] = with thin leaves,
with slender leaves.
Synonyme / Synonym :
Arum tenuifolium L.
Noms vernaculaires / Common names :
Nom anglais / English name :
Narrow leaved biarum.
Nom allemand / German name :
Schmalblättrige Biarum.
Nom italien / Italian name :
Gigaro a foglie sottili.
Habitat :
Cultures - Lieux pierreux - Lieux incultes - Chemins.
Cultivated places - Stony places - Waste ground - Waysides.
Île / Island :
Tilos.
Hauteur / Height range :
De 10 cm à 30 cm.
From 10 cm to 30 cm.
Floraison / Flowering time :
De mai à novembre.
From May to November.
Groupe / Classification :
Monocotylédones.
Monocotyledons.
Pérennité / Lifespan :
Vivace.
Perennial.
Description :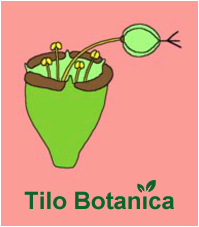 Photo 1 :
Localisation / Location : Tilos, Livadia, Pano Meri
Date : 24/05/2011
GPS : Lat. 36,41008° N / Long. 27,41196° E / Alt. 125 m
Type : Photographie numérique / Digital Photograph (10 mégapixels)
Photo 2 :
Localisation / Location : Tilos, Livadia, Pano Meri
Date : 15/05/2007
GPS : Lat. 36,40935° N / Long. 27,41249° E / Alt. 158 m
Type : Kodak Gold 200 ASA
Photo 3 :
Localisation / Location : Tilos, Livadia, Pano Meri
Date : 24/05/2011
GPS : Lat. 36,41008° N / Long. 27,41196° E / Alt. 125 m
Type : Photographie numérique / Digital Photograph (10 mégapixels)
Photo 4 :
Localisation / Location : Tilos, Livadia, Pano Meri
Date : 20/01/2013
GPS : Lat. 36,41008° N / Long. 27,41196° E / Alt. 125 m
Type : Photographie numérique / Digital Photograph (10 mégapixels)
Photo 5 :
Localisation / Location : Tilos, Livadia, Pano Meri
Date : 01/12/2019
GPS : Lat. 36,39835° N / Long. 27,40374° E / Alt. 276 m
Type : Photographie numérique / Digital Photograph (24 mégapixels)
Photo 6 :
Localisation / Location : Tilos, Livadia, Pano Meri
Date : 24/05/2011
GPS : Lat. 36,41008° N / Long. 27,41196° E / Alt. 125 m
Type : Photographie numérique / Digital Photograph (10 mégapixels)