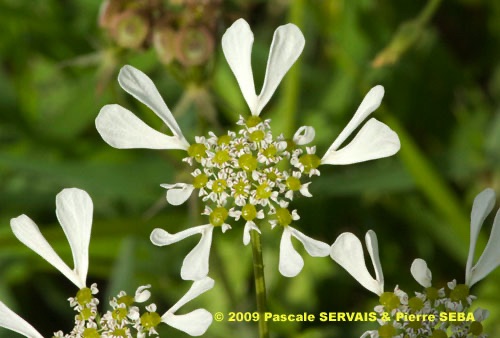 © Pascale SERVAIS & Pierre SEBA, 2018. Tilo Botanica: Flore de Tilos et du Dodécanèse / Flora of Tilos and of the Dodecanese
English translation by Brenda Bradbury, Howard Bradbury and Stéphane Léonard
Plante herbacée, hermaphrodite, légèrement poilue, plus velue à la base, à tiges minces, dressées, cannelées et ramifiées.
Feuilles alternes, les inférieures composées imparipennées à folioles dentées, assez distantes les unes des autres, les supérieures non dentées, en forme de ruban.
Fleurs à symétrie radiaire, blanches à rosâtres, de 2,5 à 10 mm de diamètre, groupées en ombelles aérées de 4 à 8 rayons, de 40 à 80 mm de diamètre, à bractées de l'involucre ne dépassant pas 10 mm de long.
Corolle des fleurs externes à 1 grand pétale bilobé (on dirait 2 pétales) de 5 à 9 mm de long et à 4 pétales plus petits de 4 à 6 mm de long. Ovaire infère.
Fruits, akènes à contour presque circulaire, aplatis et à rebord épais, pâle et crénelé.
___________________________
Plant herbaceous, hermaphrodite, slightly hairy, hairier at the base. Stems thin, erect, grooved and branched.
Leaves alternate, the lower ones compound imparipinnate with toothed leaflets, rather distant from each other, the higher ones nontoothed, ribboned.
Flowers radially symmetrical, white to pinkish, from 2.5 to 10 mm in diameter, joined together in loose umbels from 4 to 8 rays, from 40 to 80 mm in diameter, with bracts of the involucre not exceeding 10 mm long. Corolla of the external flowers with 1 large, two-lobed petal (it looks like two petals) from 5 to 9 mm long and with 4 smaller petals from 4 to 6 mm long. Ovary inferior.
Fruits, achenes with an almost circular contour, flattened and with a thick, pale and crenate edge.
Descripteurs / Identifying features: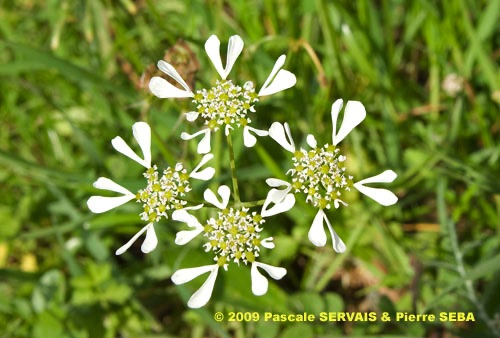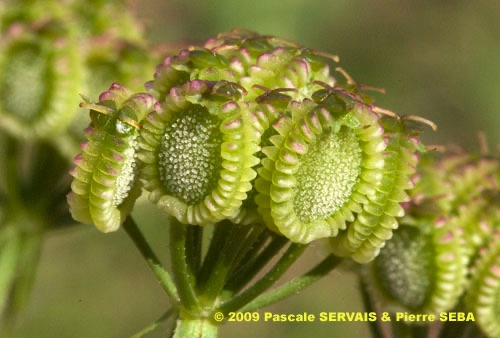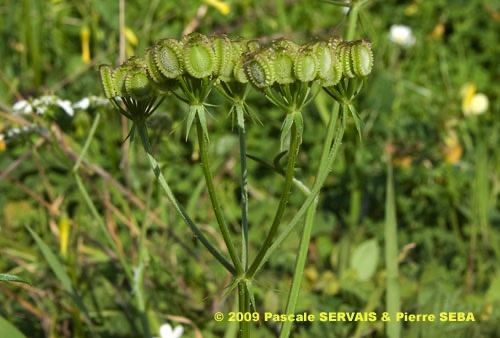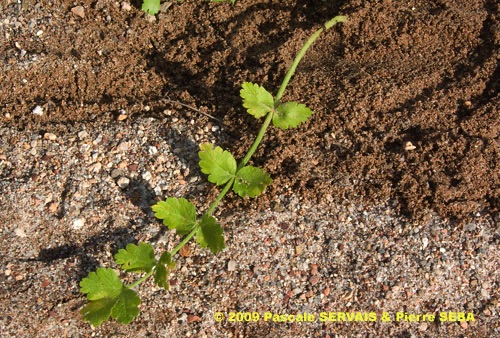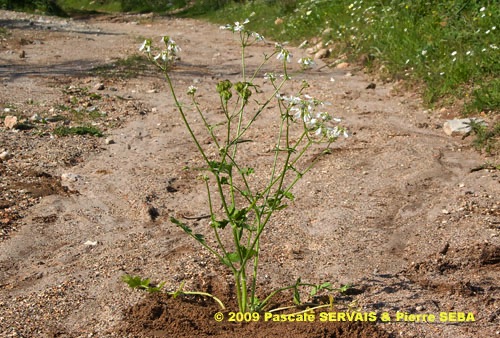 Étymologie / Etymology :
Tordylium : emprunt du latin tordylion, -ii (nom) = le tordyle, nom donné
à la plante par Pline, naturaliste latin mort en 79 apr. J.-C., forme
latinisée du grec ancien τορδύλιον, -ου (nom) [ < τόρνος, -ου (nom)
= le tour à bois + ἴλλω (verbe) = tourner, être enroulé ] = le tordyle,
nom donné à la plante par Dioscoride, médecin et botaniste grec mort
en 90 apr. J.-C., en référence aux fruits ronds comme sculptés sur
les bords.
Apulum : emprunt du latin apulus, -a, -um (adj.)
[ < Apulia, -ae (nom propre) = l'Apulie (région du sud de l'Italie ]
= d'Apulie, qui vient d'Apulie.
Tordylium : borrowed from Latin tordylion, -ii (noun) = hartwort, name
given to the plant by Plinius, Latin naturalist died in 79 AD, Latinized
form of the Classical Greek τορδύλιον, -ου (noun) [ < τόρνος, -ου
(noun) = wood lathe + ἴλλω (verb) = to turn, to be coiled ] = hartwort,
name given to the plant by Dioscorides, Greek doctor and botanist died
in 90 AD, referring to the round fruits like carved on the edges.
Apulum : borrowed from Latin apulus, -a, -um (adj)
[ < Apulia, -ae (proper noun) = Apulia (region of southern Italy ]
= of or from Apulia, which comes from Apulia.
Synonymes / Synonyms :
Condylocarpus apulus (L.) Hoffm.
Condylocarpus humilis W.D.J.Koch
Tordylium grandiflorum Moench
Tordylium humile Desf.
Tordylium insulare Clarke
Tordylium rugulosum Gand.
Noms vernaculaires / Common names :
Noms français / French names :
Tordyle d'Apulie — Tordyle des Pouilles — Tordyle élevé.
Noms grecs / Greek names :
Καυκαλήθρα — Καυκαλίδα — Καυκαλίθρα — Καυκαλύθρα — Μοσκάκι —
Μοσκολάχανο — Τορδύλιο της Απουλίας.
Noms anglais / English names :
Mediterranean hartwort — Roman pimpernel.
Noms allemands / German names :
Apulische Zirmet — Apulischer Zirmet.
Nom italien / Italian name :
Ombrellini pugliesi.
Habitat :
Cultures - Lieux pierreux - Chemins.
Cultivated places - Stony places - Waysides.
Île / Island :
Tilos.
Hauteur / Height range :
De 20 cm à 50 cm.
From 20 cm to 50 cm.
Floraison / Flowering time :
De février à juillet.
From February to July.
Groupe / Classification :
Dicotylédones.
Dicotyledons.
Pérennité / Lifespan :
Annuelle.
Annual.
Description :
Descripteurs distinctifs des 2 espèces / Distinctive identifying features of the 2 species
Photo 1 :
Localisation / Location : Tilos, Chemin de Skafi / Path to Skafi
Date : 24/03/2009
GPS : Lat. 36,45487° N / Long. 27,34968° E / Alt. 54 m
Type : Photographie numérique / Digital Photograph (10 mégapixels)
Photo 2 :
Localisation / Location : Tilos, Chemin de Skafi / Path to Skafi
Date : 24/03/2009
GPS : Lat. 36,45487° N / Long. 27,34968° E / Alt. 54 m
Type : Photographie numérique / Digital Photograph (10 mégapixels)
Photo 3 :
Localisation / Location : Tilos, Chemin de Skafi / Path to Skafi
Date : 24/03/2009
GPS : Lat. 36,45487° N / Long. 27,34968° E / Alt. 54 m
Type : Photographie numérique / Digital Photograph (10 mégapixels)
Photo 4 :
Localisation / Location : Tilos, Chemin de Skafi / Path to Skafi
Date : 24/03/2009
GPS : Lat. 36,45487° N / Long. 27,34968° E / Alt. 54 m
Type : Photographie numérique / Digital Photograph (10 mégapixels)
Photo 5 :
Localisation / Location : Tilos, Chemin de Skafi / Path to Skafi
Date : 24/03/2009
GPS : Lat. 36,45487° N / Long. 27,34968° E / Alt. 54 m
Type : Photographie numérique / Digital Photograph (10 mégapixels)
Photo 6 :
Localisation / Location : Tilos, Chemin de Skafi / Path to Skafi
Date : 24/03/2009
GPS : Lat. 36,45487° N / Long. 27,34968° E / Alt. 54 m
Type : Photographie numérique / Digital Photograph (10 mégapixels)