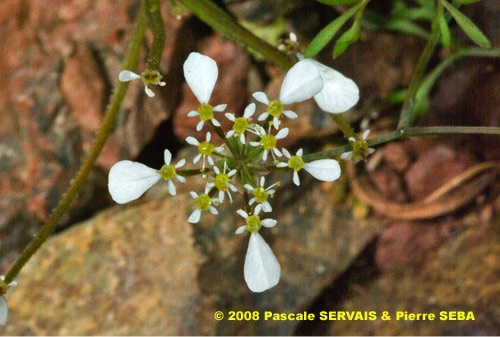 © Pascale SERVAIS & Pierre SEBA, 2018. Tilo Botanica: Flore de Tilos et du Dodécanèse / Flora of Tilos and of the Dodecanese
English translation by Brenda Bradbury, Howard Bradbury and Stéphane Léonard
Plante herbacée, hermaphrodite, à tiges glabres.
Feuilles à la base et alternes, composées bipennées ou tripennées, à segments linéaires dentés.
Fleurs à symétrie radiaire, blanches, groupées en ombelles composées de 1 à 3 rayons, sans sépales. Les ombellules semblent chacune former un rameau isolé, ce qui donne l'impression de fleurs réunies en ombelles simples. Involucre absent ou à une seule bractée. Involucelle à 5 bractéoles à bords membraneux, généralement poilues. Corolle des fleurs externes à pétales généralement plus longs, jusque 2 ou 3 mm. 5 étamines. Styles courts et dressés. Ovaire infère.
Fruits, akènes cylindriques, non comprimés, poilus, à long bec plus ou moins arqué de 15 à 40 mm de long.
___________________________
Plant herbaceous, hermaphrodite, with glabrous stems.
Leaves at the base and alternate, compound bipinnately or tripinnately, with toothed linear segments.
Flowers radially symmetrical, white, joined together in compound umbels from 1 to 3 rays, without sepals. Each umbellet seems to form an isolated branch, which gives the impression of flowers joined together in simple umbels. Involucre absent or with only one bract. Involucel with 5 bracteoles with membranous edges, generally hairy. Corolla of the external flowers with petals generally longer, up to 2 or 3 mm. 5 stamens. Styles short and erect. Ovary inferior.
Fruits, cylindrical, noncompressed, hairy achenes, with a long, more or less curved beak from 15 to 40 mm long.
Descripteurs / Identifying features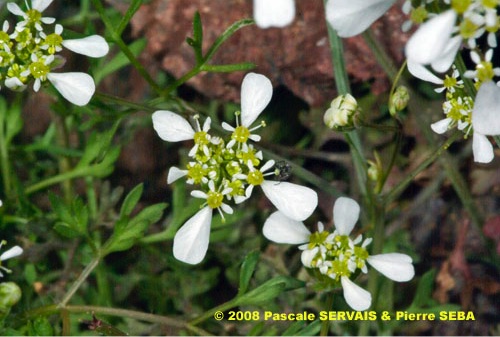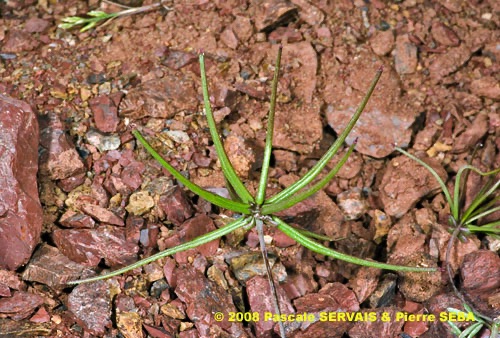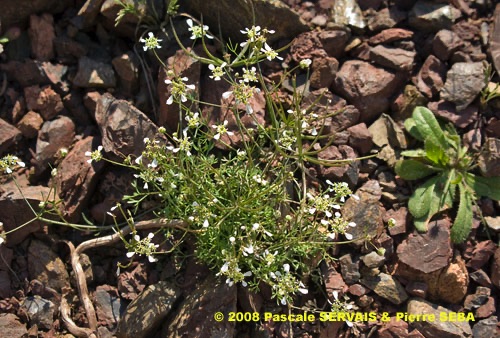 Étymologie / Etymology :
Scandix : emprunt du latin scandix, -icis (nom) = le cerfeuil, nom donné
à la plante par Pline, naturaliste latin mort en 79 apr. J.-C., forme
latinisée du grec ancien σκάνδιξ, -ικος (nom) = le cerfeuil, nom donné
à la plante par Théophraste, philosophe péripatéticien, disciple
d'Aristote, botaniste et naturaliste, mort vers 288 av. J.-C.
Australis : emprunt du latin australis, -is, -e (adj.) [ < auster, -tri (nom)
= le vent du sud ] = du sud, méridional.
Scandix : borrowed from Latin scandix, -icis (noun) = chervil, name given
to the plant by Plinius, Latin naturalist died in 79 AD, Latinized form of
the Classical Greek σκάνδιξ, -ικος (noun) = chervil, name given to the
plant by Theophrastus, peripatetic philosopher, disciple of Aristotle,
botanist and naturalist, died towards 288 BC.
Australis : borrowed from Latin australis, -is, -e (adj)
[ < auster, -tri (noun) = wind from the south ] = which comes from the
south, meridional.
Synonyme / Synonym :
—
Noms vernaculaires / Common names :
Noms français / French names :
Scandix du Midi — Scandix du Sud.
Noms grecs / Greek names :
Αρχάτζικος — Αχάτζικας — Μυρώνια.
Nom anglais / English name :
Southern shepherd's-needle.
Nom allemand / German name :
Südlicher Venuskamm.
Nom italien / Italian name :
Acicula minore.
Habitat :
Forêts - Prairies - Lieux pierreux - Chemins.
Forests - Meadows - Stony places - Waysides.
Île / Island :
Tilos.
Hauteur / Height range :
De 5 cm à 30 cm.
From 5 cm to 30 cm.
Floraison / Flowering time :
De février à mai.
From February to May.
Groupe / Classification :
Dicotylédones.
Dicotyledons.
Pérennité / Lifespan :
Annuelle.
Annual.
Description :
Descripteurs distinctifs des 2 espèces / Distinctive identifying features of the 2 species
Photo 1 :
Localisation / Location : Tilos, Aghios Pandeleimonas
Date : 26/04/2008
GPS : Lat. 36,45190° N / Long. 27,30185° E / Alt. 195 m
Type : Photographie numérique / Digital Photograph (10 mégapixels)
Photo 2 :
Localisation / Location : Tilos, Aghios Pandeleimonas
Date : 26/04/2008
GPS : Lat. 36,45190° N / Long. 27,30185° E / Alt. 195 m
Type : Photographie numérique / Digital Photograph (10 mégapixels)
Photo 3 :
Localisation / Location : Tilos, Aghios Pandeleimonas
Date : 26/04/2008
GPS : Lat. 36,45190° N / Long. 27,30185° E / Alt. 195 m
Type : Photographie numérique / Digital Photograph (10 mégapixels)
Photo 4 :
Localisation / Location : Tilos, Aghios Pandeleimonas
Date : 25/04/2008
GPS : Lat. 36,45190° N / Long. 27,30185° E / Alt. 195 m
Type : Photographie numérique / Digital Photograph (10 mégapixels)