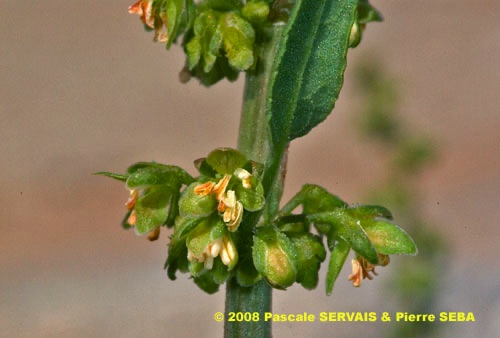 © Pascale SERVAIS & Pierre SEBA, 2018. Tilo Botanica: Flore de Tilos et du Dodécanèse / Flora of Tilos and of the Dodecanese
English translation by Brenda Bradbury, Howard Bradbury and Stéphane Léonard
Plante herbacée, hermaphrodite, à tiges striées, dressées, poilues.
Feuilles alternes, simples, lancéolées à oblongues, cordiformes, entières à dentées, glabres sur la face supérieure et poilues sur la face inférieure. Feuilles inférieures pétiolées, à bords dentés et sinués. Stipules soudées en tube membraneux entourant la tige (ochréa).
Fleurs à symétrie radiaire, vertes, pédonculées, réunies en grappes ou en verticilles placés à l'aisselle d'une feuille. Périanthe à 6 tépales. 6 étamines. 3 styles courts terminés par 1 stigmate divisé en pinceau. Ovaire supère.
Fruits, akènes à 3 angles, entourés par les tépales à contour triangulaire et bordés de dents pointues et très étroites.
___________________________
Plant herbaceous, hermaphrodite. Stems striated, erect, hairy.
Leaves alternate, simple, lanceolate to oblong, cordate, entire to toothed, glabrous on the upper surface and hairy on the lower surface. Lower leaves petiolate, with toothed and sinuate edges. Stipules fused in a membranous tube surrounding the stem (ochrea).
Flowers radially symmetrical, green, stalked, joined together in racemes or whorls located at the axil of a leaf. Perianth with 6 tepals. 6 stamens. 3 short styles finished by 1 stigma divided into a brush. Ovary superior.
Fruits, achenes with 3 angles, surrounded by the tepals with a triangular contour, bordered by pointed and very narrow teeth.
Descripteurs / Identifying features: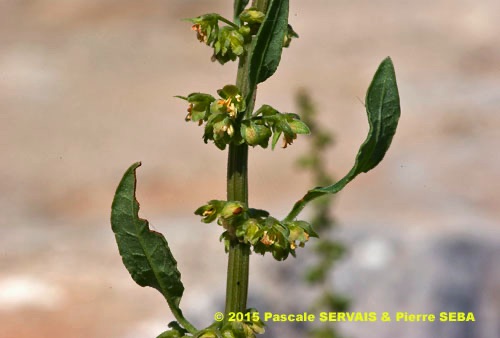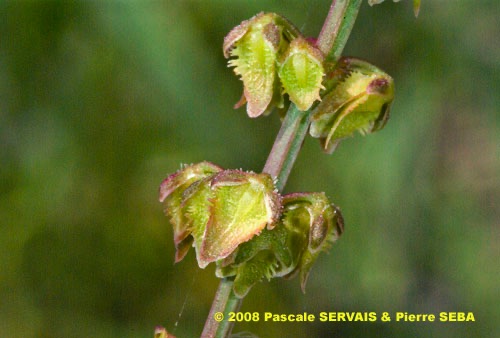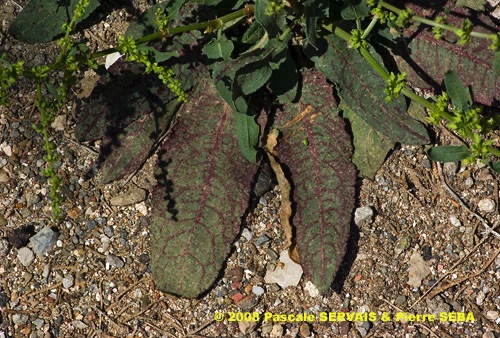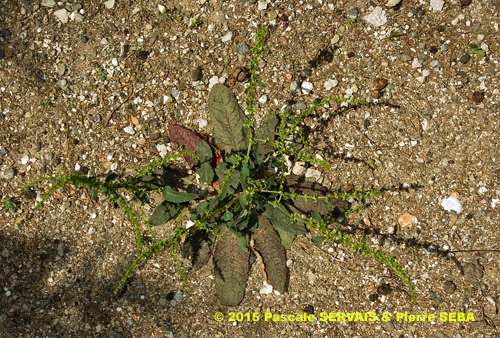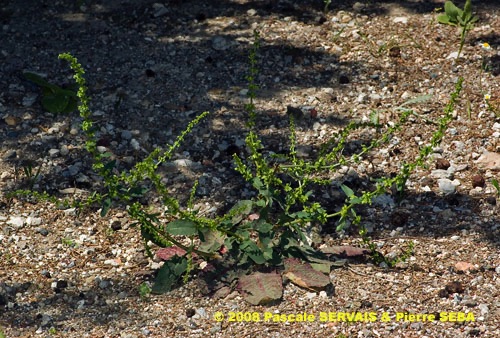 Étymologie / Etymology :
Rumex : emprunt du latin rumex, -icis (nom) = le dard, l'oseille, nom
donné à la plante par Pline, naturaliste latin mort en 79 apr. J.-C.,
en référence à la forme pointue des feuilles de beaucoup d'espèces
de ce genre.
Obtusifolius : adjectif créé par les botanistes [ < obtusus, -a, -um (adj.)
= émoussé, obtus + folium, -i (nom) = la feuille ] = à feuilles obtuses.
Rumex : borrowed from Latin rumex, -icis (noun) = sting, sorrel, name
given to the plant by Plinius, Latin naturalist died in 79 AD, referring to
the pointed shape of the leaves of many species of this genus.
Obtusifolius : adjective created by botanists
[ < obtusus, -a, -um (adj) = blunt, obtuse + folium, -i (noun) = leaf ]
= with blunted leaves.
Synonyme / Synonym :
—
Noms vernaculaires / Common names :
Noms français / French names :
Patience à feuilles obtuses — Patience obtuse —
Patience sauvage — Rumex à feuilles obtuses.
Noms grecs / Greek names :
Λάπαθο — Λάπαθο μεγάλο — Λάπαθο το αμβλύφυλλον — Λάπατο —
Μεγάλο λάπαθο.
Noms anglais / English names :
Bitter dock — Broad-leaved dock — Round-leaved dock.
Noms allemands / German names :
Grind-Ampfer — Stumpfblatt-Ampfer — Stumpfblättriger Ampfer —
Stumpfblättriger-Ampfer — Wilder-Ampfer.
Noms espagnols / Spanish names :
Acedera de hojas obtusas — Acedera obtusifolia —
Consólida-brava — Labaça — Romaza común —
Romaza de hoja grande — Vinagrillo.
Noms italiens / Italian names :
Lapazio dei tetti — Lingua di capra — Rómice comune —
Romice dei tetti.
Habitat :
Lieux pierreux - Lieux incultes - Lieux humides, mares - Chemins.
Stony places - Waste ground - Damp places, ponds - Waysides.
Île / Island :
Tilos.
Hauteur / Height range :
De 50 cm à 1 m.
From 50 cm to 1 m.
Floraison / Flowering time :
De mars à juillet.
From March to July.
Groupe / Classification :
Dicotylédones.
Dicotyledons.
Pérennité / Lifespan :
Annuelle ou bisannuelle.
Annual or biennial.
Description :
Descripteurs distinctifs des 3 espèces / Distinctive identifying features of the 3 species
Photo 1 :
Localisation / Location : Tilos, Plaka
Date : 25/04/2008
GPS : Lat. 36,46395° N / Long. 27,30398° E / Alt. 30 m
Type : Photographie numérique / Digital Photograph (10 mégapixels)
Photo 2 :
Localisation / Location : Tilos, Plaka
Date : 25/04/2008
GPS : Lat. 36,46395° N / Long. 27,30398° E / Alt. 30 m
Type : Photographie numérique / Digital Photograph (10 mégapixels)
Photo 3 :
Localisation / Location : Tilos, Plaka
Date : 25/04/2008
GPS : Lat. 36,46395° N / Long. 27,30398° E / Alt. 30 m
Type : Photographie numérique / Digital Photograph (10 mégapixels)
Photo 4 :
Localisation / Location : Tilos, Plaka
Date : 25/04/2008
GPS : Lat. 36,46395° N / Long. 27,30398° E / Alt. 30 m
Type : Photographie numérique / Digital Photograph (10 mégapixels)
Photo 5 :
Localisation / Location : Tilos, Plaka
Date : 25/04/2008
GPS : Lat. 36,46395° N / Long. 27,30398° E / Alt. 30 m
Type : Photographie numérique / Digital Photograph (10 mégapixels)
Photo 6 :
Localisation / Location : Tilos, Plaka
Date : 25/04/2008
GPS : Lat. 36,46395° N / Long. 27,30398° E / Alt. 30 m
Type : Photographie numérique / Digital Photograph (10 mégapixels)