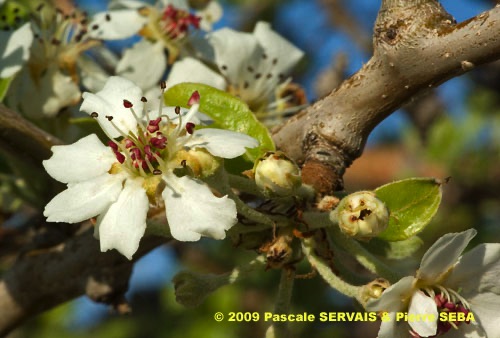 © Pascale SERVAIS & Pierre SEBA, 2018. Tilo Botanica: Flore de Tilos et du Dodécanèse / Flora of Tilos and of the Dodecanese
English translation by Brenda Bradbury, Howard Bradbury and Stéphane Léonard
Arbuste hermaphrodite, souvent très ramifié et souvent épineux, à branches grises, velues à l'état jeune.
Feuilles alternes ou groupées, simples, lancéolées à elliptiques, vertes, brillantes à maturité, entières (parfois trilobées), à pétiole plus court que le limbe.
Fleurs à symétrie radiaire, blanches, réunies en corymbes. Corolle à 5 pétales libres, échancrés au sommet. Calice à 5 sépales vert pâle, à pointe rougeâtre, soudés à la base, couverts de poils blancs. Étamines nombreuses. Ovaire infère.
Fruits, drupes sphériques dures, non comestibles, de 15 à 30 mm de diamètre, brun jaune sombre à maturité, à sépales persistants.
___________________________
Treelet hermaphrodite, often very branched and often spiny. Branches grey, very hairy when youthful.
Leaves alternate or joined together, simple, lanceolate to elliptic, green, bright at maturity, entire (sometimes three-lobed), with a petiole shorter than the blade.
Flowers radially symmetrical, white, joined together in corymbs. Corolla with 5 free petals, indented at the top. Calyx with 5 pale green sepals finished by a reddish point, partly fused, covered in white hairs. Numerous stamens. Ovary inferior.
Fruits, tough spherical drupes, nonedible, from 15 to 30 mm in diameter, dark yellow brown at maturity, with persistent sepals.
Descripteurs / Identifying features: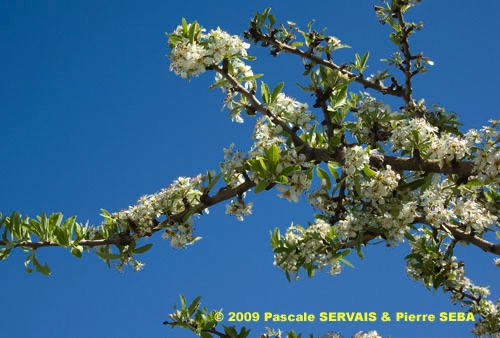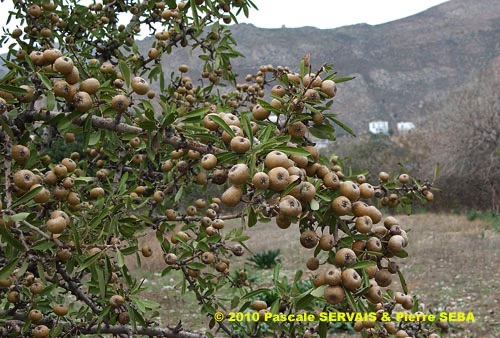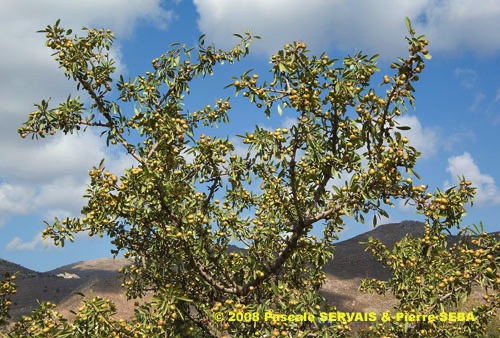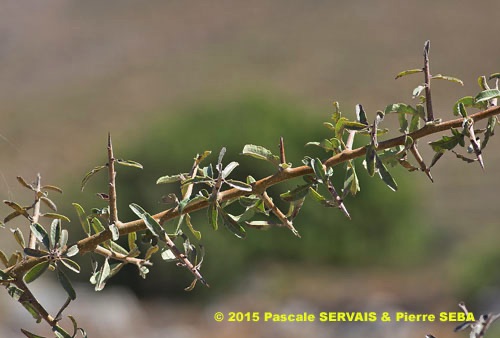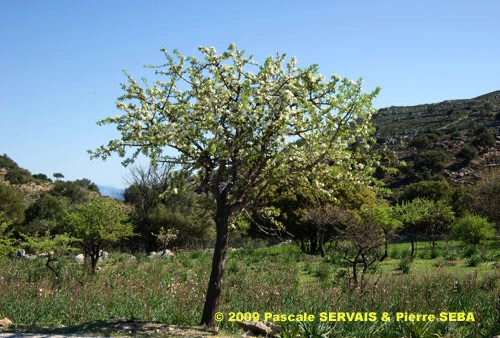 Étymologie / Etymology :
Pyrus : emprunt du latin pirus (pyrus), -i (nom) = le poirier, nom donné
à la plante par Pline, naturaliste latin mort en 79 apr. J.-C.
Spinosa : emprunt du latin spinosus, -a, -um (adj.) [ < spina, -ae
(nom) = l'épine ] = pointu, épineux, couvert d'épines, en référence aux
parties épineuses de la plante.
Pyrus : borrowed from Latin pirus (pyrus), -i (noun) = pear tree,
name given to the plant by Plinius, Latin naturalist died in 79 AD.
Spinosa : borrowed from Latin spinosus, -a, -um (adj) [ < spina, -ae
(noun) = spine ] = sharp, spiny, covered in thorns, referring to the
spiny parts of the plant.
Synonymes / Synonyms :
Pyrus amygdaliformis Vill.
Crataegus amygdaliformis (Vill.) Chalon
Pyrus amygdaliformis Vill.
Pyrus amygdaliformis var. oblongifolia (Spach) Nyman
Pyrus angustifolia Decne.
Pyrus communis subsp. amygdaliformis (Vill.) Braun-Blanq.
Pyrus communis var. amygdaliformis (Vill.) Fiori
Pyrus cuneifolia Guss.
Pyrus oblongifolia Spach
Pyrus parviflora Desf.
Pyrus pyrainus Raf.
Pyrus salviifolia var. amygdaliformis (Vill.) Griseb.
Pyrus sinaica Thouin
Noms vernaculaires / Common names :
Nom français / French name :
Poirier à feuilles d'amandier.
Noms grecs / Greek names :
Αγκορτσιά — Αγκούτσακος — Αγριοαπιδιά — Αγριοαχλαδιά —
Γκορτσιά.
Nom anglais / English name :
Almond-leaved pear.
Nom allemand / German name :
Mandelblättrige Birne.
Nom espagnol / Spanish name :
Peral de hoja de Almendro.
Nom italien / Italian name :
Pero mandorlino.
Habitat :
Lieux pierreux - Lieux incultes - Chemins.
Stony places - Waste ground - Waysides.
Île / Island :
Tilos.
Hauteur / Height range :
De 2,50 m à 5 m.
From 2.50 m to 5 m.
Floraison / Flowering time :
De février à avril.
From February to April.
Groupe / Classification :
Dicotylédones.
Dicotyledons.
Pérennité / Lifespan :
Vivace.
Perennial.
Description :
Photo 1 :
Localisation / Location : Tilos, Livadia (environs / surroundings)
Date : 14/03/2009
GPS : —
Type : Photographie numérique / Digital Photograph (10 mégapixels)
Photo 2 :
Localisation / Location : Tilos, Microchorio (environs / surroundings)
Date : 20/03/2009
GPS : Lat. 36,42777° N / Long. 27,37758° E / Alt. 114 m
Type : Photographie numérique / Digital Photograph (10 mégapixels)
Photo 3 :
Localisation / Location : Tilos, Livadia
Date : 02/12/2010
GPS : Lat. 36,40879° N / Long. 27,39220° E / Alt. 18 m
Type : Photographie numérique / Digital Photograph (10 mégapixels)
Photo 4 :
Localisation / Location : Tilos, Aghios Stephanos
Date : 23/09/2008
GPS : Lat. 36,40764° N / Long. 27,39607° E / Alt. 12 m
Type : Photographie numérique / Digital Photograph (10 mégapixels)
Photo 5 :
Localisation / Location : Tilos, Livadia
Date : 13/09/2015
GPS : Lat. 36,40885° N / Long. 27,39741° E / Alt. 5 m
Type : Photographie numérique / Digital Photograph (24 mégapixels)
Photo 6 :
Localisation / Location : Tilos, Microchorio (environs / surroundings)
Date : 20/03/2009
GPS : Lat. 36,42777° N / Long. 27,37758° E / Alt. 114 m
Type : Photographie numérique / Digital Photograph (10 mégapixels)