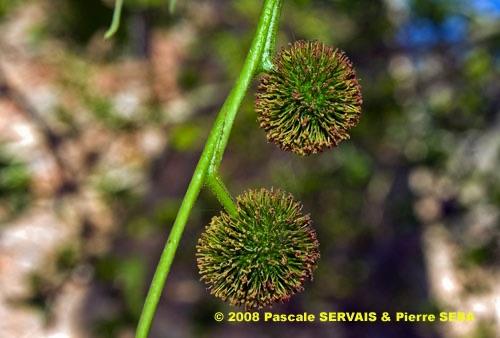 © Pascale SERVAIS & Pierre SEBA, 2018. Tilo Botanica: Flore de Tilos et du Dodécanèse / Flora of Tilos and of the Dodecanese
English translation by Brenda Bradbury, Howard Bradbury and Stéphane Léonard
Arbre monoïque, aux branches étalées, à tronc à écorce se détachant par plaques minces et irrégulières.
Feuilles alternes, divisées palmatifides à palmatipartites, pétiolées, glabres, caduques, à lobes généralement dentés, avec des stipules qui tombent de bonne heure.
Fleurs jaunâtres ou verdâtres, sans calice ni corolle, staminées et pistillées sur le même pied, réunies en petites masses unisexuées, globuleuses, pendantes, dont les unes ne portent que des étamines, entourées de très petites écailles à la base, les autres que des pistils munis de longs poils. 1 style allongé, recourbé à l'extrémité. Ovaire supère.
Fruits, akènes secs, en boules sphériques à maturité, munis de longs poils raides et roussâtres, par 2 à 4 sur le même rameau.
___________________________
Tree monoecious, with spread out branches. Trunk with a bark detaching by thin and irregular sections.
Leaves alternate, dissected palmatifid to palmatipartite, petiolate, glabrous, deciduous, generally with toothed lobes, with stipules which fall early.
Flowers yellowish or greenish, without a calyx or a corolla, the staminate ones and the pistillate ones on the same foot, joined together in small unisexual, globose masses, hanging, the ones carrying only stamens, surrounded by very small scales at the base, the other ones only pistils provided with long hairs. 1 lengthened style, curved at the tip. Ovary superior.
Fruits, dry achenes, in balls spherical at maturity, provided with long stiff and reddish hairs, by 2 to 4 on the same branch.
Descripteurs / Identifying features: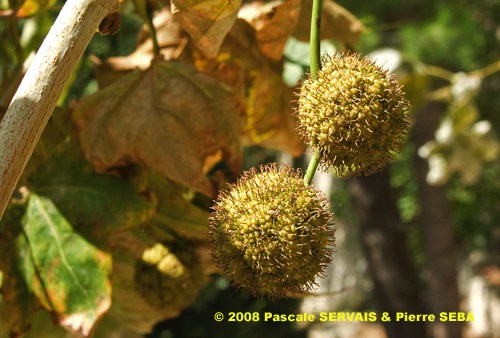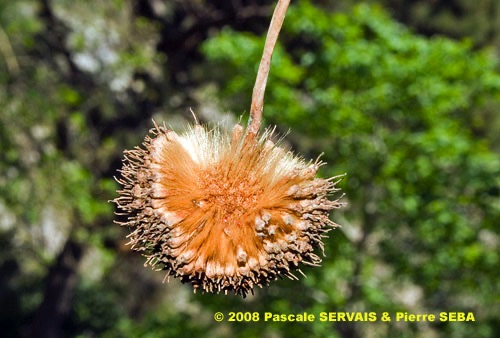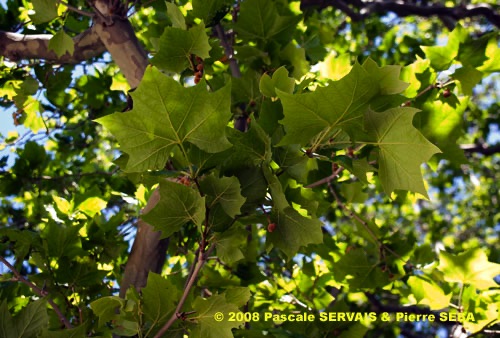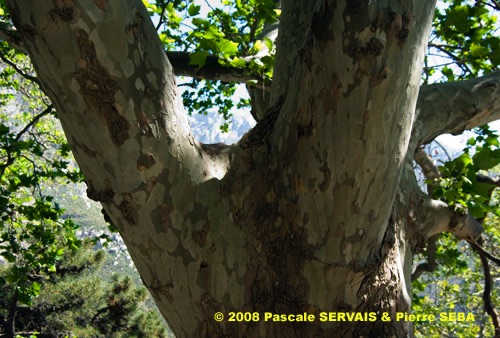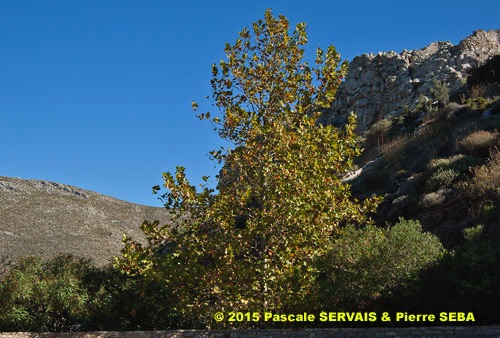 Étymologie / Etymology :
Platanus : emprunt du latin platanus, -i (nom) = le platane, forme
latinisée du grec ancien πλάτανος, -ου (nom) [ < πλατύς, -εῖα, -ύ (adj.)
= large, plat ] = le platane, en référence à ses feuilles larges et planes.
Orientalis : emprunt du latin orientalis, -is, -e (adj.) = oriental,
qui vient de l'orient.
Platanus : borrowed from Latin platanus, -i (noun) = platane, Latinized
form of the Classical Greek πλάτανος, -ου (noun)
[ < πλατύς, -εῖα, -ύ (adj) = wide, flat ] = platane, referring to its wide
and flat leaves.
Orientalis : borrowed from Latin orientalis, -is, -e (adj) = eastern,
which comes from the East.
Synonymes / Synonyms :
Platanus cretica Dode
Platanus orientalior Dode
Platanus palmata Moench
Platanus umbrosa Salisb.
Platanus vulgaris subsp. orientalis (L.) Bonnier & Layens
Noms vernaculaires / Common names :
Nom français / French name :
Platane d'Orient.
Noms grecs / Greek names :
Πλατάνι — Πλάτανος — Πλάτανος ανατολικός —
Πλάτανος ο ανατολικός.
Noms anglais / English names :
Oriental plane — Oriental planetree.
Noms allemands / German names :
Asiatische Platane — Morgenländische Platane —
Orientalische Platane.
Nom espagnol / Spanish name :
Plátano de Oriente.
Nom italien / Italian name :
Platano orientale.
Habitat :
Jardins - Lieux humides, mares.
Gardens - Damp places, ponds.
Île / Island :
Tilos.
Hauteur / Height range :
De 10 m à plus de 15 m.
From 10 m to 15 m and more.
Floraison / Flowering time :
De mars à mai.
From March to May.
Groupe / Classification :
Dicotylédones.
Dicotyledons.
Pérennité / Lifespan :
Vivace.
Perennial.
Description :
Photo 1 :
Localisation / Location : Tilos, Aghios Pandeleimonas
Date : 25/04/2008
GPS : Lat. 36,44805° N / Long. 27,30522° E / Alt. 269 m
Type : Photographie numérique / Digital Photograph (10 mégapixels)
Photo 2 :
Localisation / Location : Tilos, Aghios Pandeleimonas
Date : 23/09/2008
GPS : Lat. 36,44805° N / Long. 27,30522° E / Alt. 269 m
Type : Photographie numérique / Digital Photograph (10 mégapixels)
Photo 3 :
Localisation / Location : Tilos, Aghios Pandeleimonas
Date : 25/04/2008
GPS : Lat. 36,44805° N / Long. 27,30522° E / Alt. 269 m
Type : Photographie numérique / Digital Photograph (10 mégapixels)
Photo 4 :
Localisation / Location : Tilos, Aghios Pandeleimonas
Date : 25/04/2008
GPS : Lat. 36,44805° N / Long. 27,30522° E / Alt. 269 m
Type : Photographie numérique / Digital Photograph (10 mégapixels)
Photo 5 :
Localisation / Location : Tilos, Aghios Pandeleimonas
Date : 25/04/2008
GPS : Lat. 36,44805° N / Long. 27,30522° E / Alt. 269 m
Type : Photographie numérique / Digital Photograph (10 mégapixels)
Photo 6 :
Localisation / Location : Tilos, Megalochorio (grotte / cave)
Date : 22/11/2014
GPS : Lat. 36,44092° N / Long. 27,36512° E / Alt. 137 m
Type : Photographie numérique / Digital Photograph (10 mégapixels)