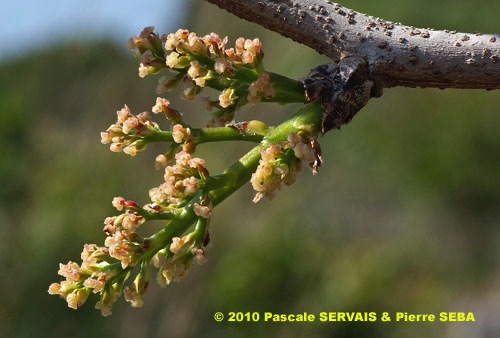 © Pascale SERVAIS & Pierre SEBA, 2018. Tilo Botanica: Flore de Tilos et du Dodécanèse / Flora of Tilos and of the Dodecanese
English translation by Brenda Bradbury, Howard Bradbury and Stéphane Léonard
Arbre ou arbuste dioïque (on réunit parfois des greffons mâles et femelles sur la même plante), à jeunes rameaux glabres.
Feuilles alternes, composées imparipennées, à 3 ou 5 folioles entières (rarement une seule foliole) parcourues par des nervures saillantes en dessous, coriaces, à forte odeur de résine, à poils courts à l'état jeune, à rachis non ailé.
Fleurs à symétrie radiaire, brunâtres, réunies en panicules assez denses de 3 à 12 cm. Périanthe à 5 tépales libres dans les fleurs mâles et à 3 ou 4 tépales libres dans les fleurs femelles. Ovaire supère.
Fruits, drupes de 15 à 25 mm de long, à coque mince, dure, brun clair, à un seul noyau contenant une seule graine.
___________________________
Tree or treelet dioecious (people sometimes join together male and female grafts on the same plant). Youthful branches glabrous.
Leaves alternate, compound imparipinnate, with 3 or 5 entire leaflets (seldom only one leaflet) traversed by veins protruding on the lower part, tough, with a strong resin smell, with short hairs at youthful state, with a nonwinged midrib.
Flowers radially symmetrical, brownish, joined together in rather dense panicles from 3 to 12 cm. Perianth with 5 free tepals in the male flowers and with 3 or 4 free tepals in the female flowers. Ovary superior.
Fruits, drupes from 15 to 25 mm long, with a thin shell, hard, pale brown, with only one stone containing only one seed.
Descripteurs / Identifying features: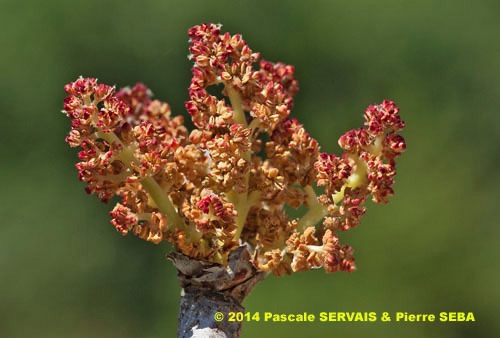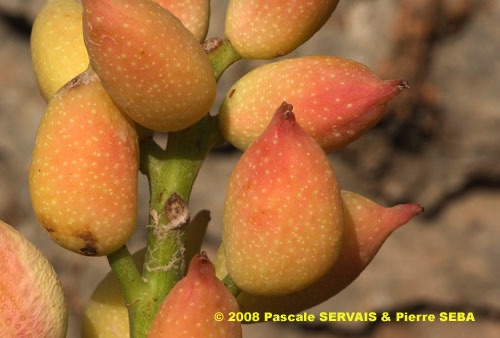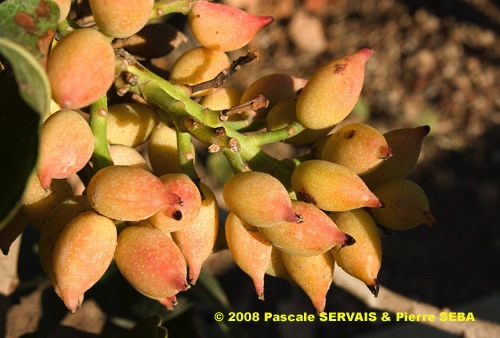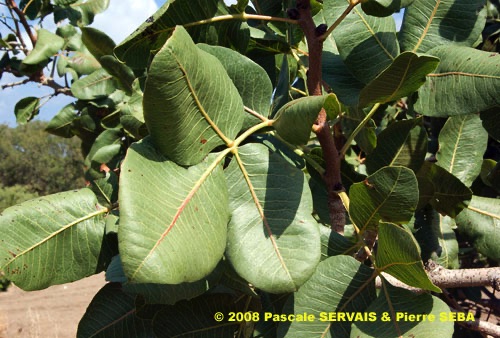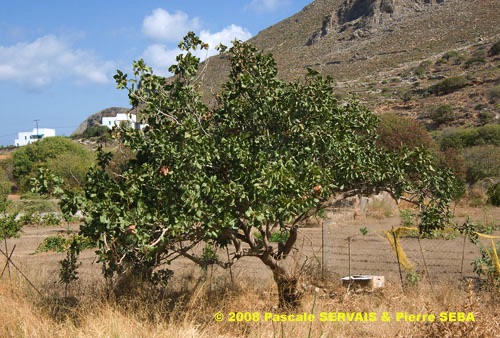 Étymologie / Etymology :
Pistacia : emprunt du latin pistacia, -ae (nom) = le pistachier, forme
latinisée du grec ancien πιστάκη, -ης (nom) = le pistachier.
Vera : emprunt du latin verus, -a, -um (adj.) = vrai, véritable.
Pistacia : borrowed from Latin pistacia, -ae (noun) = pistachio, Latinized
form of the Classical Greek πιστάκη, -ης (noun) = pistachio.
Vera : borrowed from Latin verus, -a, -um (adj) = true.
Synonymes / Synonyms :
Lentiscus verus (L.) Kuntze
Pistacia nigricans Crantz
Pistacia variifolia Salisb.
Noms vernaculaires / Common names :
Noms français / French names :
Pistachier — Pistachier commun — Pistachier cultivé —
Pistachier d'Alep — Pistachier vrai.
Noms grecs / Greek names :
Πιστακία — Φιστικιά — Φυστίκι Αιγίνης — Φυστικιά.
Noms anglais / English names :
Common pistache — Common pistachio — Pistachio — Pistachio nut —
Pistacio nut.
Noms allemands / German names :
Echte Pistazie — Italienich Pimpernuss — Pistacie — Pistazie —
Pistazienbaum — Pistazienkern.
Noms espagnols / Spanish names :
Alfonigo — Alfónsigo — Árbol de los pistachos — Pistachero —
Pistacho.
Noms italiens / Italian names :
Pistacchio — Potentino — Putino.
Habitat :
Cultures - Jardins - Chemins.
Cultivated places - Gardens - Waysides.
Île / Island :
Tilos.
Hauteur / Height range :
De 3 m à 10 m.
From 3 m to 10 m.
Floraison / Flowering time :
D'avril à juillet.
From April to July.
Groupe / Classification :
Dicotylédones.
Dicotyledons.
Pérennité / Lifespan :
Vivace.
Perennial.
Description :
Descripteurs distinctifs des 3 espèces / Distinctive identifying features of the 3 species
Photo 1 :
Localisation / Location : Tilos, Megalochorio (environs / surroundings)
Date : 30/04/2010
GPS : Lat. 36,45465° N / Long. 27,33577° E / Alt. 16 m
Type : Photographie numérique / Digital Photograph (10 mégapixels)
Photo 2 :
Localisation / Location : Tilos, Livadia
Date : 31/05/2014
GPS : Lat. 36,41211° N / Long. 27,38717° E / Alt. 6 m
Type : Photographie numérique / Digital Photograph (10 mégapixels)
Photo 3 :
Localisation / Location : Tilos, Megalochorio (environs / surroundings)
Date : 22/09/2008
GPS : Lat. 36,45465° N / Long. 27,33577° E / Alt. 16 m
Type : Photographie numérique / Digital Photograph (10 mégapixels)
Photo 4 :
Localisation / Location : Tilos, Megalochorio (environs / surroundings)
Date : 21/09/2008
GPS : Lat. 36,45465° N / Long. 27,33577° E / Alt. 16 m
Type : Photographie numérique / Digital Photograph (10 mégapixels)
Photo 5 :
Localisation / Location : Tilos, Megalochorio (environs / surroundings)
Date : 23/09/2008
GPS : Lat. 36,45465° N / Long. 27,33577° E / Alt. 16 m
Type : Photographie numérique / Digital Photograph (10 mégapixels)
Photo 6 :
Localisation / Location : Tilos, Megalochorio (environs / surroundings)
Date : 23/09/2008
GPS : Lat. 36,45465° N / Long. 27,33577° E / Alt. 16 m
Type : Photographie numérique / Digital Photograph (10 mégapixels)