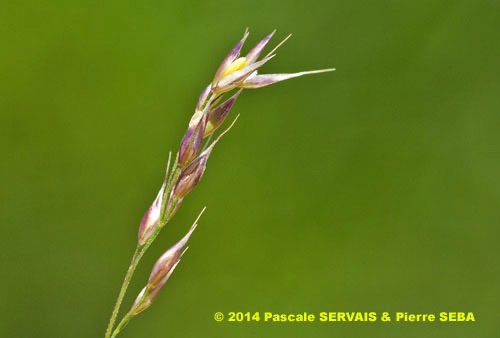 Piptatherum miliaceum (L.) Coss.
© Pascale SERVAIS & Pierre SEBA, 2018. Tilo Botanica: Flore de Tilos et du Dodécanèse / Flora of Tilos and of the Dodecanese
English translation by Brenda Bradbury, Howard Bradbury and Stéphane Léonard
Plante herbacée, hermaphrodite, en touffe, à tiges érigées, glabres, portant des rameaux verticillés, grêles et inégaux, certains sans épillets.
Feuilles alternes, simples, linéaires, embrassantes, entières, d'abord planes puis enroulées, glabres, d'environ 15 cm de long et de 2 à 3 mm de large, à courte ligule ciliée ou pubescente sur le dos.
Fleurs vert rougeâtre, brunissant à maturité, réunies en larges panicules lâches de 12 à 35 cm de long. Épillets de moins de 8 mm de long (arête comprise), à une seule fleur fertile et à seulement 2 glumelles développées. Glumes inégales, plus longues que la fleur et la dépassant de 2 mm. Lemme de moins de 4 mm, glabre, luisante, arrondie sur le dos, terminée par une arête non coudée de 4 à 5 mm. Étamines à anthère velue au sommet. Ovaire supère.
Fruits, caryopses.
___________________________
Plant herbaceous, hermaphrodite, tufted. Stems erect, glabrous, carrying slender, unequal, whorled branches, some without spikelets.
Leaves alternate, simple, linear, clasping the stem, entire, initially plane then coiled, glabrous, approximately 15 cm long and from 2 to 3 mm across, with a short ligule ciliate or pubescent on the back.
Flowers green reddish, darkening at maturity, joined together in wide, loose panicles from 12 to 35 cm long. Spikelets less than 8 mm long (with the awn), with only one fertile flower and only 2 developed glumellas. Glumes unequal, longer than the flower and exceeding it of 2 mm. Lemma less than 4 mm, glabrous, shiny, rounded on the back, finished by an unbent awn from 4 to 5 mm. Stamens with an anther very hairy at the top. Ovary superior.
Fruits, caryopsis.
Descripteurs / Identifying features: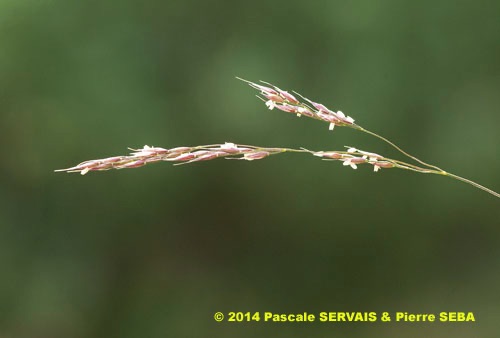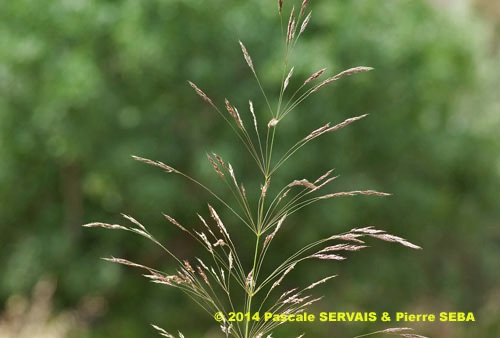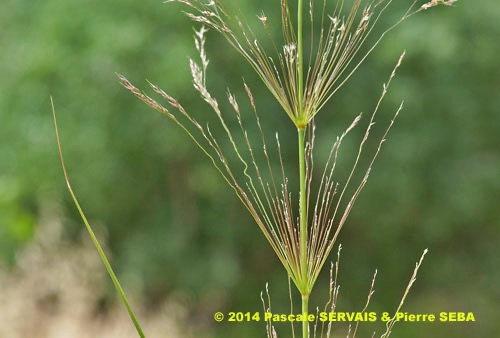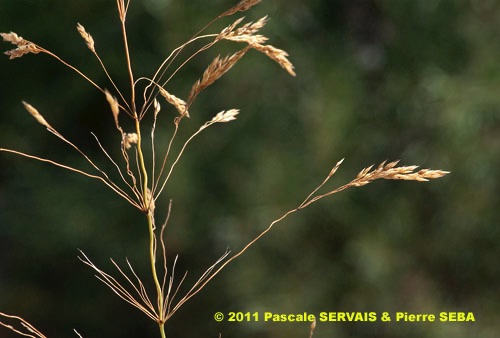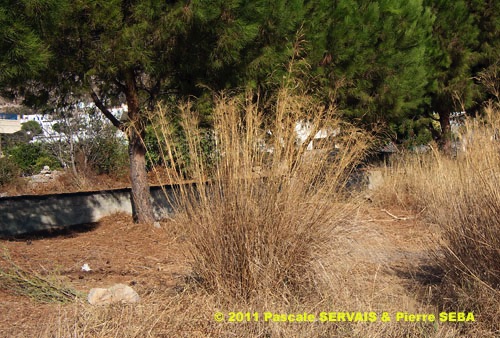 Étymologie / Etymology :
Piptatherum : nom créé par les botanistes [ < πίπτω (verbe) = tomber
+ ἀθήρ, -έρος (nom) = la barbe d'un épi, l'épi ] = aux épis retombants.
Miliaceum : emprunt du latin miliaceus, -a, -um (adj.) [ < milium, -i (nom)
= le mil, le millet ] = de millet, qui a l'apparence du millet.
Piptatherum : name created by botanists [ < πίπτω (verb) = to fall
+ ἀθήρ, -έρος (noun) = awn of a spike, spike ] = with hanging down
spikes.
Miliaceum : borrowed from Latin miliaceus, -a, -um (adj)
[ < milium, -i (noun) = millet ] = of millet, which has the appearance
of millet.
Synonymes / Synonyms :
Oloptum miliaceum (L.) Röser & Hamasha
Piptatherum multiflorum (Cav.) P.Beauv.
Achnatherum miliaceum (L.) P.Beauv.
Agrostis miliacea L.
Agrostis oseroensis Seenus
Milium arundinaceum Sm.
Milium multiflorum Cav.
Nassella multiflora (Cav.) Druce
Oryzopsis miliacea (L.) Benth. & Hook.f. ex Asch. & Schweinf.
Oryzopsis miliacea var. longiaristata Beck
Oryzopsis multiflora Druce
Piptatherum multiflorum var. comosum (Poir.) Nyman
Piptatherum multiflorum var. frutescens (Link) Nyman
Stipa miliacea (L.) Hoover
Urachne comosa (Poir.) Trin.
Urachne miliacea (L.) K.Koch
Urachne multiflora Link
Urachne parviflora Trin.
Noms vernaculaires / Common names :
Noms français / French names :
Faux millet — Piptathère faux millet.
Noms grecs / Greek names :
Γρήλαρη — Ορύζοψη — Σπαθόχορτο.
Noms anglais / English names :
Smilo-grass — Smilograss.
Noms allemands / German names :
Reis-Hirse — Smilo-Gras.
Nom italien / Italian name :
Miglio multifloro.
Habitat :
Lieux incultes - Chemins.
Waste ground - Waysides.
Île / Island :
Tilos.
Hauteur / Height range :
De 50 cm à 1,25 m.
From 50 cm to 1.25 m.
Floraison / Flowering time :
De mai à octobre.
From May to October.
Groupe / Classification :
Monocotylédones.
Monocotyledons.
Pérennité / Lifespan :
Vivace.
Perennial.
Description :
Photo 1 :
Localisation / Location : Tilos, Livadia
Date : 31/05/2014
GPS : Lat. 36,41204° N / Long. 27,38780° E / Alt. 3 m
Type : Photographie numérique / Digital Photograph (10 mégapixels)
Photo 2 :
Localisation / Location : Tilos, Livadia
Date : 28/05/2014
GPS : Lat. 36,41204° N / Long. 27,38780° E / Alt. 3 m
Type : Photographie numérique / Digital Photograph (10 mégapixels)
Photo 3 :
Localisation / Location : Tilos, Livadia
Date : 28/05/2014
GPS : Lat. 36,41204° N / Long. 27,38780° E / Alt. 3 m
Type : Photographie numérique / Digital Photograph (10 mégapixels)
Photo 4 :
Localisation / Location : Tilos, Livadia
Date : 28/05/2014
GPS : Lat. 36,41204° N / Long. 27,38780° E / Alt. 3 m
Type : Photographie numérique / Digital Photograph (10 mégapixels)
Photo 5 :
Localisation / Location : Tilos, Megalochorio
Date : 07/10/2011
GPS : Lat. 36,45305° N / Long. 27,34718° E / Alt. 49 m
Type : Photographie numérique / Digital Photograph (10 mégapixels)
Photo 6 :
Localisation / Location : Tilos, Megalochorio
Date : 07/10/2011
GPS : Lat. 36,45305° N / Long. 27,34718° E / Alt. 49 m
Type : Photographie numérique / Digital Photograph (10 mégapixels)