Micromeria graeca (L.) Benth. ex Rchb.
© Pascale SERVAIS & Pierre SEBA, 2018. Tilo Botanica: Flore de Tilos et du Dodécanèse / Flora of Tilos and of the Dodecanese
English translation by Brenda Bradbury, Howard Bradbury and Stéphane Léonard
Sous-arbrisseau ligneux à la base, hermaphrodite, aromatique, à rameaux poilus, généralement non ramifiés.
Feuilles opposées décussées, simples, les basilaires ovales, les caulinaires linéaires à lancéolées, à bords enroulés, sessiles, vertes dessus, bordeaux dessous, de 5 à 12 mm de long, sans stipules.
Fleurs à symétrie bilatérale, roses à pourpres, à 2 lèvres, de 6 à 8 mm de long, nettement pédicellées, réunies par 6 à 18 en grappes lâches de 5 à 10 cm de long. Corolle à 5 pétales soudés, poilus. Calice cylindrique, étroit, à 5 sépales soudés, linéaires, verts, poilus, à dents inégales, à 13 nervures longitudinales. Bractéoles à la base des fleurs plus courtes que le tube du calice. 4 étamines non saillantes. Ovaire supère.
Fruits, 4 akènes insérés à la base du calice persistant.
___________________________
Shrublet woody at the base, hermaphrodite, aromatic. Branches hairy, generally unbranched.
Leaves opposite decussate, simple, the basilar ones ovate, the stem-leaves linear to lanceolate, with coiled edges, sessile, green on the upper surface, maroon on the lower surface, from 5 to 12 mm long, without stipules.
Flowers bilaterally symmetrical, pink to purple, with 2 lips, from 6 to 8 mm long, conspicuously pedicellate, joined together by 6 to 18 in loose racemes from 5 to 10 cm long. Corolla with 5 fused, hairy petals. Calyx cylindrical, narrow, with 5 fused, linear, green, hairy sepals, with unequal teeth, with 13 longitudinal veins. Bracteoles at the base of the flowers shorter than the tube of the calyx. 4 nonprotruding stamens. Ovary superior.
Fruits, 4 achenes inserted into the base of the persistent calyx.
Descripteurs / Identifying features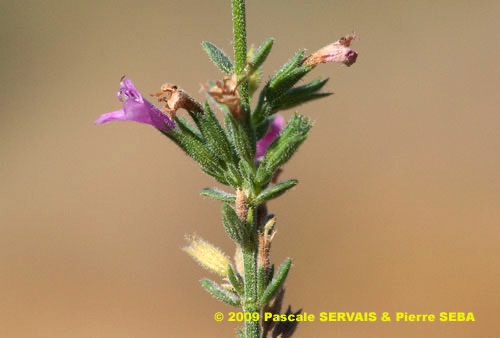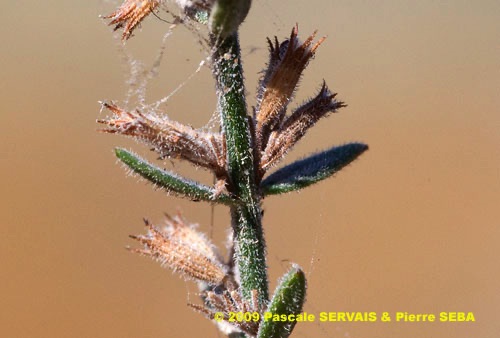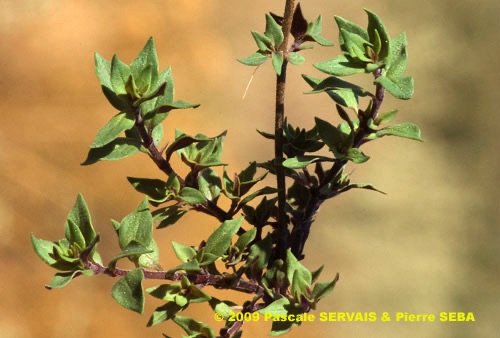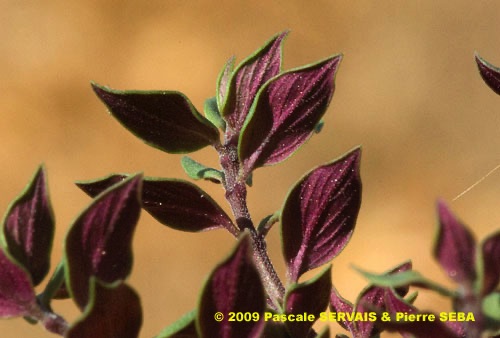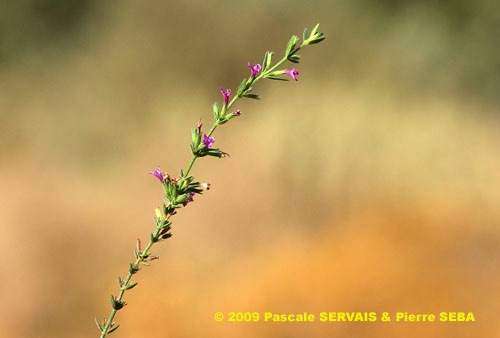 Étymologie / Etymology :
Micromeria : nom créé par les botanistes [ < μικρός, -ά, -όν (adj.)
= petit + μερίς, -ίδος (nom) = la partie ] = dont les éléments sont
petits, en référence à ses fleurs et à ses feuilles minuscules.
Graeca : emprunt du latin graecus, -a, -um (adj.) = grec, qui provient
de Grèce, en référence à la région d'origine de la plante.
Micromeria : name created by botanists [ < μικρός, -ά, -όν (adj)
= small + μερίς, -ίδος (noun) = part ] = whose elements are small,
referring to its tiny flowers and leaves.
Graeca : borrowed from Latin graecus, -a, -um (adj) = Greek, which
comes from Greece, referring to the area of origin of the plant.
Synonymes / Synonyms :
Satureja graeca L.
Thymus hirtus Sol.
Thymus micromerioides Rouy
Noms vernaculaires / Common names :
Noms français / French names :
Micromérie de Grèce — Sarriette de Grèce.
Nom grec / Greek name :
Έσωπος.
Noms anglais / English names :
Greek savory — Pink micromeria.
Nom allemand / German name :
Griechische Steinminze.
Nom espagnol / Spanish name :
Colicosa.
Noms italiens / Italian names :
Issopo meridionale — Micromeria.
Habitat :
Lieux pierreux - Lieux incultes - Chemins - Haies, fourrés, broussailles.
Stony places - Waste ground - Waysides - Hedges, thickets.
Île / Island :
Tilos.
Hauteur / Height range :
De 20 cm à 50 cm.
From 20 cm to 50 cm.
Floraison / Flowering time :
De mars à novembre.
From March to November.
Groupe / Classification :
Dicotylédones.
Dicotyledons.
Pérennité / Lifespan :
Vivace.
Perennial.
Description :
Descripteurs distinctifs des 2 espèces / Distinctive identifying features of the 2 species
Photo 1 :
Localisation / Location : Tilos, Livadia
Date : 14/10/2009
GPS : —
Type : Photographie numérique / Digital Photograph (10 mégapixels)
Photo 2 :
Localisation / Location : Tilos, Livadia
Date : 14/10/2009
GPS : —
Type : Photographie numérique / Digital Photograph (10 mégapixels)
Photo 3 :
Localisation / Location : Tilos, Livadia
Date : 14/10/2009
GPS : —
Type : Photographie numérique / Digital Photograph (10 mégapixels)
Photo 4 :
Localisation / Location : Tilos, Livadia
Date : 14/10/2009
GPS : —
Type : Photographie numérique / Digital Photograph (10 mégapixels)
Photo 5 :
Localisation / Location : Tilos, Livadia
Date : 14/10/2009
GPS : —
Type : Photographie numérique / Digital Photograph (10 mégapixels)
Photo 6 :
Localisation / Location : Tilos, Livadia
Date : 14/10/2009
GPS : —
Type : Photographie numérique / Digital Photograph (10 mégapixels)