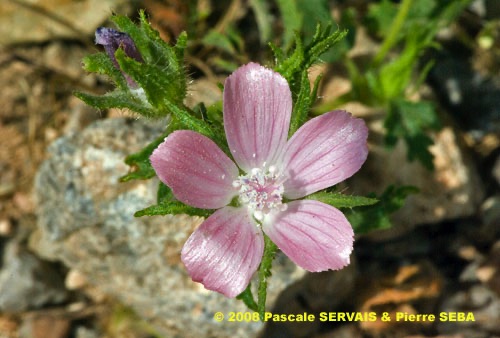 © Pascale SERVAIS & Pierre SEBA, 2018. Tilo Botanica: Flore de Tilos et du Dodécanèse / Flora of Tilos and of the Dodecanese
English translation by Brenda Bradbury, Howard Bradbury and Stéphane Léonard
Plante herbacée, hermaphrodite, délicate, à tiges dressées, à longs poils étalés.
Feuilles alternes, les inférieures divisées palmatifides, arrondies, à lobes dentés, les supérieures divisées palmatipartites, à 3 à 5 lobes profonds et dentés.
Fleurs à symétrie radiaire, rose pâle à mauve bleuté, de 10 à 20 mm de diamètre, à nervures foncées, solitaires sur un long pédoncule inséré à l'aisselle des feuilles. Corolle à 5 pétales à peu près de la même longueur que les sépales. Calice à 5 sépales soyeux, à longues dents, doublé d'un calicule de 3 bractées étroites et semblables aux sépales. Calicule soudé aux sépales et 2 fois plus court que ceux-ci. Nombreuses étamines soudées en tube. Ovaire supère.
Fruits, akènes aplatis, glabres, ronds, disposés en cercle, rugueux et ridés en travers.
___________________________
Plant herbaceous, hermaphrodite, delicate. Stems erect, with long spread out hairs.
Leaves alternate, the lower ones dissected palmatifid, rounded, with toothed lobes, the higher ones dissected palmatipartite, with 3 to 5 deep and toothed lobes.
Flowers radially symmetrical, pale pink to bluish mauve, from 10 to 20 mm in diameter, with dark veins, solitary on a long peduncle inserted at the axil of the leaves. Corolla with 5 petals, almost as long as the sepals. Calyx with 5 silky sepals, with long teeth, doubled by an epicalyx of 3 narrow bracts similar to the sepals. Epicalyx fused with the sepals and 2 times shorter than those. Stamens numerous, fused in tube. Ovary superior.
Fruits, flattened, glabrous, round achenes, laid out in circle, rough and transversely wrinkled.
Descripteurs / Identifying feature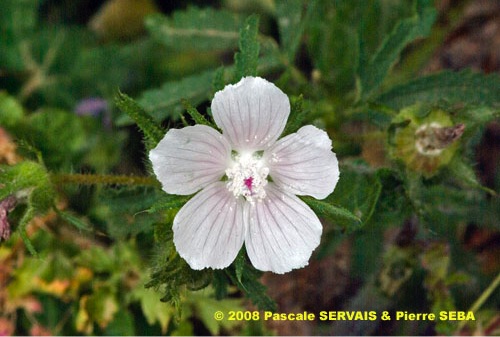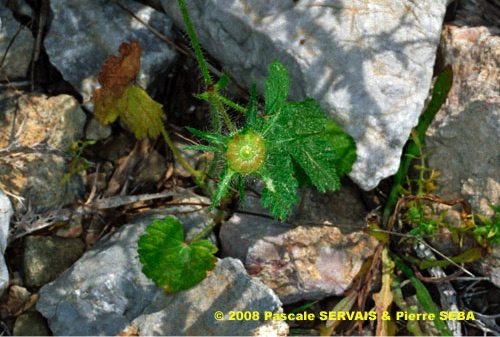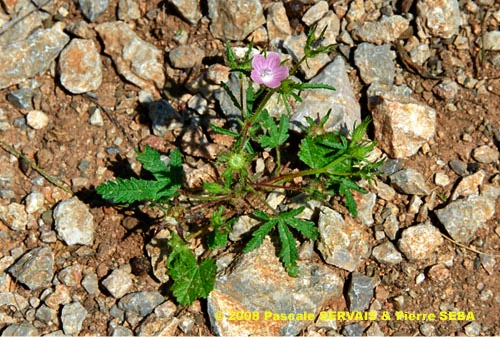 Étymologie / Etymology :
Malva : emprunt du latin malva, -ae (nom) = la mauve, nom donné à
la plante par Pline, naturaliste latin mort en 79 apr. J.-C.
Cretica : emprunt du latin creticus, -a, -um (adj.)
[ < Creta, -ae (nom propre) = la Crète ] = de Crète, qui vient de Crète.
Malva : borrowed from Latin malva, -ae (noun) = mallow, name given
to the plant by Plinius, Latin naturalist died in 79 AD.
Cretica : borrowed from Latin creticus, -a, -um (adj)
[ < Creta, -ae  (proper noun) = Crete ] = of or from Crete, which comes
from Crete.
Synonymes / Synonyms :
Dinacusa cretica (Cav.) G.Krebs
Malva althaeoides Sm.
Noms vernaculaires / Common names :
Nom français / French name :
Mauve de Crète.
Noms grecs / Greek names :
Μάλβα η κρητική — Μολόχα.
Nom anglais / English name :
Cretan mallow.
Nom allemand / German name :
Kretische Malve.
Nom italien / Italian name :
Malva cretese.
Habitat :
Cultures - Prairies - Lieux pierreux - Chemins.
Cultivated places - Meadows - Stony places - Waysides.
Île / Island :
Tilos.
Hauteur / Height range :
De 20 cm à 50 cm.
From 20 cm to 50 cm.
Floraison / Flowering time :
D'avril à juin.
From April to June.
Groupe / Classification :
Dicotylédones.
Dicotyledons.
Pérennité / Lifespan :
Annuelle.
Annual.
Description :
Clés dichotomiques et descripteurs distinctifs des 3 espèces / Dichotomous keys and distinctive identifying features of the 3 species
Photo 1 :
Localisation / Location : Tilos, Chemin de Lethra / Path to Lethra
Date : 25/04/2008
GPS : —
Type : Photographie numérique / Digital Photograph (10 mégapixels)
Photo 2 :
Localisation / Location : Tilos, Chemin de Lethra / Path to Lethra
Date : 22/04/2008
GPS : —
Type : Photographie numérique / Digital Photograph (10 mégapixels)
Photo 3 :
Localisation / Location : Tilos, Chemin de Lethra / Path to Lethra
Date : 26/04/2006
GPS : —
Type : Kodak Gold 200 ASA
Photo 4 :
Localisation / Location : Tilos, Chemin de Lethra / Path to Lethra
Date : 26/04/2006
GPS : —
Type : Kodak Gold 200 ASA