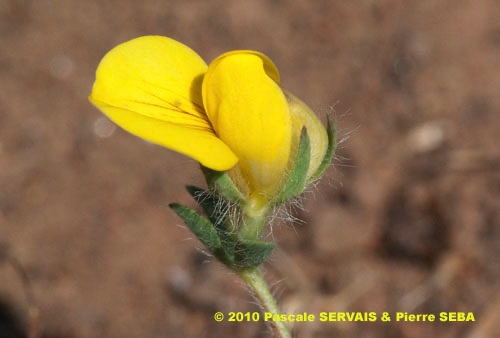 © Pascale SERVAIS & Pierre SEBA, 2018. Tilo Botanica: Flore de Tilos et du Dodécanèse / Flora of Tilos and of the Dodecanese
English translation by Brenda Bradbury, Howard Bradbury and Stéphane Léonard
Plante herbacée, hermaphrodite, prostrée ou ascendante, à tiges poilues, ramifiées.
Feuilles alternes, composées imparipennées, généralement à 5 folioles ovales à obovales, la paire inférieure ressemblant à des stipules, poilues. Vraies stipules à peine visibles.
Fleurs à symétrie bilatérale, jaunes, de 10 à 16 mm de long, solitaires ou groupées par 2, avec à leur base une bractée sessile trifoliée, portées par un rameau florifère 3 à 4 fois plus long que la feuille sous-jacente. Corolle papilionacée. Calice bilabié. Ovaire supère.
Fruits, gousses enflées, de 20 à 40 mm de long, souvent teintées ou tachetées de rouge, présentant un sillon profond en gouttière sur le bord interne de leur courbure.
___________________________
Plant herbaceous, hermaphrodite, prostrate or ascending. Stems hairy, branched.
Leaves alternate, compound imparipinnate, hairy, generally with 5 ovate to obovate leaflets, the lower pair resembling stipules. True stipules scarcely conspicuous.
Flowers bilaterally symmetrical, yellow, from 10 to 16 mm long, solitary or joined together by 2, with a trifoliate sessile bract at their base, carried by a floriferous branch 3 to 4 times longer than the underlying leaf. Corolla papilionaceous. Calyx two-lipped. Ovary superior.
Fruits, swollen pods, from 20 to 40 mm long, often tinted or speckled of red, presenting a deep furrow in gutter on the internal edge of their curve.
Descripteurs / Identifying features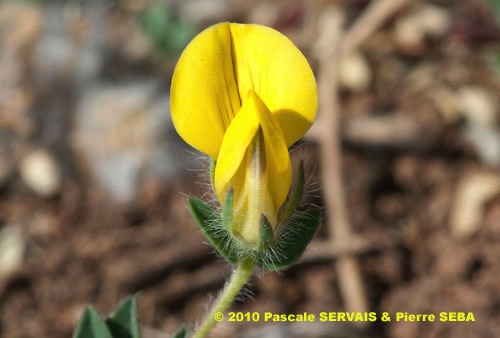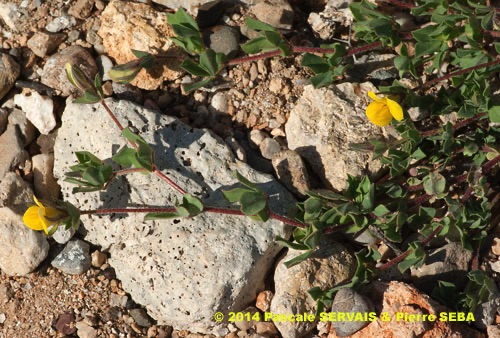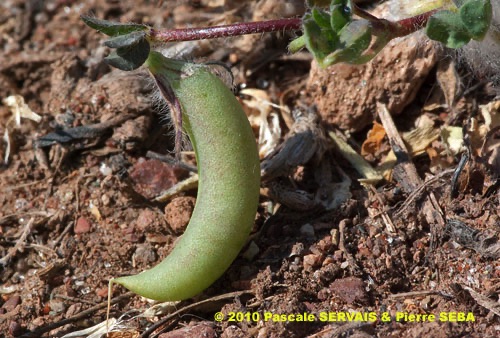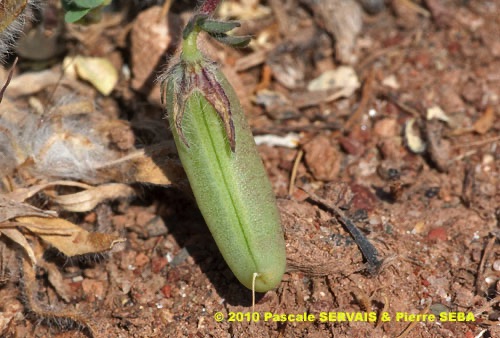 Étymologie / Etymology :
Lotus : emprunt du grec ancien λωτός, -οῦ (nom), nom donné par
les Grecs à différentes espèces de plantes.
Edulis : emprunt du latin edulis, -is, -e (adj.)
[ < edo, -is, -ere (verbe) = manger ] = comestible.
Lotus : borrowed from Classical Greek λωτός, -οῦ (noun), name given
by the Greeks to various species of plants.
Edulis : borrowed from Latin edulis, -is, -e (adj)
[ < edo, -is, -ere (verb) = to eat ] = edible.
Synonymes / Synonyms :
Krokeria oligoceratos Moench
Lotus edulis var. brachycarpus Rouy
Lotus edulis var. subannularis Rouy
Lotus oligoceratos Desf.
Noms vernaculaires / Common names :
Noms français / French names :
Faux caroubier — Lotier comestible.
Nom grec / Greek name :
Μοσχοκερατιά.
Nom anglais / English name :
Edible bird's foot trefoil.
Nom allemand / German name :
Essbarer Hornklee.
Noms italiens / Italian names :
Caramuci — Ginestrino commestibile — Pisello africano.
Habitat :
Cultures - Lieux incultes.
Cultivated places - Waste ground.
Île / Island :
Tilos.
Hauteur / Height range :
De 10 cm à 50 cm.
From 10 cm to 50 cm.
Floraison / Flowering time :
De février à juin.
From February to June.
Groupe / Classification :
Dicotylédones.
Dicotyledons.
Pérennité / Lifespan :
Annuelle.
Annual.
Description :
Clés dichotomiques et descripteurs distinctifs des 3 espèces / Dichotomous keys and distinctive identifying features of the 3 species
Photo 1 :
Localisation / Location : Tilos, Lethra
Date : 01/05/2010
GPS : Lat. 36,43740° N / Long. 27,38770° E / Alt. 4 m
Type : Photographie numérique / Digital Photograph (10 mégapixels)
Photo 2 :
Localisation / Location : Tilos, Lethra
Date : 01/05/2010
GPS : Lat. 36,43740° N / Long. 27,38770° E / Alt. 4 m
Type : Photographie numérique / Digital Photograph (10 mégapixels)
Photo 3 :
Localisation / Location : Tilos, Aghios Stephanos
Date : 18/05/2014
GPS : Lat. 36,41431° N / Long. 27,40266° E / Alt. 1 m
Type : Photographie numérique / Digital Photograph (10 mégapixels)
Photo 4 :
Localisation / Location : Tilos, Lethra
Date : 01/05/2010
GPS : Lat. 36,43740° N / Long. 27,38770° E / Alt. 4 m
Type : Photographie numérique / Digital Photograph (10 mégapixels)
Photo 5 :
Localisation / Location : Tilos, Lethra
Date : 01/05/2010
GPS : Lat. 36,43740° N / Long. 27,38770° E / Alt. 4 m
Type : Photographie numérique / Digital Photograph (10 mégapixels)
Photo 6 :
Localisation / Location : Tilos, Aghios Stephanos
Date : 18/05/2014
GPS : Lat. 36,41431° N / Long. 27,40266° E / Alt. 1 m
Type : Photographie numérique / Digital Photograph (10 mégapixels)