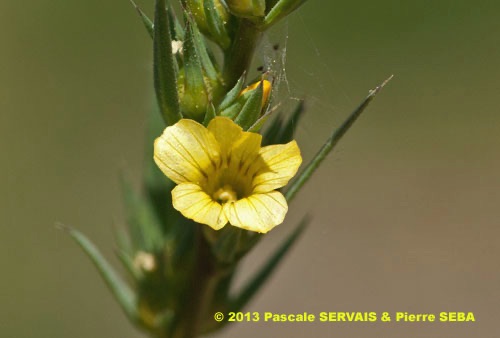 © Pascale SERVAIS & Pierre SEBA, 2018. Tilo Botanica: Flore de Tilos et du Dodécanèse / Flora of Tilos and of the Dodecanese
English translation by Brenda Bradbury, Howard Bradbury and Stéphane Léonard
Plante herbacée, hermaphrodite, à tiges ramifiées.
Feuilles alternes (feuilles inférieures pouvant être opposées), simples, linéaires à lancéolées ou elliptiques, denticulées, étroites, rudes au toucher.
Fleurs à symétrie radiaire, jaunes, de 6 à 12 mm de long, réunies en denses inflorescences spiciformes. Pédoncule très court ou à peine développé. Corolle à 5 pétales libres. Calice à 5 sépales de 3 à 6 mm de long, dentés, couverts de poils visqueux. Ovaire supère.
Fruits, capsules de 2 mm de diamètre, à bec minuscule.
___________________________
Plant herbaceous, hermaphrodite, with branched stems.
Leaves alternate (the lower leaves sometimes opposite), simple, linear to lanceolate or elliptic, denticulate, narrow, hard when touched.
Flowers radially symmetrical, yellow, from 6 to 12 mm long, joined together in dense, spiciform inflorescences. Peduncle very short or scarcely developed. Corolla with 5 free petals. Calyx with 5 toothed sepals, from 3 to 6 mm long, covered in viscous hairs. Ovary superior.
Fruits, capsules 2 mm in diameter, with a tiny beak.
Descripteurs / Identifying features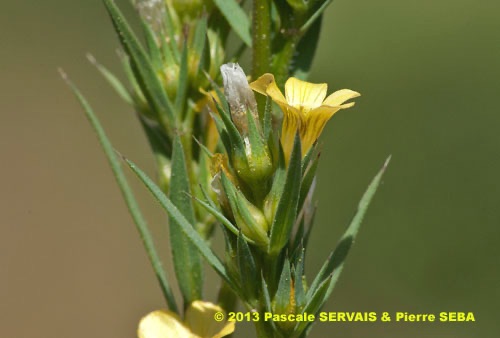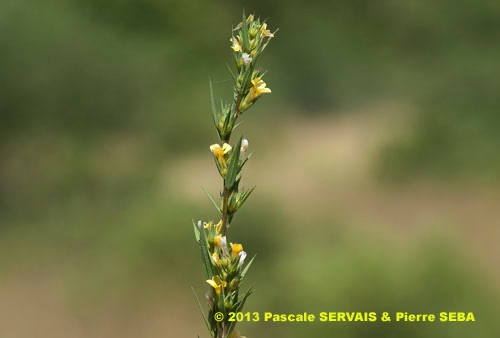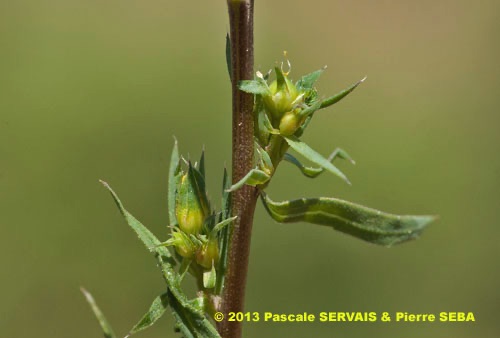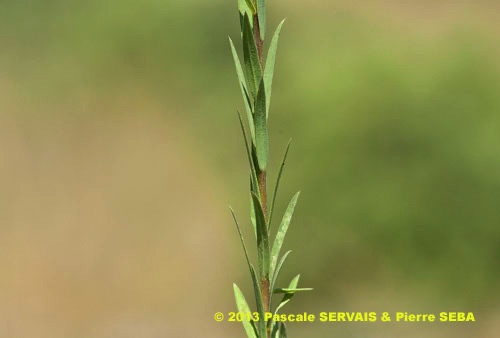 Étymologie / Etymology :
Linum : emprunt du latin linum, -i (nom) = le lin (plante et tissu),
forme latinisée du grec ancien λίνον, -ου (nom) = le lin (plante et
tissu).
Strictum : emprunt du latin strictus, -a, -um (part. passé)
[ < stringo, -is, -ere (verbe) = serrer, lier, arracher ]
= serré, arraché, droit, rassemblé, rigide.
Linum : borrowed from Latin linum, -i (noun) = flax (plant and cloth),
Latinized form of the Classical Greek λίνον, -ου (noun) = flax (plant
and cloth).
Strictum : borrowed from Latin strictus, -a, -um (past participle)
[ < stringo, -is, -ere (verb) = to tighten, to bind, to tear off ]
= tightened, bound, torn off, rigid.
Synonymes / Synonyms :
Cathartolinum strictum (L.) Rchb.
Chrysolinum strictum (L.) Fourr.
Linum gallicum subsp. strictum (L.) Bonnier
Linum strictum [var.] paniculatumLinum strictum var. paniculatum Rouy
Linum strictum var. alternum Pers.
Noms vernaculaires / Common names :
Noms français / French names :
Lin droit — Lin raide.
Noms grecs / Greek names :
Λίνο το στενό — Λίνος στενός.
Noms anglais / English names :
Stiff flax — Upright flax.
Noms allemands / German names :
Aufrechter Lein — Steifer Lein.
Nom espagnol / Spanish name :
Lino amarillo.
Nom italien / Italian name :
Lino minore.
Habitat :
Cultures - Lieux pierreux - Lieux incultes - Sols sableux.
Cultivated places - Stony places - Waste ground - Sandy soils.
Île / Island :
Tilos.
Hauteur / Height range :
De 10 cm à 50 cm.
From 10 cm to 50 cm.
Floraison / Flowering time :
De mars à juillet.
From March to July.
Groupe / Classification :
Dicotylédones.
Dicotyledons.
Pérennité / Lifespan :
Annuelle.
Annual.
Description :
Clés dichotomiques et descripteurs distinctifs des 2 espèces / Dichotomous keys and distinctive identifying features of the 2 species
Photo 1 :
Localisation / Location : Tilos, Plaine d'Erystos / Plain of Erystos
Date : 26/04/2013
GPS : Lat. 36,44732° N / Long. 27,34473° E / Alt. 28 m
Type : Photographie numérique / Digital Photograph (10 mégapixels)
Photo 2 :
Localisation / Location : Tilos, Plaine d'Erystos / Plain of Erystos
Date : 26/04/2013
GPS : Lat. 36,44732° N / Long. 27,34473° E / Alt. 28 m
Type : Photographie numérique / Digital Photograph (10 mégapixels)
Photo 3 :
Localisation / Location : Tilos, Plaine d'Erystos / Plain of Erystos
Date : 26/04/2013
GPS : Lat. 36,44732° N / Long. 27,34473° E / Alt. 28 m
Type : Photographie numérique / Digital Photograph (10 mégapixels)
Photo 4 :
Localisation / Location : Tilos, Plaine d'Erystos / Plain of Erystos
Date : 26/04/2013
GPS : Lat. 36,44732° N / Long. 27,34473° E / Alt. 28 m
Type : Photographie numérique / Digital Photograph (10 mégapixels)
Photo 5 :
Localisation / Location : Tilos, Plaine d'Erystos / Plain of Erystos
Date : 26/04/2013
GPS : Lat. 36,44732° N / Long. 27,34473° E / Alt. 28 m
Type : Photographie numérique / Digital Photograph (10 mégapixels)
Photo 6 :
Localisation / Location : Tilos, Plaine d'Erystos / Plain of Erystos
Date : 26/04/2013
GPS : Lat. 36,44732° N / Long. 27,34473° E / Alt. 28 m
Type : Photographie numérique / Digital Photograph (10 mégapixels)