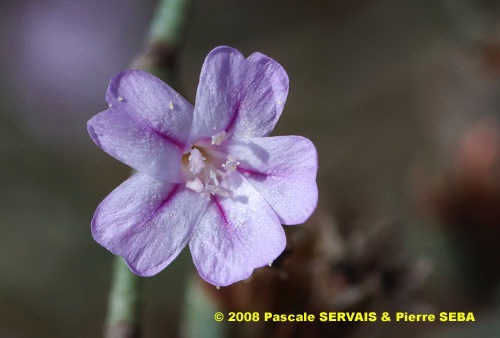 Limonium graecum (Poir.) Rech.f.
© Pascale SERVAIS & Pierre SEBA, 2018. Tilo Botanica: Flore de Tilos et du Dodécanèse / Flora of Tilos and of the Dodecanese
English translation by Brenda Bradbury, Howard Bradbury and Stéphane Léonard
Plante herbacée, ligneuse à la base, hermaphrodite, à tiges glabres, ramifiées.
Feuilles la plupart en rosette basale, simples, linéaires, lancéolées à spatulées, glabres, de 20 à 40 mm de long, à 1 nervure, vertes mais séchant en été.
Fleurs à symétrie radiaire, roses ou violettes, veinées de mauve ou de rose plus foncé, de 5 à 10 mm de diamètre, réunies en inflorescences rameuses à nombreuses ramifications non florifères. Corolle à tube court, à 5 pétales étalés, soudés à la base. Calice à 5 sépales verts, soudés, appliqués contre le tube de la corolle. 5 étamines opposées aux pétales. Ovaire supère.
Fruits, capsules entourées par la corolle persistante, membraneuse et sèche après la floraison.
___________________________
Plant hermaphrodite. Stems glabrous, branched, woody at the base.
Leaves mainly in a basal rosette, simple, linear, lanceolate to spatulate, glabrous, from 20 to 40 mm long, with 1 vein, green but drying in summer.
Flowers radially symmetrical, pink or violet, with mauve or darker pink veins, from 5 to 10 mm in diameter, joined together in branched inflorescences with numerous nonfloriferous ramifications. Corolla with a short tube, with 5 partly fused, spread out petals. Calyx with 5 green, fused sepals, appressed against the tube of the corolla. 5 stamens opposite the petals. Ovary superior.
Fruits, capsules surrounded by the corolla persistent, membranous and dry after flowering.
Descripteurs / Identifying features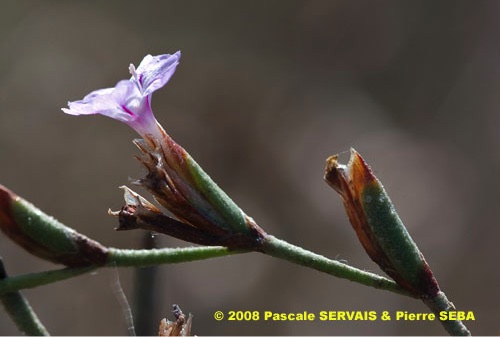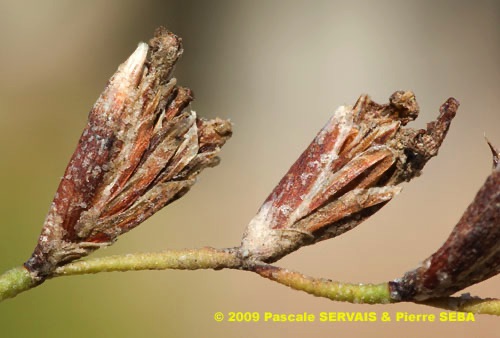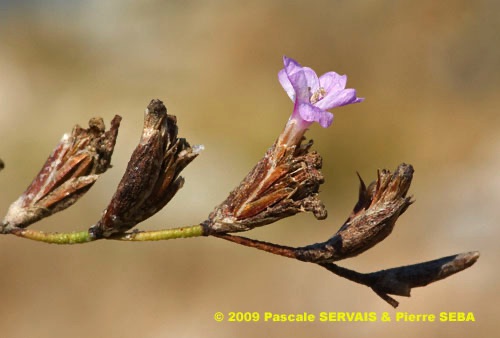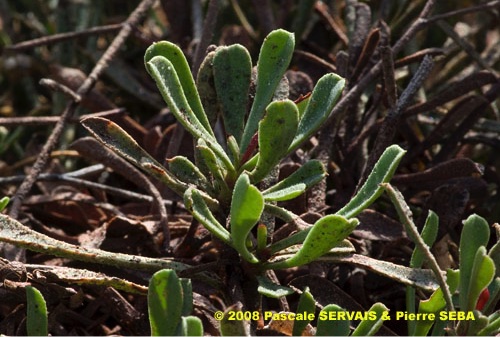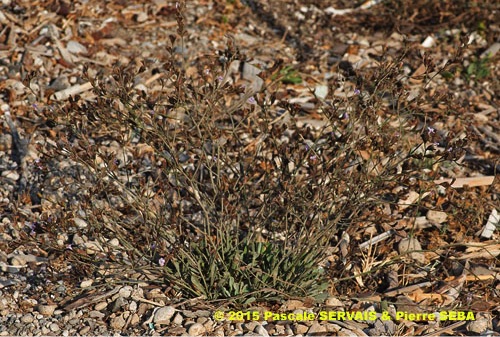 Étymologie / Etymology :
Limonium : emprunt du latin limonium, -i (nom), nom donné à la bette
sauvage par Pline, naturaliste latin mort en 79 apr. J.-C., forme
latinisée du grec ancien λειμώνιον, -ου (nom) [ < λειμώνιος, -α, -ον
(adj.) = de prairie, qui pousse dans les prairies ], nom donné à une
sorte d'anémone par Dioscoride, médecin et botaniste grec mort
en 90 apr. J.-C.
Graecum : emprunt du latin graecus, -a, -um (adj.) = grec, qui provient
de Grèce, en référence à la région d'origine de la plante.
Limonium : borrowed from Latin limonium, -i (noun), name given to the
wild beet by Plinius, Latin naturalist died in 79 AD, Latinized form of
the Classical Greek λειμώνιον, -ου (noun) [ < λειμώνιος, -α, -ον (adj)
= of meadow, which grows in meadows ], name given to a kind of
anemone by Dioscorides, Greek doctor and botanist died in 90 AD.
Graecum : borrowed from Latin graecus, -a, -um (adj) = Greek, which
comes from Greece, referring to the area of origin of the plant.
Synonyme / Synonym :
—
Noms vernaculaires / Common names :
Nom français / French name :
Statice de Grèce.
Noms grecs / Greek names :
Αμάραντο — Λιμόνιο το ελληνικό.
Nom anglais / English name :
Greek sea-lavender.
Nom allemand / German name :
Griechischer Strandflieder.
Habitat :
Lieux pierreux - Sols sableux.
Stony places - Sandy soils.
Île / Island :
Tilos.
Hauteur / Height range :
De 10 cm à 30 cm.
From 10 cm to 30 cm.
Floraison / Flowering time :
De mai à octobre.
From May to October.
Groupe / Classification :
Dicotylédones.
Dicotyledons.
Pérennité / Lifespan :
Vivace.
Perennial.
Description :
Descripteurs distinctifs des 2 espèces / Distinctive identifying features of the 2 species
Photo 1 :
Localisation / Location : Tilos, Aghios Andonis
Date : 15/09/2008
GPS : Lat. 36,45809° N / Long. 27,33223° E / Alt. 2 m
Type : Photographie numérique / Digital Photograph (10 mégapixels)
Photo 2 :
Localisation / Location : Tilos, Aghios Andonis
Date : 15/09/2008
GPS : Lat. 36,45809° N / Long. 27,33223° E / Alt. 2 m
Type : Photographie numérique / Digital Photograph (10 mégapixels)
Photo 3 :
Localisation / Location : Tilos, Aghios Andonis
Date : 10/10/2009
GPS : Lat. 36,45809° N / Long. 27,33223° E / Alt. 2 m
Type : Photographie numérique / Digital Photograph (10 mégapixels)
Photo 4 :
Localisation / Location : Tilos, Aghios Andonis
Date : 10/10/2009
GPS : Lat. 36,45809° N / Long. 27,33223° E / Alt. 2 m
Type : Photographie numérique / Digital Photograph (10 mégapixels)
Photo 5 :
Localisation / Location : Tilos, Aghios Andonis
Date : 15/09/2008
GPS : Lat. 36,45809° N / Long. 27,33223° E / Alt. 2 m
Type : Photographie numérique / Digital Photograph (10 mégapixels)
Photo 6 :
Localisation / Location : Tilos, Aghios Andonis
Date : 17/09/2015
GPS : Lat. 36,45809° N / Long. 27,33223° E / Alt. 2 m
Type : Photographie numérique / Digital Photograph (24 mégapixels)