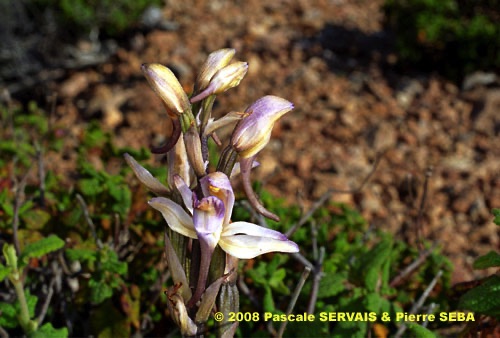 Limodorum abortivum (L.) Sw.
© Pascale SERVAIS & Pierre SEBA, 2018. Tilo Botanica: Flore de Tilos et du Dodécanèse / Flora of Tilos and of the Dodecanese
English translation by Brenda Bradbury, Howard Bradbury and Stéphane Léonard
Plante herbacée, hermaphrodite, saprophyte, assez robuste, teintée de violet, à tige dressée, à petit rhizome recouvert de denses racines.
Feuilles sans chlorophylle, réduites à des écailles nombreuses et engainantes, pourpre sombre. Grandes bractées violacées, allongées à ovales, aiguës.
Fleurs à symétrie bilatérale, blanc violacé, de 35 à 50 mm de long, à pédoncule extrêmement court, réunies par 5 à 25 en épi lâche. Labelle jaunâtre taché de violet, de 14 à 17 mm de long, en forme de languette ondulée sur les bords et rétrécie à la base, arqué, non lobé, à éperon de 12 à 15 mm de long, un peu courbé, pointant vers le bas, égalant environ l'ovaire. Sépales larges, pointus, le supérieur en casque; les autres sépales et les pétales plus étroits, étalés latéralement. Ovaire infère.
Fruits, capsules coriaces et membraneuses.
___________________________
Plant herbaceous, hermaphrodite, saprophyte, rather robust, tinted of violet, with an erect stem. Rhizome small, covered in dense roots.
Leaves without chlorophyl, reduced to numerous, sheathing, dark purple scales. Large purplish bracts lengthened to ovate, acute.
Flowers bilaterally symmetrical, purplish white, from 35 to 50 mm long, with an extremely short peduncle, joined together by 5 to 25 in a loose spike. Labellum yellowish with violet marks, 14 to 17 mm long, in the shape of a strip wavy on the edges and narrowed at the base, curved, nonlobed, with a spur from 12 to 15 mm long, a little curved, pointing to the bottom, approximately equalling the ovary. Sepals wide, pointed, the superior one helmet-shaped; other sepals and petals narrower, laterally spread out. Ovary inferior.
Fruits, tough and membranous capsules.
Descripteurs / Identifying features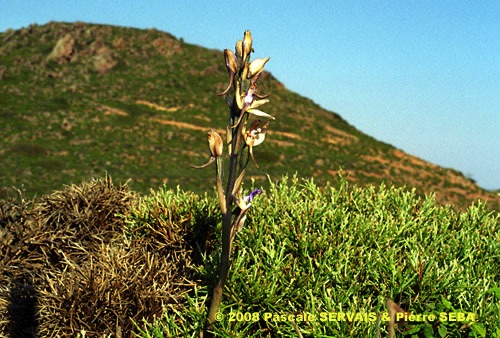 Étymologie / Etymology :
Limodorum : emprunt du latin limodoron, -i (nom), nom donné à une
plante inconnue par Pline, naturaliste latin mort en 79 apr. J.-C.
[ < λειμών, -ῶνος (nom) = la prairie + δῶρον, -ου (nom) = le cadeau ].
Abortivum : emprunt du latin abortivus, -a, -um (adj.) = né avant terme,
incomplet.
Limodorum : borrowed from Latin limodoron, -i (noun), name given to an
unknown plant by Plinius, Latin naturalist died in 79 AD.
[ < λειμών, -ῶνος (noun) = meadow + δῶρον, -ου (noun) = gift ].
Abortivum : borrowed from Latin abortivus, -a, -um (adj) = born
prematurely, incomplete.
Synonymes / Synonyms :
Centrosis abortiva (L.) Sw.
Jonorchis abortiva (L.) Beck
Lequeetia violacea Bubani
Limodorum abortivum subsp. abortivum
Orchis abortiva L.
Noms vernaculaires / Common names :
Noms français / French names :
Limodore à feuilles avortées — Limodore avortée —
Limodore sans feuilles — Limodore violette —
Limodorum à feuilles avortées.
Nom grec / Greek name :
Λιμόδωρο το εκτρωτικό.
Nom anglais / English name :
Violet limodore.
Noms allemands / German names :
Bart Dingel — Violetter Dingel.
Noms italiens / Italian names :
Fiammore — Fior di legna — Fior di legno.
Habitat :
Prairies - Lieux incultes.
Meadows - Waste ground.
Île / Island :
Patmos.
Hauteur / Height range :
De 30 cm à 70 cm.
From 30 cm to 70 cm.
Floraison / Flowering time :
D'avril à juillet.
From April to July.
Groupe / Classification :
Monocotylédones.
Monocotyledons.
Pérennité / Lifespan :
Vivace.
Perennial.
Description :

Photo 1 :
Localisation / Location : Patmos, Livadi Kalogiron
Date : 28/04/2005
GPS : Lat. 37,37000° N / Long. 26,56340° E / Alt. 10 m
Type : Kodak Gold 200 ASA
Photo 2 :
Localisation / Location : Patmos, Livadi Kalogiron
Date : 28/04/2005
GPS : Lat. 37,37000° N / Long. 26,56340° E / Alt. 10 m
Type : Kodak Gold 200 ASA