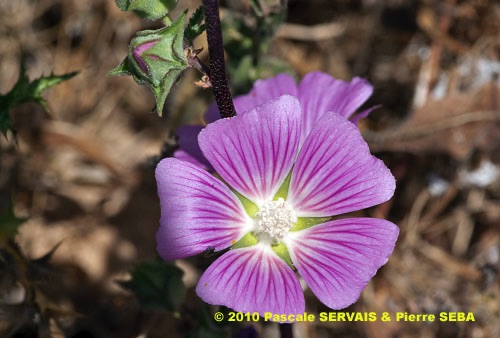 © Pascale SERVAIS & Pierre SEBA, 2018. Tilo Botanica: Flore de Tilos et du Dodécanèse / Flora of Tilos and of the Dodecanese
English translation by Brenda Bradbury, Howard Bradbury and Stéphane Léonard
Plante herbacée, hermaphrodite, à souche ligneuse, à tiges couvertes de poils étoilés, généralement teintées de rouge pourpré.
Feuilles alternes, divisées palmatifides, dentées, verdâtres à blanchâtres, longuement pétiolées, les inférieures à 5 lobes arrondis, les supérieures à 3 lobes dont le médian est plus grand que les 2 autres.
Fleurs à symétrie radiaire, lilas rosé, de 30 à 50 mm de diamètre, à pédoncule beaucoup plus long que la feuille sous-jacente. Corolle à 5 pétales de 15 à 30 mm de long, soudés à la base, plissés, veinés de pourpre plus foncé. Calice à 5 sépales soudés, pointus, qui se rejoignent au-dessus du fruit. Calicule à bractées soudées, plus courtes que les sépales mais s'accroissant à la fructification. Nombreuses étamines soudées en tube. Ovaire supère.
Fruits, akènes soudés entre eux, non masqués par un disque.
___________________________
Plant herbaceous, hermaphrodite, with a woody stock. Stems covered in stellate hairs, generally tinted of purple red.
Leaves alternate, dissected palmatifid, toothed, greenish to whitish, lengthily petiolate, the lower ones with 5 rounded lobes, the higher ones with 3 lobes whose median one is larger than the 2 others.
Flowers radially symmetrical, rosy lilac, from 30 to 50 mm in diameter, with a peduncle much longer than the underlying leaf. Corolla with 5 partly fused, folded petals, from 15 to 30 mm long, with darker purple veins. Calyx with 5 fused, pointed sepals, which join each other above the fruit. Epicalyx with fused bracts, shorter than the sepals but increasing at fructification. Numerous stamens fused in tube. Ovary superior.
Fruits, achenes fused with each other, not hidden by a disc.
Descripteurs / Identifying features: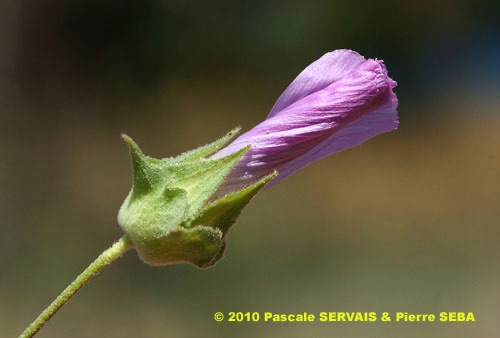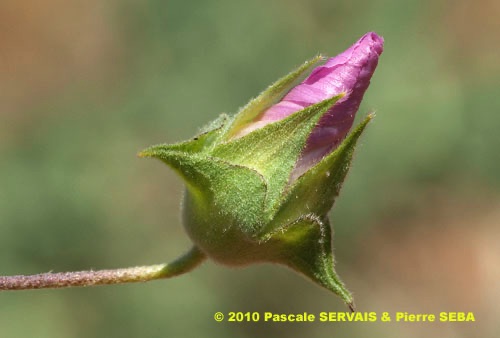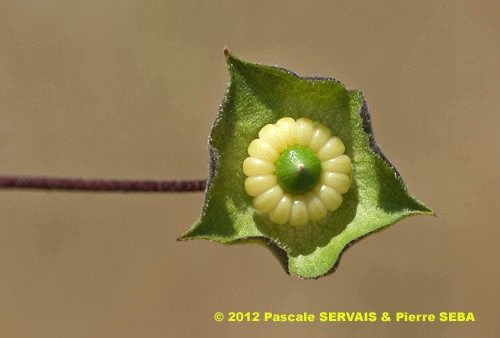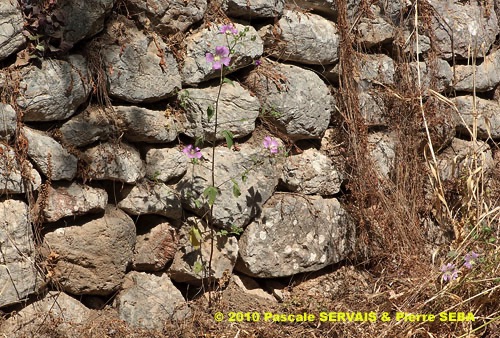 Étymologie / Etymology :
Lavatera : nom donné en l'honneur de J. R. Lavater, médecin et
naturaliste suisse du 17ème siècle.
Punctata : emprunt du latin médiéval punctatus, -a, -um (adj.)
[ < punctum, -i (nom) = la piqûre, la petite tache ] = tacheté, pointillé.
Lavatera : name given in honour of J. R. Lavater, Swiss physician and
naturalist of the 17th century.
Punctata : borrowed from medieval Latin punctatus, -a, -um (adj)
[ < punctum, -i (noun) = speck, small spot ] = spotted, dotted.
Synonymes / Synonyms :
Malva punctata (L.) Alef.
Lavatera biennis sensu Guss.
Noms vernaculaires / Common names :
Nom français / French name :
Lavatère ponctuée.
Noms anglais / English names :
Spotted-stalked — Tree-mallow.
Nom allemand / German name :
Punktierte Strauchpappel.
Nom italien / Italian name :
Malvone punteggiato.
Habitat :
Cultures - Jardins - Lieux incultes.
Cultivated places - Gardens - Waste ground.
Île / Island :
Tilos.
Hauteur / Height range :
De 10 cm à 1 m.
From 10 cm to 1 m.
Floraison / Flowering time :
D'avril à juillet.
From April to July.
Groupe / Classification :
Dicotylédones.
Dicotyledons.
Pérennité / Lifespan :
Annuelle.
Annual.
Description :
Descripteurs distinctifs des 3 espèces / Distinctive identifying features of the 3 species
Photo 1 :
Localisation / Location : Tilos, Aghios Stephanos
Date : 07/05/2010
GPS : Lat. 36,40971° N / Long. 27,39430° E / Alt. 3 m
Type : Photographie numérique / Digital Photograph (10 mégapixels)
Photo 2 :
Localisation / Location : Tilos, Aghios Stephanos
Date : 07/05/2010
GPS : Lat. 36,40971° N / Long. 27,39430° E / Alt. 3 m
Type : Photographie numérique / Digital Photograph (10 mégapixels)
Photo 3 :
Localisation / Location : Tilos, Aghios Stephanos
Date : 07/05/2010
GPS : Lat. 36,40971° N / Long. 27,39430° E / Alt. 3 m
Type : Photographie numérique / Digital Photograph (10 mégapixels)
Photo 4 :
Localisation / Location : Tilos, Aghios Stephanos
Date : 02/06/2012
GPS : Lat. 36,40971° N / Long. 27,39430° E / Alt. 3 m
Type : Photographie numérique / Digital Photograph (10 mégapixels)
Photo 5 :
Localisation / Location : Tilos, Plaine d'Erystos / Plain of Erystos
Date : 13/05/2010
GPS : Lat. 36,44807° N / Long. 27,34470° E / Alt. 26 m
Type : Photographie numérique / Digital Photograph (10 mégapixels)