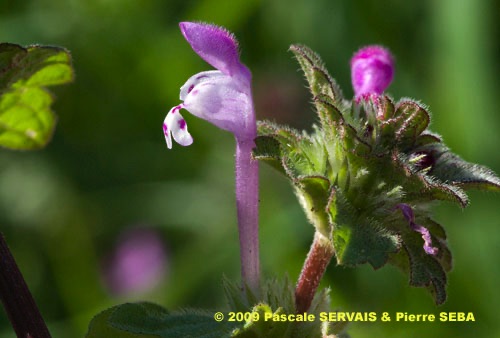 © Pascale SERVAIS & Pierre SEBA, 2018. Tilo Botanica: Flore de Tilos et du Dodécanèse / Flora of Tilos and of the Dodecanese
English translation by Brenda Bradbury, Howard Bradbury and Stéphane Léonard
Plante herbacée, hermaphrodite, velue, à tiges érigées, peu ramifiées.
Feuilles opposées décussées, simples, ovales, rondes à réniformes, lobées ou à dents émoussées, de 25 mm de long au plus, les inférieures pétiolées, les supérieures sessiles, embrassantes, se recouvrant ou soudées par leur base (connées).
Fleurs à symétrie bilatérale, pourpre rosâtre, de 14 à 20 mm de long, réunies par 6 à 10 en verticilles compacts. Corolle à tube droit, à 2 lèvres, la supérieure en casque, l'inférieure trilobée à lobes latéraux réduits à 2 petites dents. Calice à 5 sépales subégaux à poils doux. 4 étamines dont 2 plus longues, soudées sur le tube de la corolle. Ovaire supère.
Fruits, 4 akènes trigones et lisses.
___________________________
Plant herbaceous, hermaphrodite, very hairy. Stems erect, not very branched.
Leaves opposite decussate, simple, ovate, round to kidney-shaped, lobed or with blunted teeth, 25 mm long at most, the lower ones petiolate, the higher ones sessile, clasping, overlapping or fused by their base (connate).
Flowers bilaterally symmetrical, pinkish purple, from 14 to 20 mm long, joined together by 6 to 10 in compact whorls. Corolla with a straight tube and 2 lips, the higher one helmet-shaped, the lower one three-lobed with lateral lobes reduced to 2 small teeth. Calyx with 5 subequal sepals with soft hairs. 4 stamens including 2 longer, fused on the tube of the corolla. Ovary superior.
Fruits, 4 trigonous and smooth achenes.
Descripteurs / Identifying features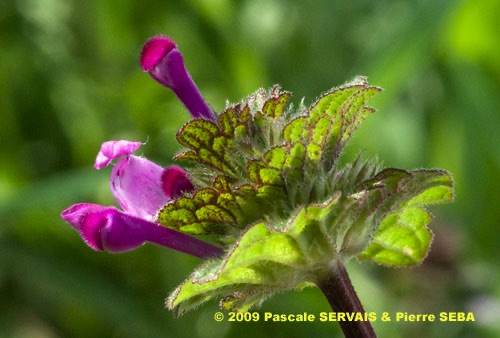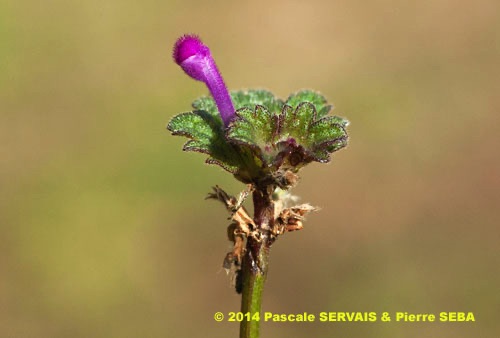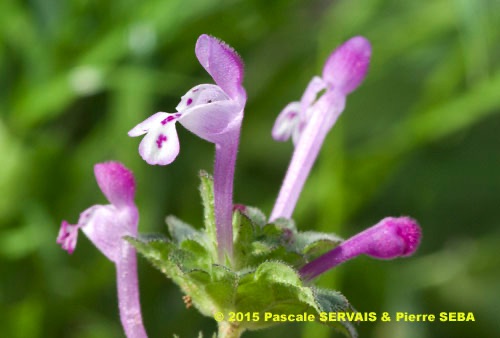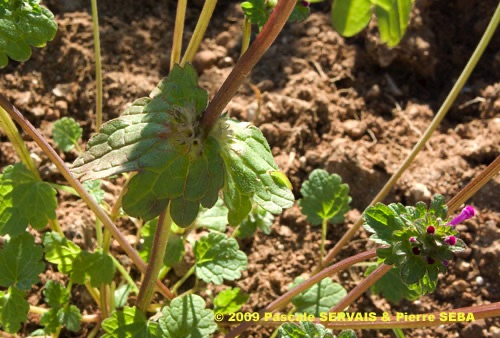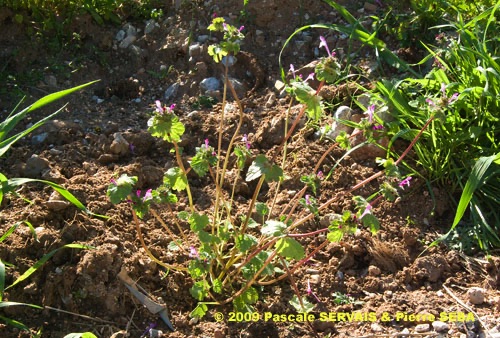 Étymologie / Etymology :
Lamium : emprunt du latin lamium, -i (nom) = le lamier, l'ortie morte,
nom donné à la plante par Pline, naturaliste latin mort en 79 apr. J.-C.,
probablement forme latinisée du grec ancien λαιμός, -οῦ (nom)
= la gorge, en référence aux fleurs à corolle en tube ressemblant
à une gorge.
Amplexicaule : adjectif créé par les botanistes [ < amplexus, -a, -um
(adj.) = qui embrasse, qui entoure + caulis, -is (nom) = la tige ].
L'adjectif amplexicaulis signifie: qui entoure la tige, en référence aux
feuilles entourant la tige.
Lamium : borrowed from Latin lamium, -i (noun) = dead-nettle, name
given to the plant by Plinius, Latin naturalist died in 79 AD, probably
Latinized form of the Classical Greek λαιμός, -οῦ (noun) = throat,
referrring to the flowers with a tube resembling a throat.
Amplexicaule : adjective created by botanists [ < amplexus, -a, -um
(adj) = clasping + caulis, -is (noun) = stem ].
The adjective amplexicaulis means: clasping the stem, referring to
the leaves which surround the stem.
Synonymes / Synonyms :
Galeobdolon amplexicaule (L.) Moench
Lamiella amplexicaulis (L.) Fourr.
Lamiopsis amplexicaulis (L.) Opiz
Lamium amplexicaule subsp. amplexicaule
Lamium lassithiense Coustur. & Gand.
Lamium palmatum Sm.
Lamium rubrum Jenk.
Lamium rumelicum Velen.
Lamium stepposum Kossko ex Klokov
Polichia amplexicaulis (L.) Willd.
Noms vernaculaires / Common names :
Noms français / French names :
Lamier à feuilles embrassantes — Lamier amplexicaule —
Pain de poule.
Noms grecs / Greek names :
Δωδεκάνθι — Λάμιο — Λάμιο το περίβλαστο — Λάμιον —
Νεροτσουκνίδα — Σφυριχτράκι.
Noms anglais / English names :
Common henbit — Deadnettle — Henbit — Henbit dead-nettle —
Henbit deadnettle.
Nom allemand / German name :
Stengelumfassende Taubnessel.
Noms espagnols / Spanish names :
Conejitos — Ortiga muerta — Vinagrillo.
Noms italiens / Italian names :
Erba ruota — Falsa-ortica reniforme.
Habitat :
Cultures - Jardins - Lieux incultes - Chemins.
Cultivated places - Gardens - Waste ground - Waysides.
Îles / Islands :
Patmos - Rhodos - Tilos.
Hauteur / Height range :
De 10 cm à 30 cm.
From 10 cm to 30 cm.
Floraison / Flowering time :
De novembre à juillet.
From November to July.
Groupe / Classification :
Dicotylédones.
Dicotyledons.
Pérennité / Lifespan :
Annuelle.
Annual.
Description :
Clés dichotomiques et descripteurs distinctifs des 2 espèces / Dichotomous keys and distinctive identifying features of the 2 species
Photo 1 :
Localisation / Location : Tilos, Livadia
Date : 15/03/2009
GPS : Lat. 36,40867° N / Long. 27,39079° E / Alt. 24 m
Type : Photographie numérique / Digital Photograph (10 mégapixels)
Photo 2 :
Localisation / Location : Tilos, Livadia
Date : 15/03/2009
GPS : Lat. 36,40867° N / Long. 27,39079° E / Alt. 24 m
Type : Photographie numérique / Digital Photograph (10 mégapixels)
Photo 3 :
Localisation / Location : Tilos, Plaine d'Erystos / Plain of Erystos
Date : 09/02/2014
GPS : Lat. 36,44520° N / Long. 27,34899° E / Alt. 26 m
Type : Photographie numérique / Digital Photograph (10 mégapixels)
Photo 4 :
Localisation / Location : Tilos, Livadia
Date : 15/03/2009
GPS : Lat. 36,40867° N / Long. 27,39079° E / Alt. 24 m
Type : Photographie numérique / Digital Photograph (10 mégapixels)
Photo 5 :
Localisation / Location : Tilos, Livadia
Date : 15/03/2009
GPS : Lat. 36,40867° N / Long. 27,39079° E / Alt. 24 m
Type : Photographie numérique / Digital Photograph (10 mégapixels)
Photo 6 :
Localisation / Location : Tilos, Livadia
Date : 15/03/2009
GPS : Lat. 36,40867° N / Long. 27,39079° E / Alt. 24 m
Type : Photographie numérique / Digital Photograph (10 mégapixels)