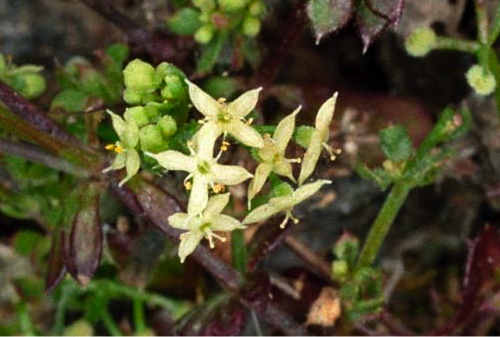 © Pascale SERVAIS & Pierre SEBA, 2018. Tilo Botanica: Flore de Tilos et du Dodécanèse / Flora of Tilos and of the Dodecanese
English translation by Brenda Bradbury, Howard Bradbury and Stéphane Léonard
Plante herbacée, hermaphrodite, rampante, à tiges très ramifiées, glabres ou peu poilues, vertes ou rougeâtres.
Feuilles verticillées par 4 à 6 (les supérieures opposées et sans stipules), simples, ovales à elliptiques, rudes sur les bords, terminées par une pointe très petite. Stipules semblables aux feuilles.
Fleurs à symétrie radiaire, jaunâtres, de 0,7 mm de diamètre, solitaires, par 2 ou en ombelles de 2 à 7 mm de large. Corolle à 4 pétales soudés à la base, non terminés par une petite arête. Ovaire infère.
Fruits, capsules presque cylindriques, souvent à longs poils blancs, étalés et crochus au sommet.
___________________________
Plant herbaceous, hermaphrodite, trailing. Stems very branched, glabrous or not very hairy, green or reddish.
Leaves whorled by 4 to 6 (the higher ones opposite and without stipules), simple, ovate to elliptic, hard on the edges, finished by a very small point. Stipules similar to the leaves.
Flowers radially symmetrical, yellowish, 0.7 mm in diameter, solitary, by 2 or in umbels from 2 to 7 mm across. Corolla with 4 partly fused petals, not finished by a small ridge. Ovary inferior.
Fruits, almost cylindrical capsules, often with long white hairs, spread out and hooked at the top.
Descripteurs / Identifying features: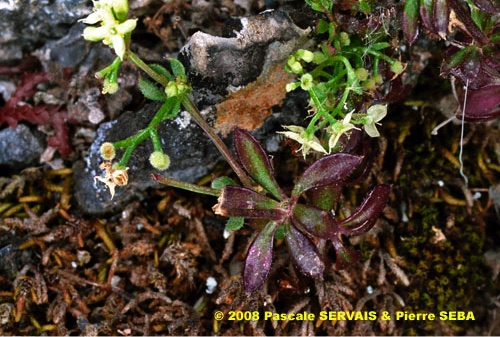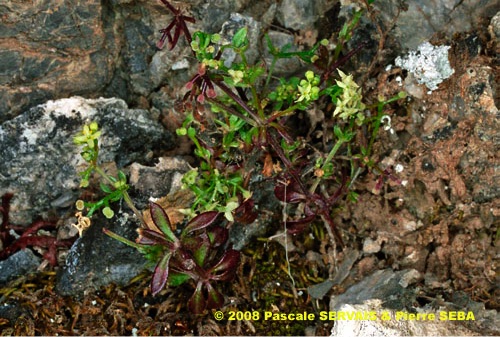 Étymologie / Etymology :
Galium : emprunt du grec ancien γάλα, γάλακτος (nom) = le lait,
en référence à la propriété de certaines espèces utilisées pour faire
cailler le lait.
Murale : emprunt du latin muralis, -is, -e (adj.) [ < murus, -i (nom)
= le mur, le rempart ] = qui concerne les murs, qui poussent sur
les murs.
Galium : borrowed from Classical Greek γάλα, γάλακτος (noun) = milk,
referring to the property of some species used to curdle milk.
Murale : borrowed from Latin muralis, -is, -e (adj) [ < murus, -i (noun)
= wall, rampart ] = which relates to the walls, growing on walls.
Synonymes / Synonyms :
Aparinanthus muralis (L.) Fourr.
Galium minimum Roem. & Schult.
Galium murale subsp. litardierei Bouchard
Sherardia muralis L.
Valantia rupestris Lam.
Noms vernaculaires / Common names :
Nom français / French name :
Gaillet des murs.
Noms anglais / English names :
Small goosegrass — Yellow wall bedstraw.
Nom allemand / German name :
Mauer-Labkraut.
Nom italien / Italian name :
Caglio murale.
Habitat :
Cultures - Lieux pierreux - Lieux incultes - Chemins - Murs, rochers.
Cultivated places - Stony places - Waste ground - Waysides -
Walls, rocks.
Île / Island :
Tilos.
Hauteur / Height range :
De 5 cm à 20 cm.
From 5 cm to 20 cm.
Floraison / Flowering time :
De mars à juin.
From March to June.
Groupe / Classification :
Dicotylédones.
Dicotyledons.
Pérennité / Lifespan :
Annuelle.
Annual.
Description :
Descripteurs distinctifs des 7 espèces / Distinctive identifying features of the 7 species
Photo 1 :
Localisation / Location : Tilos, Pano Meri
Date : 15/05/2007
GPS : Lat. 36,39896° N / Long. 27,39513° E / Alt. 162 m
Type : Kodak Gold 200 ASA
Photo 2 :
Localisation / Location : Tilos, Pano Meri
Date : 15/05/2007
GPS : Lat. 36,39896° N / Long. 27,39513° E / Alt. 162 m
Type : Kodak Gold 200 ASA
Photo 3 :
Localisation / Location : Tilos, Pano Meri
Date : 15/05/2007
GPS : Lat. 36,39896° N / Long. 27,39513° E / Alt. 162 m
Type : Kodak Gold 200 ASA