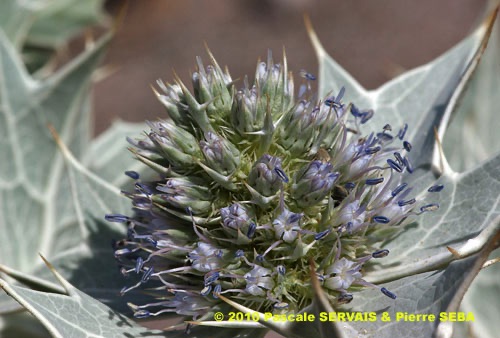 © Pascale SERVAIS & Pierre SEBA, 2018. Tilo Botanica: Flore de Tilos et du Dodécanèse / Flora of Tilos and of the Dodecanese
English translation by Brenda Bradbury, Howard Bradbury and Stéphane Léonard
Plante herbacée, hermaphrodite, en touffe raide, à tiges cannelées, ramifiées.
Feuilles alternes, simples, ovales à obovales ou réniformes, glabres, vert bleuté, coriaces, à bords épineux et ondulés. Les feuilles radicales ont un pétiole allongé, non ailé, engainant par sa base; les caulinaires sont sessiles.
Fleurs à symétrie radiaire, bleu gris, de 4 à 5 mm de diamètre, réunies en denses capitules globuleux, de 15 à 40 mm. Calice à 5 sépales verts soudés marqué d'une ligne blanche prolongée par une épine blanche. 2 styles et 2 stigmates. Involucre composé de 4 à 7 bractées ovales, grossièrement épineuses. Ovaire infère.
Fruits, akènes petits et écailleux.
___________________________
Plant herbaceous, hermaphrodite, stiffly tufted. Stems grooved, branched.
Leaves alternate, simple, ovate to obovate or kidney-shaped, glabrous, bluish green, tough, with spiny and undulate edges. The radical leaves have a lengthened petiole, nonwinged, sheathing by its base; the stem-leaves are sessile.
Flowers radially symmetrical, grey blue, from 4 to 5 mm in diameter, joined together in dense globose capitula, from 15 to 40 mm. Calyx with 5 green fused sepals marked with a white line prolonged by a white thorn. 2 styles and 2 stigmas. Involucre with 4 to 7 ovate, coarsely spiny bracts. Ovary inferior.
Fruits, small and scaly achenes.
Descripteurs / Identifying features: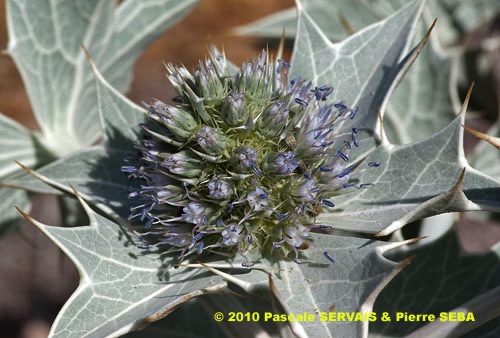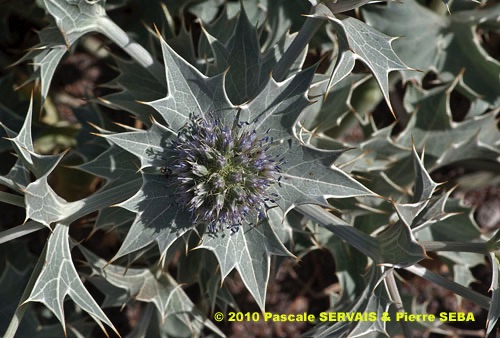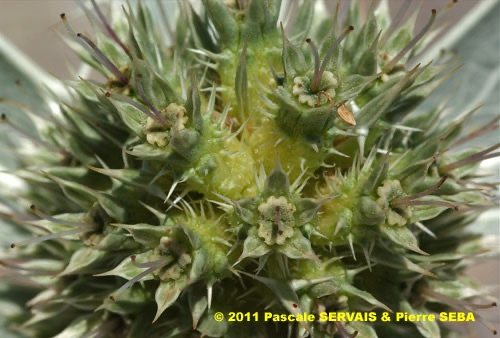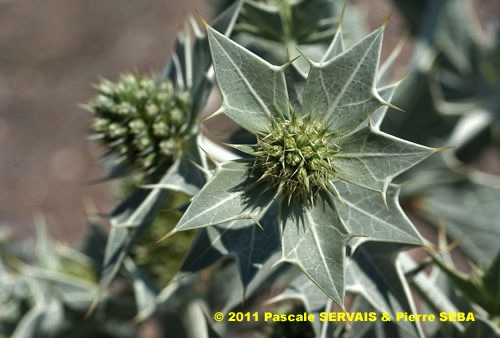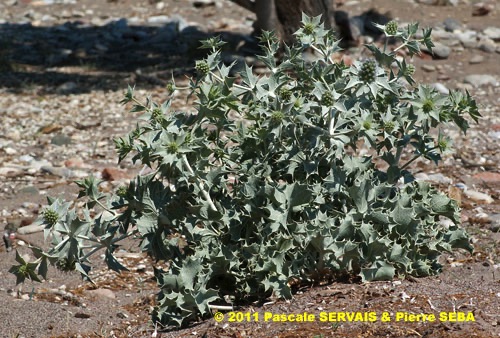 Étymologie / Etymology :
Eryngium : emprunt du latin eryngium, -i (nom) = le panicaut,
forme latinisée du grec ancien ἠρύγγιον, -ου (nom)
[ < ἤρυγγος, -ου (nom) = le panicaut ] = le petit panicaut, nom donné
à la plante par Théophraste, philosophe péripatéticien, disciple
d'Aristote, botaniste et naturaliste, mort vers 288 av. J.-C.
Maritimum : emprunt du latin maritimus, -a, -um (adj.)
[ < mare, -is (nom) = la mer ] = maritime, qui provient de la mer
ou des régions en bord de mer.
Eryngium : borrowed from Latin eryngium, -i (noun) = sea holly,
Latinized form of the Classical Greek ἠρύγγιον, -ου (noun)
[ < ἤρυγγος, -ου (noun) = sea holly ] = small sea holly, name given to
the plant by Theophrastus, peripatetic philosopher, disciple of Aristotle,
botanist and naturalist, died towards 288 BC.
Maritimum : borrowed from Latin maritimus, -a, -um (adj)
[ < mare, -is (noun) = sea ] = maritime, which comes from the sea
or from the sea-coasts.
Synonyme / Synonym :
—
Noms vernaculaires / Common names :
Noms français / French names :
Chardon bleu — Chardon des dunes — Panicaut de mer —
Panicaut des dunes — Panicaut maritime.
Noms grecs / Greek names :
Αγκάθι της θάλασσας — Γαλανάγκαθο — Ερύγγιο το παράλιο.
Noms anglais / English names :
Sea holme — Sea-holly — Seaside eryngo.
Noms allemands / German names :
Strand-Mannstreu — Stranddistel — Strandmannstreu.
Noms espagnols / Spanish names :
Cardo corredor marino — Cardo de mar — Cardo marino —
Cardo marítimo.
Noms italiens / Italian names :
Calcatreppola marina — Calcatreppola marittima —
Erba di San Pietro — Eringio marino.
Habitat :
Sols sableux.
Sandy soils.
Île / Island :
Tilos.
Hauteur / Height range :
De 10 cm à 70 cm.
From 10 cm to 70 cm.
Floraison / Flowering time :
De mai à septembre.
From May to September.
Groupe / Classification :
Dicotylédones.
Dicotyledons.
Pérennité / Lifespan :
Vivace.
Perennial.
Description :
Descripteurs distinctifs des 2 espèces / Distinctive identifying features of the 2 species
Photo 1 :
Localisation / Location : Tilos, Erystos
Date : 14/05/2010
GPS : Lat. 36,43298° N / Long. 27,35085° E / Alt. 2 m
Type : Photographie numérique / Digital Photograph (10 mégapixels)
Photo 2 :
Localisation / Location : Tilos, Erystos
Date : 14/05/2010
GPS : Lat. 36,43298° N / Long. 27,35085° E / Alt. 2 m
Type : Photographie numérique / Digital Photograph (10 mégapixels)
Photo 3 :
Localisation / Location : Tilos, Erystos
Date : 14/05/2010
GPS : Lat. 36,43298° N / Long. 27,35085° E / Alt. 2 m
Type : Photographie numérique / Digital Photograph (10 mégapixels)
Photo 4 :
Localisation / Location : Tilos, Erystos
Date : 07/06/2011
GPS : Lat. 36,43298° N / Long. 27,35085° E / Alt. 2 m
Type : Photographie numérique / Digital Photograph (10 mégapixels)
Photo 5 :
Localisation / Location : Tilos, Erystos
Date : 03/06/2011
GPS : Lat. 36,43298° N / Long. 27,35085° E / Alt. 2 m
Type : Photographie numérique / Digital Photograph (10 mégapixels)
Photo 6 :
Localisation / Location : Tilos, Erystos
Date : 03/06/2011
GPS : Lat. 36,43298° N / Long. 27,35085° E / Alt. 2 m
Type : Photographie numérique / Digital Photograph (10 mégapixels)