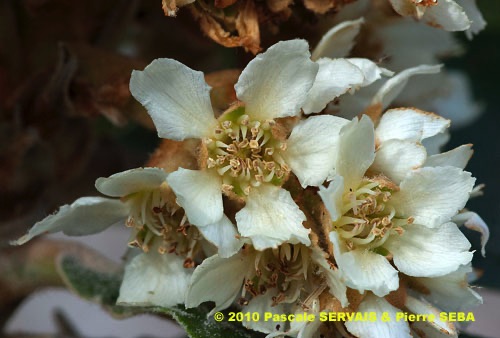 Eriobotrya japonica (Thunb.) Lindl.
© Pascale SERVAIS & Pierre SEBA, 2018. Tilo Botanica: Flore de Tilos et du Dodécanèse / Flora of Tilos and of the Dodecanese
English translation by Brenda Bradbury, Howard Bradbury and Stéphane Léonard
Arbuste vigoureux, à jeunes tiges feutrées de brun rougeâtre.
Feuilles alternes, simples, elliptiques, dentées, ridées, persistantes, jusqu'à 30 cm de long, feutrées dessous, à nervures saillantes.
Fleurs à symétrie radiaire, blanches, de 10 à 12 mm de diamètre, réunies en grandes panicules terminales velues. Corolle à 5 pétales libres. 20 étamines. Ovaire supère.
Fruits, drupes piriformes ou ovoïdes, de 30 à 60 mm, jaunes à maturité, comestibles.
___________________________
Treelet vigorous. Young stems felted of reddish brown.
Leaves alternate, simple, elliptic, toothed, wrinkled, persistent, up to 30 cm long, felted below, with protruding ribs.
Flowers radially symmetrical, white, from 10 to 12 mm in diameter, joined together in tall very hairy terminal panicles. Corolla with 5 free petals. 20 stamens. Ovary superior.
Fruits, pear-shaped or ovoid drupes, from 30 to 60 mm, yellow at maturity, edible.
Descripteurs / Identifying features: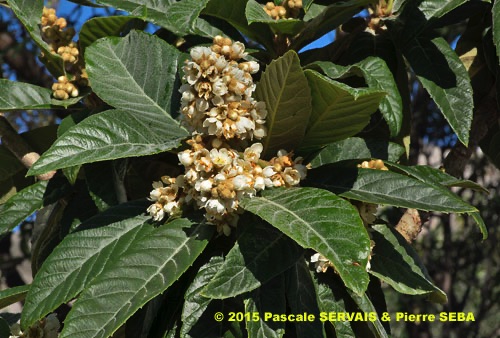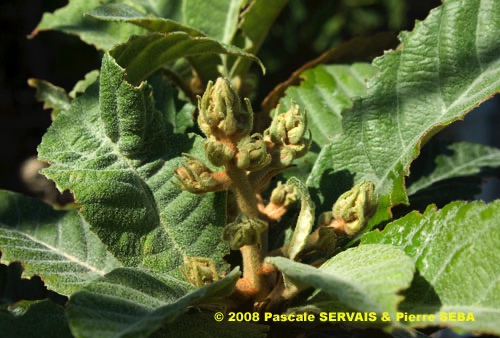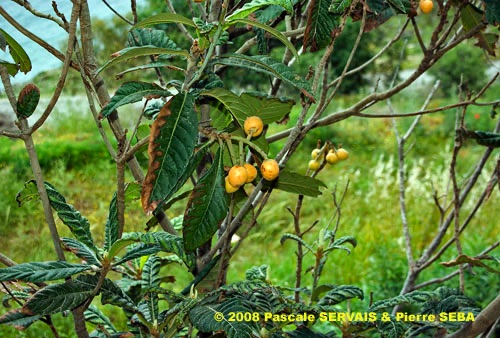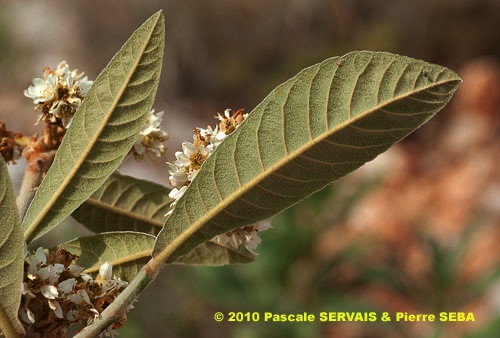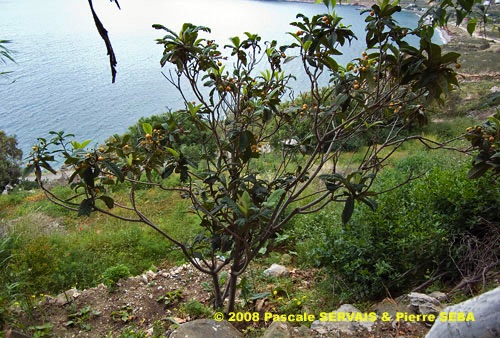 Étymologie / Etymology :
Eriobotrya : nom créé par les botanistes [ < ἔριον, -ου (nom) = la laine
+ βότρυς, -υος (nom) = la grappe, la boucle, le pendant d'oreille ]
= la grappe de laine, en référence aux fleurs réunies en grappes et
aux calices à poils laineux.
Japonica : emprunt du latin japonicus, -a, -um (adj.) = du Japon, qui
vient du Japon, en référence à la région d'origine de la plante.
Eriobotrya : name created by botanists [ < ἔριον, -ου (noun) = wool
+ βότρυς, -υος (noun) = cluster, earring ] = bunch of wool,
referring to the flowers joined together in clusters and to the
woolly-haired calyces.
Japonica : borrowed from Latin japonicus, -a, -um (adj) = of or from
Japan, referring to the area of origin of the plant.
Synonymes / Synonyms :
Crataegus bibas Lour.
Mespilus japonica Thunb.
Photinia japonica (Thunb.) Asch. & Schweinf.
Noms vernaculaires / Common names :
Noms français / French names :
Bibacier — Bibassier — Loquat — Néflier du Japon.
Noms grecs / Greek names :
Εριοβοτρύα η ιαπωνική — Ιαπωνικά μούσμουλα — Μεσκουλιά —
Μεσπιλέα η ιαπωνική — Μουσμουλιά — Μουσμουλιάς — Νεσπιλιά.
Noms anglais / English names :
Chinese loquat — Japanese medlar — Japanese plum — Loquat.
Noms allemands / German names :
Japanische Mispel — Japanische Wollmispel.
Noms espagnols / Spanish names :
Nispelero del Japón — Níspero del Japón — Nispolero.
Nom italien / Italian name :
Nespolo del Giappone.
Habitat :
Jardins.
Gardens.
Îles / Islands :
Rhodos - Tilos.
Hauteur / Height range :
De 2 m à 10 m.
From 2 m to 10 m.
Floraison / Flowering time :
De septembre à janvier.
From September to January.
Groupe / Classification :
Dicotylédones.
Dicotyledons.
Pérennité / Lifespan :
Vivace.
Perennial.
Description :
Photo 1 :
Localisation / Location : Tilos, Panaghia Kamariani
Date : 28/11/2010
GPS : Lat. 36,45671° N / Long. 27,32241° E / Alt. 55 m
Type : Photographie numérique / Digital Photograph (10 mégapixels)
Photo 2 :
Localisation / Location : Tilos, Megalochorio
Date : 18/11/2015
GPS : Lat. 36,45341° N / Long. 27,34708° E / Alt. 58 m
Type : Photographie numérique / Digital Photograph (24 mégapixels)
Photo 3 :
Localisation / Location : Tilos, Aghios Andonis
Date : 30/09/2008
GPS : —
Type : Photographie numérique / Digital Photograph (10 mégapixels)
Photo 4 :
Localisation / Location : Tilos, Panaghia Kamariani
Date : 28/04/2008
GPS : Lat. 36,45671° N / Long. 27,32241° E / Alt. 55 m
Type : Photographie numérique / Digital Photograph (10 mégapixels)
Photo 5 :
Localisation / Location : Tilos, Panaghia Kamariani
Date : 28/11/2010
GPS : Lat. 36,45671° N / Long. 27,32241° E / Alt. 55 m
Type : Photographie numérique / Digital Photograph (10 mégapixels)
Photo 6 :
Localisation / Location : Tilos, Panaghia Kamariani
Date : 28/04/2008
GPS : Lat. 36,45671° N / Long. 27,32241° E / Alt. 55 m
Type : Photographie numérique / Digital Photograph (10 mégapixels)