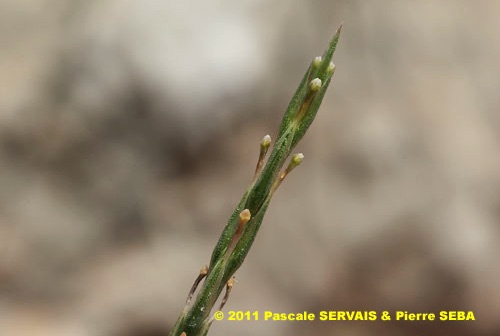 © Pascale SERVAIS & Pierre SEBA, 2018. Tilo Botanica: Flore de Tilos et du Dodécanèse / Flora of Tilos and of the Dodecanese
English translation by Brenda Bradbury, Howard Bradbury and Stéphane Léonard
Plante herbacée, hermaphrodite, à souche ligneuse, à tiges glabres ou presque glabres, dressées ou redressées.
Feuilles verticillées par 6 à 8, simples, linéaires à lancéolées, plates, rudes sur les bords, à pointe non épineuse, à stipules ayant l'apparence de vraies feuilles.
Fleurs à symétrie radiaire, jaunâtres ou crème verdâtre (parfois pourprées), de 5 à 7 mm de long (avec le tube), peu visibles, réunies en épis subcylindriques très denses, très longs (de 4 à 15 cm) et très étroits (2 à 3 mm). Corolle à tube étroit, à 4 pétales terminés par 1 filament jaunâtre, à peine plus longue que la bractée sous-jacente. Bractées ciliées, vertes avec une ligne médiane blanche, à bords membraneux. Ovaire infère.
Fruits, capsules ovales, striées de jaune.
___________________________
Plant herbaceous, hermaphrodite, with a woody stock. Stems glabrous or almost glabrous, erect or ascending.
Leaves whorled by 6 to 8, simple, linear to lanceolate, flat, hard on edges, with a nonspiny point, with stipules having the look of true leaves.
Flowers radially symmetrical, yellowish or greenish cream (sometimes purple), from 5 to 7 mm long (with the tube), not very conspicuous, joined together in subcylindrical, very dense, very long (from 4 to 15 cm) and very narrow spikes. Corolla with a narrow tube, with 4 petals finished by 1 yellowish filament, scarcely longer than the underlying bract. Bracts ciliate, green with a white median line, with membranous edges. Ovary inferior.
Fruits, ovate capsules striated with yellow.
Descripteurs / Identifying features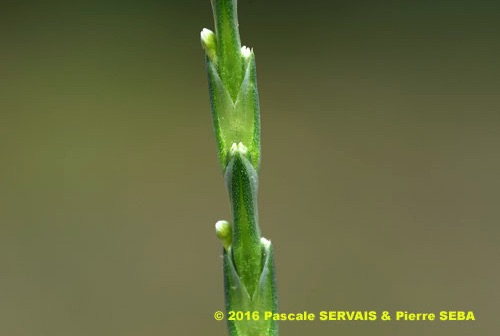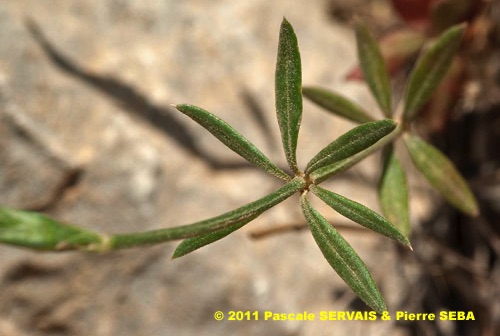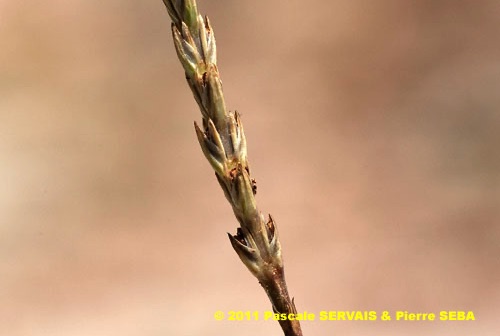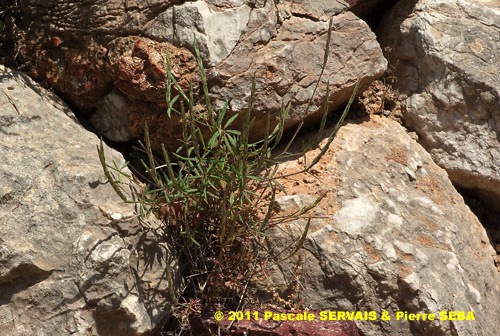 Étymologie / Etymology :
Crucianella : nom créé par les botanistes [ < crux, -ucis (nom)
= la croix + -ellus, -a, -um (diminutif) = petit ] = la petite croix,
en référence à la disposition des feuilles.
Latifolia : emprunt du latin latifolius, -a, -um (adj.) [ < latus, -a, -um (adj.)
= large + folium, -i (nom) = la feuille ] = qui a de larges feuilles.
Crucianella : name created by botanists [ < crux, -ucis (noun)
= cross + -ellus, -a, -um (diminutive) = small ] = little cross,
referring to the arrangement of the leaves.
Latifolia : borrowed from Latin latifolius, -a, -um (adj)
[ < latus, -a, -um (adj) = wide + folium, -i (noun) = leaf ]
= with wide leaves, with broad-leaved.
Synonymes / Synonyms :
Crucianella catellata Klokov
Crucianella latifolia var. monspeliaca (L.) Gren.
Crucianella monspeliaca L.
Crucianella monspeliensis Hill
Crucianella vulgaris Gaterau
Rubeola heterophylla Moench
Rubeola latifolia (L.) Fourr.
Noms vernaculaires / Common names :
Noms français / French names :
Crucianelle à feuilles larges — Crucianelle à larges feuilles.
Nom anglais / English name :
Broad-leaved crucianella.
Nom allemand / German name :
Breitblättriges Kreuzblatt.
Nom italien / Italian name :
Crucianella ruvida.
Habitat :
Lieux pierreux - Lieux incultes - Sols sableux.
Stony places - Waste ground - Sandy soils.
Île / Island :
Tilos.
Hauteur / Height range :
De 10 cm à 30 cm.
From 10 cm to 30 cm.
Floraison / Flowering time :
D'avril à juin.
From April to June.
Groupe / Classification :
Dicotylédones.
Dicotyledons.
Pérennité / Lifespan :
Annuelle.
Annual.
Description :
Clés dichotomiques et descripteurs distinctifs des 2 espèces / Dichotomous keys and distinctive identifying features of the 2 species
Photo 1 :
Localisation / Location : Tilos, Chemin de Skafi / Path to Skafi
Date : 06/06/2011
GPS : Lat. 36,46054° N / Long. 27,35012° E / Alt. 91 m
Type : Photographie numérique / Digital Photograph (10 mégapixels)
Photo 2 :
Localisation / Location : Tilos, Plaine d'Erystos / Plain of Erystos
Date : 24/04/2016
GPS : Lat. 36,43959° N / Long. 27,35157° E / Alt. 19 m
Type : Photographie numérique / Digital Photograph (24 mégapixels)
Photo 3 :
Localisation / Location : Tilos, Chemin de Skafi / Path to Skafi
Date : 06/06/2011
GPS : Lat. 36,46054° N / Long. 27,35012° E / Alt. 91 m
Type : Photographie numérique / Digital Photograph (10 mégapixels)
Photo 4 :
Localisation / Location : Tilos, Livadia (environs / surroundings)
Date : 05/06/2011
GPS : Lat. 36,41142° N / Long. 27,38613° E / Alt. 9 m
Type : Photographie numérique / Digital Photograph (10 mégapixels)
Photo 5 :
Localisation / Location : Tilos, Chemin de Skafi / Path to Skafi
Date : 06/06/2011
GPS : Lat. 36,46054° N / Long. 27,35012° E / Alt. 91 m
Type : Photographie numérique / Digital Photograph (10 mégapixels)