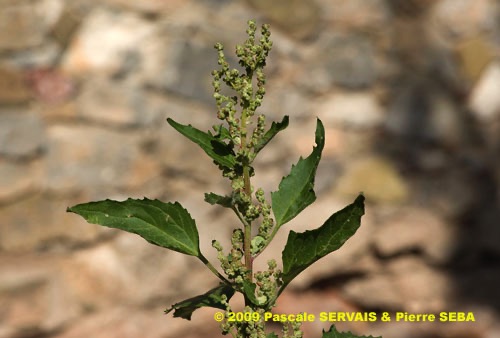 © Pascale SERVAIS & Pierre SEBA, 2018. Tilo Botanica: Flore de Tilos et du Dodécanèse / Flora of Tilos and of the Dodecanese
English translation by Brenda Bradbury, Howard Bradbury and Stéphane Léonard
Plante herbacée, hermaphrodite, verte ou quelquefois rougeâtre, dont la tige, souvent rameuse, est anguleuse dans sa longueur.
Feuilles alternes, simples, ovales, un peu losangiques, pétiolées, les plus grandes bordées de dents inégales, à limbe atténué à la base.
Fleurs à symétrie radiaire, verdâtres, de 2 à 3 mm de diamètre, disposées en grappes lâches et feuillées de 1,5 à 3 cm de long. Calice à 5 sépales soudés à la base, un peu en carène sur le dos et cachant entièrement le fruit. Ovaire supère.
Fruits, akènes à graines finement rugueuses.
___________________________
Plant herbaceous, hermaphrodite, green or sometimes reddish. Stem often branched, angular in its length.
Leaves alternate, simple, ovate, a little diamond-shaped, petiolate, the largest ones bordered by unequal teeth, with the blade attenuated at the base.
Flowers radially symmetrical, greenish, from 2 to 3 mm in diameter, laid out in loose and leafy racemes, from 1.5 to 3 cm long. Calyx with 5 partly fused sepals, a little carinate on the back and entirely hiding the fruit. Ovary superior.
Fruits, achenes with finely rough seeds.
Descripteurs / Identifying features: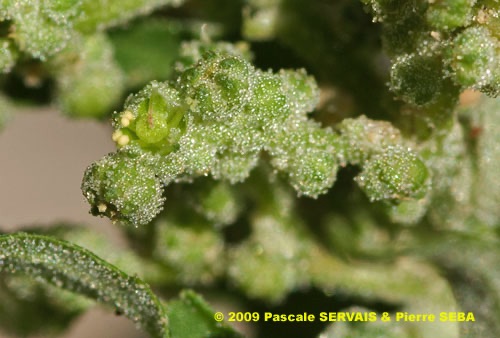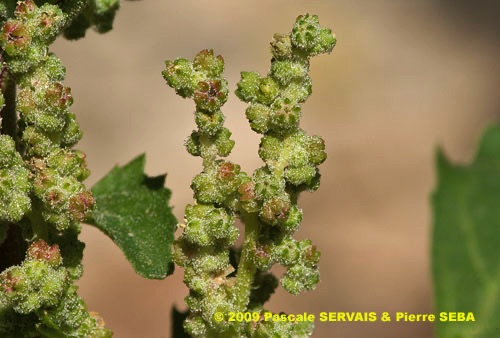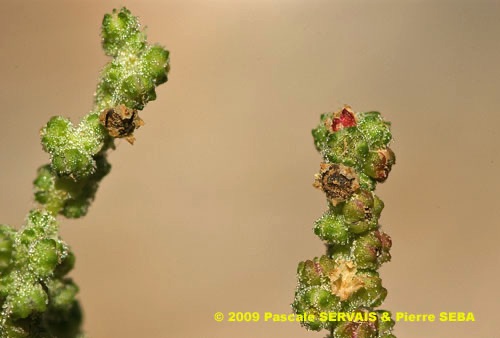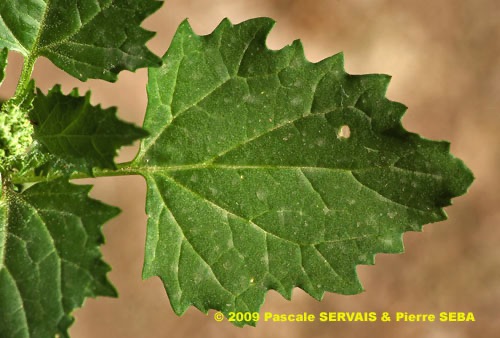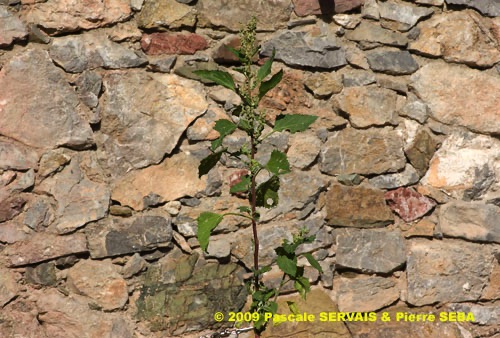 Étymologie / Etymology :
Chenopodium : emprunt du grec ancien χήν, χηνός (nom) = l'oie
+ πόδιον, -ου (nom) = le petit pied. Le mot signifie "patte d'oie",
en référence à la forme des feuilles chez quelques espèces.
Murale : emprunt du latin muralis, -is, -e (adj.) [ < murus, -i (nom)
= le mur, le rempart ] = qui concerne les murs, qui poussent sur
les murs.
Chenopodium : borrowed from Classical Greek χήν, χηνός (noun)
= goose + πόδιον, -ου (noun) = little foot. The word means
"goose leg", referring to the shape of the leaves in some species.
Murale : borrowed from Latin muralis, -is, -e (adj) [ < murus, -i (noun)
= wall, rampart ] = which relates to the walls, growing on walls.
Synonymes / Synonyms :
Chenopodiastrum murale (L.) S.Fuentes, Uotila & Borsch
Anserina muralis (L.) Friche-Joset & Montandon
Atriplex muralis (L.) Crantz
Chenopodium biforme Nees
Chenopodium carthagenense Zuccagni
Chenopodium ceretanum Sennen
Chenopodium congestum Hook.f.
Chenopodium dubium Marcet
Chenopodium flavum Forssk.
Chenopodium guineense Jacq.
Chenopodium laterale Aiton
Chenopodium triangulare Forssk.
Rhagodia congesta (Hook.f.) Moq.
Vulvaria trachisperma Bubani
Noms vernaculaires / Common names :
Noms français / French names :
Ansérine des murs — Chénopode des murailles —
Chénopode des murs — Sénille.
Nom grec / Greek name :
Στριγγλόχορτο.
Noms anglais / English names :
Nettle leaved goosefoot — Nettleleaf goosefoot.
Nom allemand / German name :
Mauer-Gänsefuß.
Nom espagnol / Spanish name :
Pie de ganso.
Noms italiens / Italian names :
Farinello dei muri — Farinello murale.
Habitat :
Cultures - Lieux incultes - Sols sableux - Chemins.
Cultivated places - Waste ground - Sandy soils - Waysides.
Île / Island :
Tilos.
Hauteur / Height range :
De 20 cm à 70 cm.
From 20 cm to 70 cm.
Floraison / Flowering time :
De février à octobre.
From February to October.
Groupe / Classification :
Dicotylédones.
Dicotyledons.
Pérennité / Lifespan :
Annuelle.
Annual.
Description :
Descripteurs distinctifs des 2 espèces / Distinctive identifying features of the 2 species
Photo 1 :
Localisation / Location : Tilos, Aghios Pandeleimonas
Date : 23/10/2009
GPS : Lat. 36,44781° N / Long. 27,30545° E / Alt. 238 m
Type : Photographie numérique / Digital Photograph (10 mégapixels)
Photo 2 :
Localisation / Location : Tilos, Aghios Pandeleimonas
Date : 23/10/2009
GPS : Lat. 36,44781° N / Long. 27,30545° E / Alt. 238 m
Type : Photographie numérique / Digital Photograph (10 mégapixels)
Photo 3 :
Localisation / Location : Tilos, Aghios Pandeleimonas
Date : 23/10/2009
GPS : Lat. 36,44781° N / Long. 27,30545° E / Alt. 238 m
Type : Photographie numérique / Digital Photograph (10 mégapixels)
Photo 4 :
Localisation / Location : Tilos, Aghios Pandeleimonas
Date : 23/10/2009
GPS : Lat. 36,44781° N / Long. 27,30545° E / Alt. 238 m
Type : Photographie numérique / Digital Photograph (10 mégapixels)
Photo 5 :
Localisation / Location : Tilos, Aghios Pandeleimonas
Date : 23/10/2009
GPS : Lat. 36,44781° N / Long. 27,30545° E / Alt. 238 m
Type : Photographie numérique / Digital Photograph (10 mégapixels)
Photo 6 :
Localisation / Location : Tilos, Aghios Pandeleimonas
Date : 23/10/2009
GPS : Lat. 36,44781° N / Long. 27,30545° E / Alt. 238 m
Type : Photographie numérique / Digital Photograph (10 mégapixels)