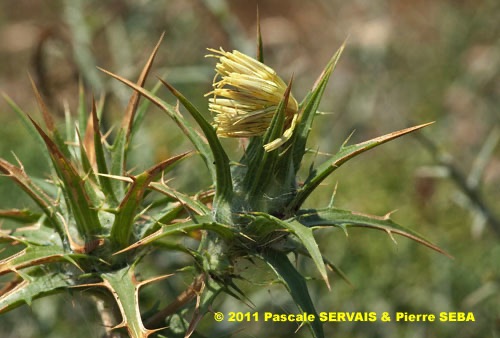 Carthamus lanatus subsp. baeticus (Boiss. & Reut.) Maire
© Pascale SERVAIS & Pierre SEBA, 2018. Tilo Botanica: Flore de Tilos et du Dodécanèse / Flora of Tilos and of the Dodecanese
English translation by Brenda Bradbury, Howard Bradbury and Stéphane Léonard
Plante herbacée, hermaphrodite, à tiges blanchâtres, feuillées sur toute leur hauteur, souvent couvertes de poils laineux.
Feuilles alternes, simples ou divisées pennatipartites, lancéolées à ovales, épineuses, coriaces, embrassant à moitié la tige par leur base.
Fleurs jaune pâle, parfois presque blanches, réunies en capitules solitaires de 20 à 30 mm de diamètre, à fleurons tous tubulés sensiblement égaux entre eux. Anthères blanches avec des lignes violettes. Involucre couvert de poils laineux, à grandes bractées externes étalées semblables aux feuilles. Ovaire infère.
Fruits, akènes marron foncé, presque lisses, à plusieurs rangées d'écailles ciliées. L'aigrette est à peu près de la même longueur que le reste du fruit. Les fruits du pourtour du capitule sont sans aigrette.
___________________________
Plant herbaceous, hermaphrodite. Stems whitish, leafy on all their height, often covered in woolly hairs.
Leaves alternate, simple or dissected pinnatipartite, lanceolate to ovate, spiny, tough, clasping half the stem by their base.
Flowers pale yellow, sometimes almost white, joined together in solitary capitula from 20 to 30 mm in diameter, with only disk-florets approximately equal to each other. Anthers white with violet lines. Involucre covered in wooly hairs, with tall spread out external bracts similar to the leaves. Ovary inferior.
Fruits, dark brown achenes, almost smooth, with several rows of ciliate scales. The pappus is about the same length as the rest of the fruit. The fruits of the circumference of the capitulum are not feathery.
Descripteurs / Identifying features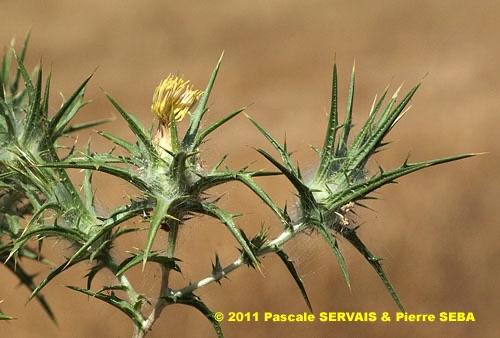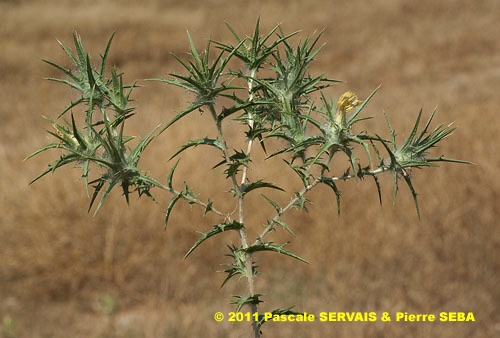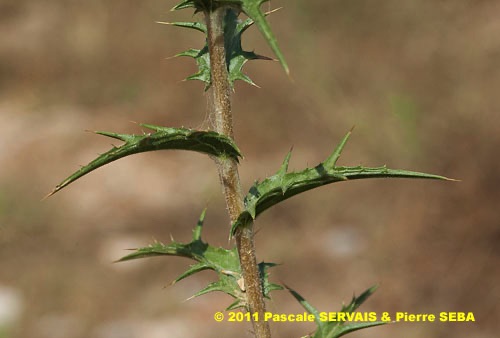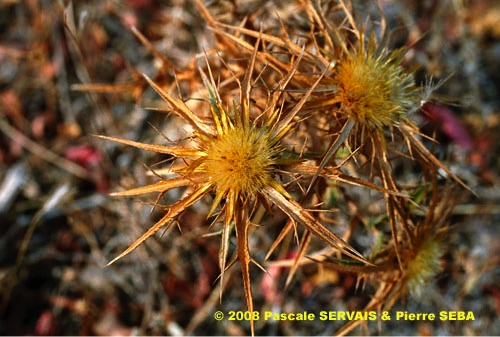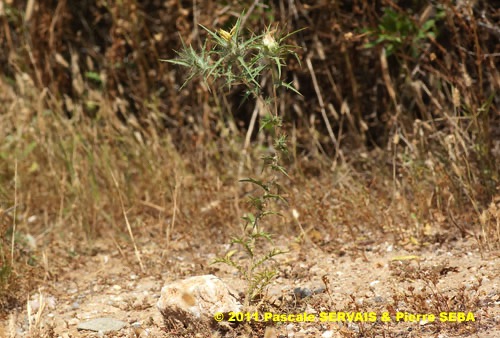 Étymologie / Etymology :
Carthamus : emprunt du latin médiéval carthamus, -i (nom)
[ dérivé de l'hébreu kartami = teindre ], en référence à ses propriétés
tinctoriales.
Lanatus : emprunt du latin lanatus, -a, -um (adj.)
[ < lana, -ae (nom) = la laine ] = laineux, couvert de laine,
en référence aux poils laineux qui recouvrent la plante.
Baeticus : emprunt du latin baeticus, -a, -um (adj.) = de la Bétique
(province romaine d'Espagne), qui vient de la Bétique.
Carthamus : borrowed from medieval Latin carthamus, -i (noun)
[ derived from Hebrew kartami = to dye ], referring to its dyeing
properties.
Lanatus : borrowed from Latin lanatus, -a, -um (adj)
[ < lana, -ae (noun) = wool ] = wooly, covered with wool,
referring to the woolly hairs which cover the plant.
Baeticus : borrowed from Latin baeticus, -a, -um (adj) = of or from
Hispania Baetica, which comes from Hispania Baetica.
Synonymes / Synonyms :
Carthamus baeticus (Boiss. & Reut.) Nyman
Carthamus creticus L.
Carthamus lanatus subsp. creticus (L.) Holmboe
Kentrophyllum baeticum Boiss. & Reut.
Noms vernaculaires / Common names :
Noms français / French names :
Carthame — Carthame laineux — Chardon béni des Parisiens —
Faux safran.
Noms grecs / Greek names :
Ατρακτύλι — Κάρθαμος ο εριώδης — Κάρθαμος ο μαλλωτός.
Noms anglais / English names :
Cretan safflower — Downy safflower — Saffron thistle —
Woolly distaff thistle — Woolly safflower.
Noms allemands / German names :
Kretische Färberdistel — Wolliger Saflor.
Noms espagnols / Spanish names :
Cardo cabrero — Cardo de Cristo — Cardo lanudo — Cardohuso —
Cártamo silvestre — Espinas de Cristo.
Noms italiens / Italian names :
Cardoncello cretico — Cartamo lanoso — Zafferanone selvatico.
Habitat :
Cultures - Lieux incultes - Chemins.
Cultivated places - Waste ground - Waysides.
Île / Island :
Tilos.
Hauteur / Height range :
De 30 cm à 70 cm.
From 30 cm to 70 cm.
Floraison / Flowering time :
D'avril à août.
From April to August.
Groupe / Classification :
Dicotylédones.
Dicotyledons.
Pérennité / Lifespan :
Annuelle.
Annual.
Description :
Clés dichotomiques et descripteurs distinctifs des 3 espèces / Dichotomous keys and distinctive identifying features of the 3 species
Photo 1 :
Localisation / Location : Tilos, Erystos
Date : 02/06/2011
GPS : Lat. 36,43237° N / Long. 27,35366° E / Alt. 8 m
Type : Photographie numérique / Digital Photograph (10 mégapixels)
Photo 2 :
Localisation / Location : Tilos, Livadia
Date : 05/06/2011
GPS : Lat. 36,40994° N / Long. 27,39256° E / Alt. 4 m
Type : Photographie numérique / Digital Photograph (10 mégapixels)
Photo 3 :
Localisation / Location : Tilos, Livadia
Date : 05/06/2011
GPS : Lat. 36,40994° N / Long. 27,39256° E / Alt. 4 m
Type : Photographie numérique / Digital Photograph (10 mégapixels)
Photo 4 :
Localisation / Location : Tilos, Livadia
Date : 05/06/2011
GPS : Lat. 36,40994° N / Long. 27,39256° E / Alt. 4 m
Type : Photographie numérique / Digital Photograph (10 mégapixels)
Photo 5 :
Localisation / Location : Tilos, Livadia
Date : 08/10/2007
GPS : Lat. 36,40994° N / Long. 27,39256° E / Alt. 4 m
Type : Kodak Gold 200 ASA
Photo 6 :
Localisation / Location : Tilos, Livadia
Date : 05/06/2011
GPS : Lat. 36,40994° N / Long. 27,39256° E / Alt. 4 m
Type : Photographie numérique / Digital Photograph (10 mégapixels)