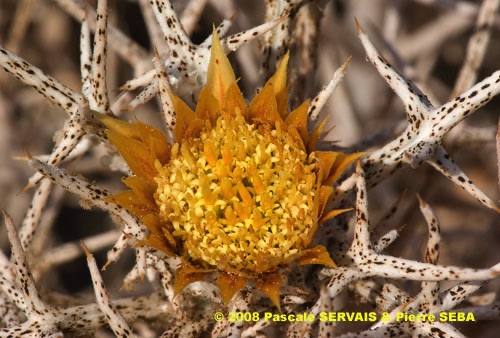 Carlina tragacanthifolia Klatt
© Pascale SERVAIS & Pierre SEBA, 2018. Tilo Botanica: Flore de Tilos et du Dodécanèse / Flora of Tilos and of the Dodecanese
English translation by Brenda Bradbury, Howard Bradbury and Stéphane Léonard
Sous-arbrisseau entièrement ligneux, hermaphrodite, à tiges poilues, feutrées de blanc.
Feuilles alternes, simples, linéaires, poilues, feutrées de blanc.
Fleurs jaunes, réunies en capitules de 10 à 15 mm de diamètre, à fleurons tous tubulés, entourées de bractées foliacées jaune orangé. Ovaire infère.
Fruits, akènes à aigrette plumeuse.
Cette espèce est endémique de quelques îles du sud de l'Égée et de l'ouest de la Turquie.
___________________________
Shrublet wholly woody, hermaphrodite. Stems hairy, felted of white.
Leaves alternate, simple, linear, hairy, felted of white.
Flowers yellow, joined together in capitula from 10 to 15 mm in diameter, with only disk-florets, surrounded by dry, yellow to orange-coloured bracts. Ovary inferior.
Fruits, feathery achenes.
This species is endemic of some southern Aegean islands and of the western Turkey.
Descripteurs / Identifying features: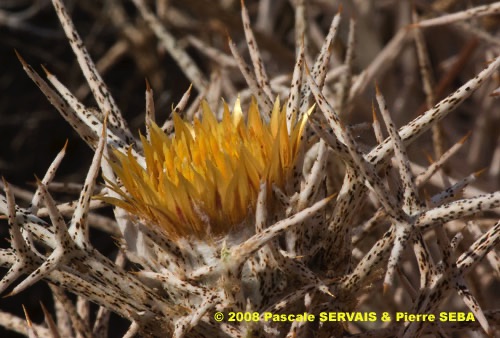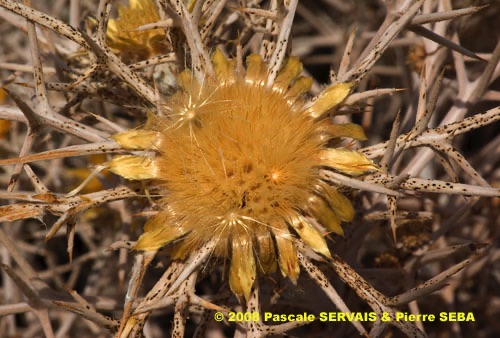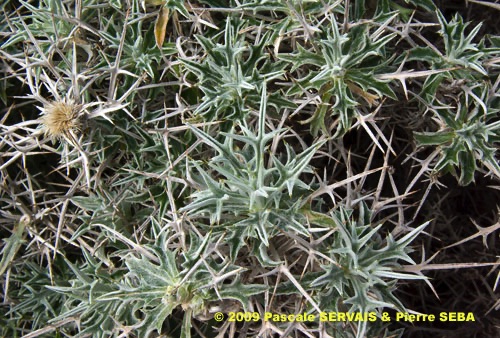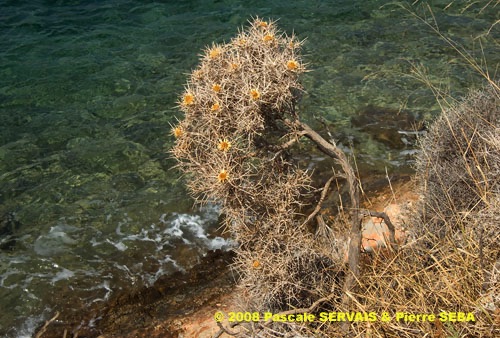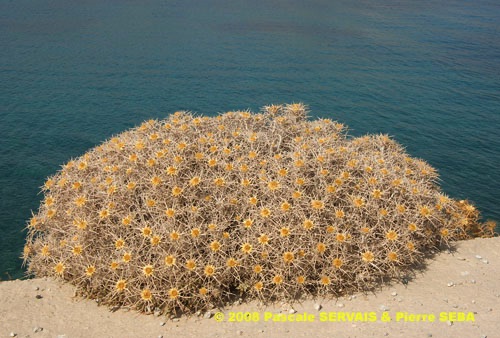 Étymologie / Etymology :
Carlina : nom médiéval dérivé de Carolus, -i (nom propre) = Charles,
en référence à la légende selon laquelle Charlemagne aurait utilisé
cette plante pour soigner son armée atteinte de la peste.
Tragacanthifolia : adjectif créé par les botanistes [ < tragacantha, -ae
(nom) = nom donné par Pline à certaines astragales + folium, -i (nom)
= la feuille ] = à feuilles d'astragale, qui a des feuilles semblables à
celles de l'astragale.
Carlina : Medieval name, derived from Carolus, -i (proper noun)
= Charles, referring to the legend that Charlemagne would have used
this plant to cure his army of the plague.
Tragacanthifolia : adjective created by botanists
[ < tragacantha, -ae (noun) = name given to some astragalus by
Plinius + folium, -i (noun) = leaf ] = with astragalus-like leaves,
which has leaves similar to those of the astragalus.
Synonymes / Synonyms :
Atractylis conformis Barbey & Fors.-Major
Carlina conformis (Barbey & Fors.-Major) P.H.Davis
Noms vernaculaires / Common names :
Nom français / French name :
Carline épine de bouc.
Nom anglais / English name :
Tragacanth-leaved thistle.
Nom allemand / German name :
Küsten-Eberwurz.
Habitat :
Lieux pierreux - Chemins.
Stony places - Waysides.
Îles / Islands :
Karpathos - Kassos - Rhodos - Tilos.
Hauteur / Height range :
De 30 cm à 50 cm.
From 30 cm to 50 cm.
Floraison / Flowering time :
D'août à septembre.
From August to September.
Groupe / Classification :
Dicotylédones.
Dicotyledons.
Pérennité / Lifespan :
Vivace.
Perennial.
Description :
Descripteurs distinctifs des 3 espèces / Distinctive identifying features of the 3 species
Photo 1 :
Localisation / Location : Tilos, Aghios Stephanos
Date : 16/09/2008
GPS : Lat. 36,41219° N / Long. 27,40201° E / Alt. 3 m
Type : Photographie numérique / Digital Photograph (10 mégapixels)
Photo 2 :
Localisation / Location : Tilos, Aghios Stephanos
Date : 16/09/2008
GPS : Lat. 36,41219° N / Long. 27,40201° E / Alt. 3 m
Type : Photographie numérique / Digital Photograph (10 mégapixels)
Photo 3 :
Localisation / Location : Tilos, Aghios Stephanos
Date : 16/09/2008
GPS : Lat. 36,41219° N / Long. 27,40201° E / Alt. 3 m
Type : Photographie numérique / Digital Photograph (10 mégapixels)
Photo 4 :
Localisation / Location : Tilos, Aghios Stephanos
Date : 25/03/2009
GPS : Lat. 36,41219° N / Long. 27,40201° E / Alt. 3 m
Type : Photographie numérique / Digital Photograph (10 mégapixels)
Photo 5 :
Localisation / Location : Tilos, Aghios Stephanos
Date : 27/09/2008
GPS : Lat. 36,41219° N / Long. 27,40201° E / Alt. 3 m
Type : Photographie numérique / Digital Photograph (10 mégapixels)
Photo 6 :
Localisation / Location : Tilos, Aghios Stephanos
Date : 16/09/2008
GPS : Lat. 36,41219° N / Long. 27,40201° E / Alt. 3 m
Type : Photographie numérique / Digital Photograph (10 mégapixels)