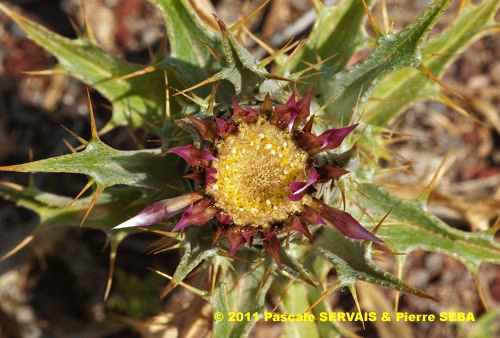 © Pascale SERVAIS & Pierre SEBA, 2018. Tilo Botanica: Flore de Tilos et du Dodécanèse / Flora of Tilos and of the Dodecanese
English translation by Brenda Bradbury, Howard Bradbury and Stéphane Léonard
Plante herbacée, hermaphrodite, épineuse, à tiges érigées, poilues.
Feuilles alternes, simples, oblongues, pennatilobées, épineuses, ondulées, à poils blanchâtres dessous, les supérieures embrassant la tige.
Fleurs jaunes à jaunâtres ou rougeâtres, toutes tubulées, réunies en capitules aplatis, souvent solitaires, de 20 à 40 mm de diamètre, entourés de bractées pourpres des deux côtés. Ovaire infère.
Fruits, akènes couverts de poils jaunâtres appliqués, à aigrette soyeuse.
___________________________
Plant herbaceous, hermaphrodite, spiny. Stems erect, hairy.
Leaves alternate, simple, oblong, pennatilobate, spiny, undulate, with whitish hairs below, the higher ones clasping the stem.
Flowers yellow to yellowish or reddish, with only disk-florets, joined together in flattened capitula, often solitary, from 20 to 40 mm in diameter, surrounded by bracts purple on both sides. Ovary inferior.
Fruits, achenes covered in appressed yellowish hairs, with a silky pappus.
Descripteurs / Identifying features: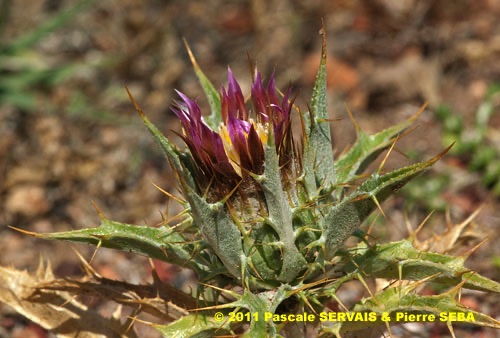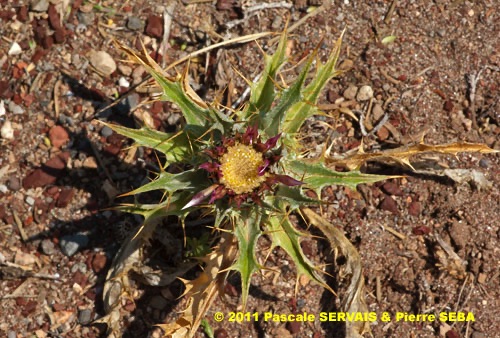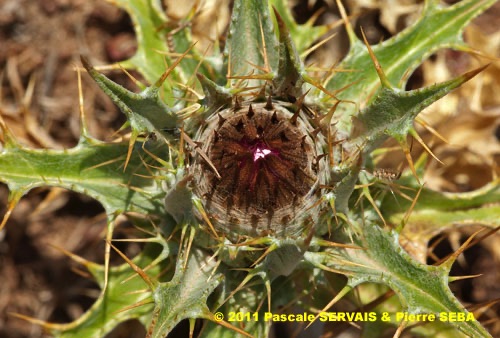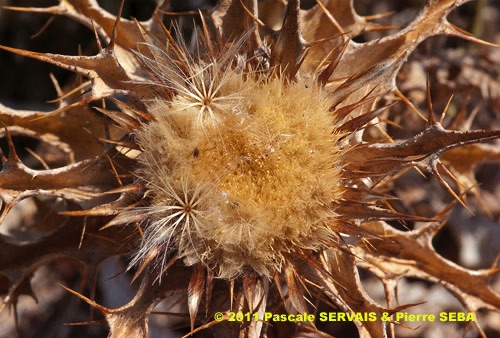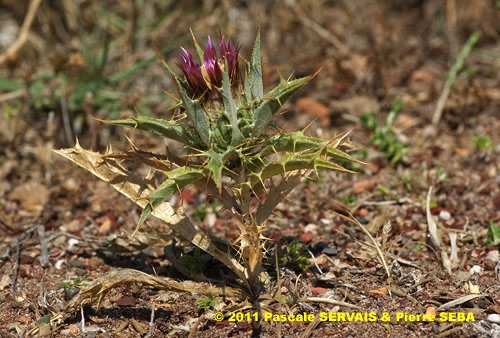 Étymologie / Etymology :
Carlina : nom médiéval dérivé de Carolus, -i (nom propre) = Charles,
en référence à la légende selon laquelle Charlemagne aurait utilisé
cette plante pour soigner son armée atteinte de la peste.
Lanata : emprunt du latin lanatus, -a, -um (adj.)
[ < lana, -ae (nom) = la laine ] = laineux, couvert de laine,
en référence aux poils laineux qui recouvrent la plante.
Carlina : Medieval name, derived from Carolus, -i (proper noun)
= Charles, referring to the legend that Charlemagne would have used
this plant to cure his army of the plague.
Lanata : borrowed from Latin lanatus, -a, -um (adj)
[ < lana, -ae (noun) = wool ] = wooly, covered with wool,
referring to the woolly hairs which cover the plant.
Synonymes / Synonyms :
Chromatolepis lanata (L.) Dulac
Mitina lanata (L.) Cass.
Noms vernaculaires / Common names :
Nom français / French name :
Carline laineuse.
Nom anglais / English name :
Woolly carline thistle.
Nom allemand / German name :
Wollige Eberwurz.
Noms espagnols / Spanish names :
Cabeza de pollo — Cardo muelle enano — Cardo peludillo.
Nom italien / Italian name :
Carlina lanosa.
Habitat :
Prairies - Lieux pierreux - Lieux incultes -
Haies, fourrés, broussailles.
Meadows - Stony places - Waste ground - Hedges, thickets.
Île / Island :
Tilos.
Hauteur / Height range :
De 5 cm à 30 cm.
From 5 cm to 30 cm.
Floraison / Flowering time :
De juin à août.
From June to August.
Groupe / Classification :
Dicotylédones.
Dicotyledons.
Pérennité / Lifespan :
Annuelle.
Annual.
Description :
Descripteurs distinctifs des 3 espèces / Distinctive identifying features of the 3 species
Photo 1 :
Localisation / Location : Tilos, Erystos
Date : 02/06/2011
GPS : Lat. 36,43254° N / Long. 27,35380° E / Alt. 8 m
Type : Photographie numérique / Digital Photograph (10 mégapixels)
Photo 2 :
Localisation / Location : Tilos, Erystos
Date : 02/06/2011
GPS : Lat. 36,43254° N / Long. 27,35380° E / Alt. 8 m
Type : Photographie numérique / Digital Photograph (10 mégapixels)
Photo 3 :
Localisation / Location : Tilos, Erystos
Date : 02/06/2011
GPS : Lat. 36,43254° N / Long. 27,35380° E / Alt. 8 m
Type : Photographie numérique / Digital Photograph (10 mégapixels)
Photo 4 :
Localisation / Location : Tilos, Erystos
Date : 02/06/2011
GPS : Lat. 36,43251° N / Long. 27,35376° E / Alt. 8 m
Type : Photographie numérique / Digital Photograph (10 mégapixels)
Photo 5 :
Localisation / Location : Tilos, Erystos
Date : 29/09/2011
GPS : Lat. 36,43254° N / Long. 27,35380° E / Alt. 8 m
Type : Photographie numérique / Digital Photograph (10 mégapixels)
Photo 6 :
Localisation / Location : Tilos, Erystos
Date : 02/06/2011
GPS : Lat. 36,43254° N / Long. 27,35380° E / Alt. 8 m
Type : Photographie numérique / Digital Photograph (10 mégapixels)