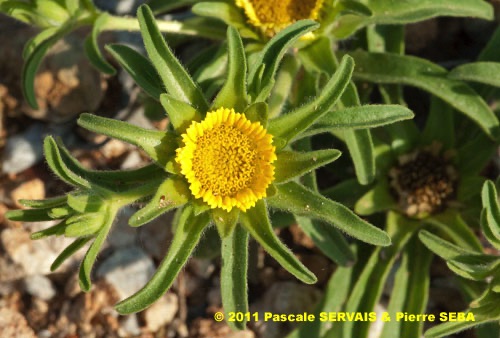 Asteriscus aquaticus (L.) Less.
© Pascale SERVAIS & Pierre SEBA, 2018. Tilo Botanica: Flore de Tilos et du Dodécanèse / Flora of Tilos and of the Dodecanese
English translation by Brenda Bradbury, Howard Bradbury and Stéphane Léonard
Plante herbacée, hermaphrodite, à souche ligneuse, poilue, souvent naine, presque sans tige ou à tiges dressées portant vers le haut des rameaux très étalés.
Feuilles alternes, simples, oblongues à spatulées, entières, carénées, à court pétiole.
Fleurs jaune vif, réunies en capitules solitaires de 15 à 18 mm, à fleurons tubulés glabres, à fleurons ligulés poilus, beaucoup plus courts que les bractées foliacées de l'involucre. Bractées foliacées de l'involucre non épineuses au sommet. Ovaire infère.
Fruits, akènes couverts de poils soyeux.
___________________________
Plant herbaceous, hermaphrodite, with a woody stock, hairy, often dwarf, almost without a stem or with erect stems carrying very spread out branches on the top.
Leaves alternate, simple, oblong to spatulate, entire, carinate, with a short petiole.
Flowers bright yellow, in solitary capitula from 15 to 18 mm, with glabrous disk-florets, hairy ray-florets, much shorter than the foliaceous bracts of the involucre. Foliaceous bracts of the involucre nonspiny at the top. Ovary inferior.
Fruits, achenes covered in silky hairs.
Descripteurs / Identifying features: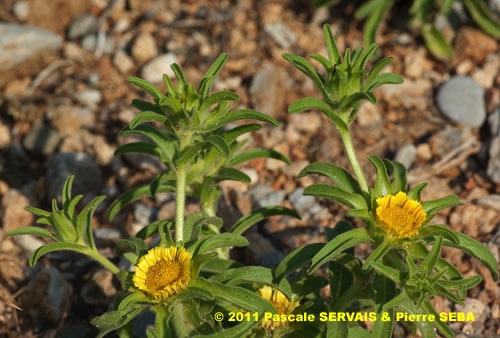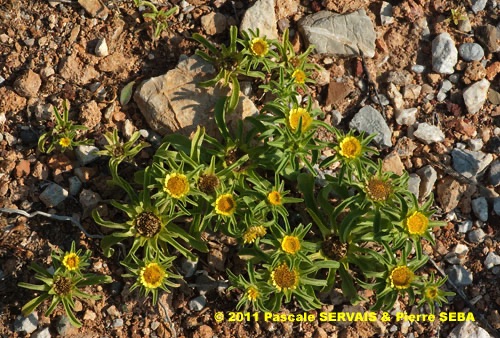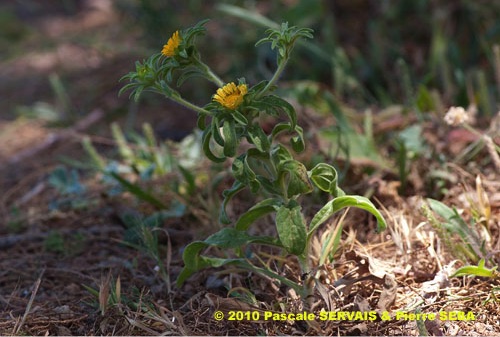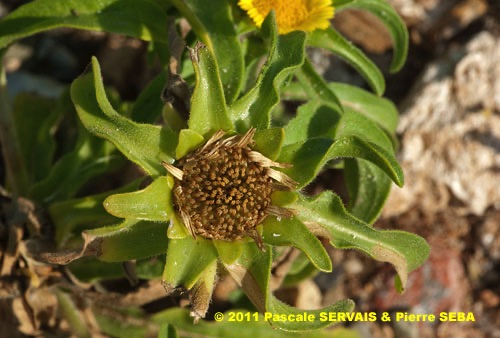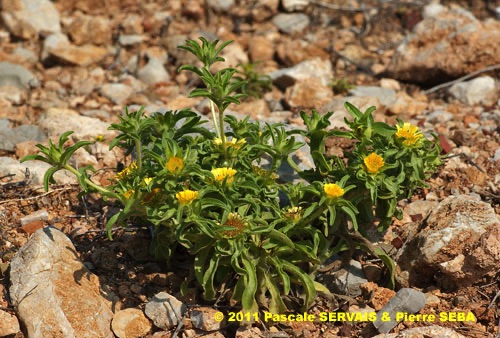 Étymologie / Etymology :
Asteriscus : emprunt du grec ancien ἀστερίσκος, -ου (nom)
[ < ἀστήρ, -έρος (nom) = l'étoile ] = petite étoile, nom donné à une
sorte d'Aster par Théophraste, philosophe péripatéticien, disciple
d'Aristote, botaniste et naturaliste, mort vers 288 av. J.-C.,
en référence à la couronne en forme d'étoile constituée par les
bractées foliacées situées sous les capitules floraux.
Aquaticus : emprunt du latin aquaticus, -a, -um (adj.)
[ < aqua, -ae (nom) = l'eau ] = aquatique, humide, qui pousse
dans ou près de l'eau.
Asteriscus : borrowed from Classical Greek ἀστερίσκος, -ου (noun)
[ < ἀστήρ, -έρος (noun) = star ] = little star, name given to a
kind of Aster by Theophrastus, peripatetic philosopher, disciple of
Aristotle, botanist and naturalist, died towards 288 BC, referring to
the star-shaped crown formed by foliaceous bracts lying under the
flowerheads.
Aquaticus : borrowed from Latin aquaticus, -a, -um (adj)
[ < aqua, -ae (noun) = water ] = aquatic, wet, growing in or close
to water.
Synonymes / Synonyms :
Asteriscus citriodorus Heldr. & Halácsy
Asteriscus morisonii Bubani
Bubonium aquaticum (L.) Hill
Buphthalmum aquaticum L.
Inula aquatica (L.) E.H.L.Krause
Nauplius aquaticus (L.) Cass.
Odontospermum aquaticum (L.) Sch.Bip.
Noms vernaculaires / Common names :
Nom français / French name :
Astérolide aquatique.
Noms anglais / English names :
Golden star — Golden starwort.
Nom allemand / German name :
Einjähriger Strandstern.
Noms espagnols / Spanish names :
Bovas — Bubas — Escoba de castañuela — Ojo de buey.
Nom italien / Italian name :
Asterisco acquatico.
Habitat :
Cultures - Lieux incultes - Lieux humides, mares - Sols sableux -
Chemins.
Cultivated places - Waste ground - Damp places, ponds - Sandy soils -
Waysides.
Île / Island :
Tilos.
Hauteur / Height range :
De 10 cm à 70 cm.
From 10 cm to 70 cm.
Floraison / Flowering time :
D'avril à juin.
From April to June.
Groupe / Classification :
Dicotylédones.
Dicotyledons.
Pérennité / Lifespan :
Annuelle ou bisannuelle.
Annual or biennial.
Description :
Photo 1 :
Localisation / Location : Tilos, Aghios Stephanos
Date : 31/05/2011
GPS : Lat. 36,40945° N / Long. 27,39937° E / Alt. 10 m
Type : Photographie numérique / Digital Photograph (10 mégapixels)
Photo 2 :
Localisation / Location : Tilos, Aghios Stephanos
Date : 31/05/2011
GPS : Lat. 36,40945° N / Long. 27,39937° E / Alt. 10 m
Type : Photographie numérique / Digital Photograph (10 mégapixels)
Photo 3 :
Localisation / Location : Tilos, Aghios Stephanos
Date : 31/05/2011
GPS : Lat. 36,40945° N / Long. 27,39937° E / Alt. 10 m
Type : Photographie numérique / Digital Photograph (10 mégapixels)
Photo 4 :
Localisation / Location : Tilos, Erystos
Date : 04/05/2010
GPS : Lat. 36,43270° N / Long. 27,35222° E / Alt. 3 m
Type : Photographie numérique / Digital Photograph (10 mégapixels)
Photo 5 :
Localisation / Location : Tilos, Aghios Stephanos
Date : 31/05/2011
GPS : Lat. 36,40945° N / Long. 27,39937° E / Alt. 10 m
Type : Photographie numérique / Digital Photograph (10 mégapixels)
Photo 6 :
Localisation / Location : Tilos, Aghios Stephanos
Date : 31/05/2011
GPS : Lat. 36,40945° N / Long. 27,39937° E / Alt. 10 m
Type : Photographie numérique / Digital Photograph (10 mégapixels)