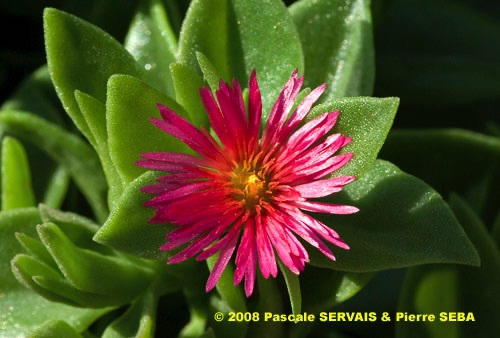 Aptenia cordifolia (L.f.) Schwantes
© Pascale SERVAIS & Pierre SEBA, 2018. Tilo Botanica: Flore de Tilos et du Dodécanèse / Flora of Tilos and of the Dodecanese
English translation by Brenda Bradbury, Howard Bradbury and Stéphane Léonard
Plante herbacée, hermaphrodite, à tiges grêles, charnues, facilement cassantes, formant un tapis compact très ramifié.
Feuilles opposées, simples, ovales et légèrement cordées à la base, épaisses, charnues, glabres, brillantes, sessiles, de plus ou moins 3 cm de long, légèrement ondulées.
Fleurs à symétrie radiaire, rouges ou roses. Corolle à pétales étroits et nombreux. Calice à 4 ou 5 sépales soudés à la base.
Fruits, capsules déhiscentes contenant de nombreuses graines minuscules.
___________________________
Plant herbaceous, hermaphrodite. Stems thin, fleshy, easily breakable, forming a very branched compact carpet.
Leaves opposite, simple, ovate and slightly cordate at the base, thick, fleshy, glabrous, shining, sessile, of more or less 3 cm long, slightly undulate.
Flowers radially symmetrical, red or pink. Corolla with many narrow petals. Calyx with 4 or 5 partly fused sepals.
Fruits, dehiscent capsules containing many tiny seeds.
Descripteurs / Identifying features: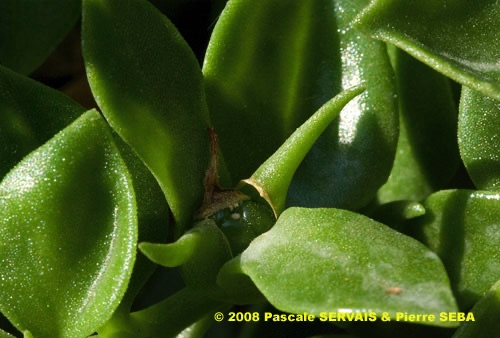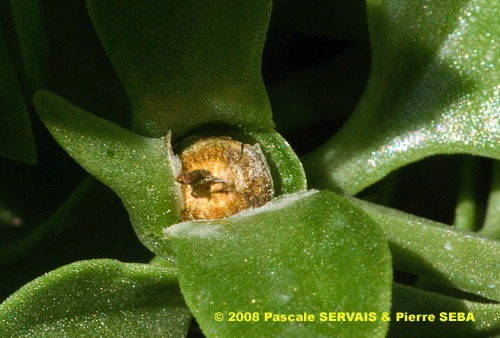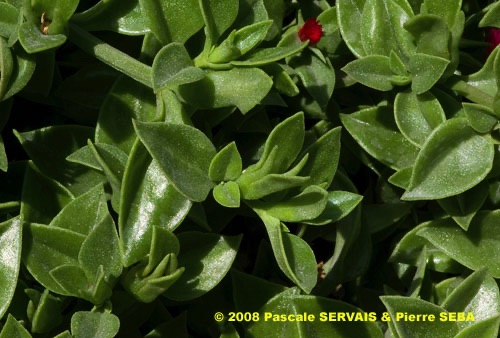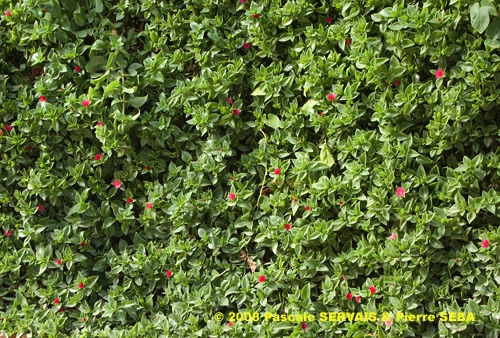 Étymologie / Etymology :
Aptenia : emprunt du grec ancien ἀπτήν, -ῆνος (nom)
[ < α- (α privatif) = sans + ἵπταμαι (verbe) = voler ] = qui ne vole pas,
qui n'a pas d'ailes, en référence à ses fruits non ailés.
Cordifolia : emprunt du latin cordifolius, -a, -um (adj.)
[ < cor, cordis (nom) = le cœur + folium, -i (nom) = la feuille ]
= qui a les feuilles en cœur, à feuilles cordiformes.
Aptenia : borrowed from Classical Greek ἀπτήν, -ῆνος (noun)
[ < α- (α privative) = without + ἵπταμαι (verb) = to fly ]
= which does not fly, wingless, referring to its unwinged fruits.
Cordifolia : borrowed from Latin cordifolius, -a, -um (adj)
[ < cor, cordis (noun) = heart + folium, -i (noun) = leaf ]
= which has cordate leaves, with heart-shaped leaves.
Synonymes / Synonyms :
Litocarpus cordifolius (L.f.) L.Bolus
Mesembryanthemum cordifolium L.f.
Tetracoilanthus cordifolius (L.) Rappa & Camarrone
Noms vernaculaires / Common names :
Noms français / French names :
Apténie à feuilles en cœur — Apténie cordiforme —
Ficoïde à feuilles en cœur.
Noms anglais / English names :
Baby sun rose — Heart-leaved ice-plant — Heartleaf iceplant.
Noms italiens / Italian names :
Erba cristallina a foglie cordate — Erba-cristallina cordifolia.
Habitat :
Jardins - Murs, rochers.
Gardens - Walls, rocks.
Île / Island :
Tilos.
Hauteur / Height range :
De 5 cm à 20 cm.
From 5 cm to 20 cm.
Floraison / Flowering time :
De février à novembre.
From February to November.
Groupe / Classification :
Dicotylédones.
Dicotyledons.
Pérennité / Lifespan :
Vivace.
Perennial.
Description :

Photo 1 :
Localisation / Location : Tilos, Livadia
Date : 01/10/2008
GPS : Lat. 36,41523° N / Long. 27,38506° E / Alt. 8 m
Type : Photographie numérique / Digital Photograph (10 mégapixels)
Photo 2 :
Localisation / Location : Tilos, Livadia
Date : 01/10/2008
GPS : Lat. 36,41523° N / Long. 27,38506° E / Alt. 8 m
Type : Photographie numérique / Digital Photograph (10 mégapixels)
Photo 3 :
Localisation / Location : Tilos, Livadia
Date : 01/10/2008
GPS : Lat. 36,41523° N / Long. 27,38506° E / Alt. 8 m
Type : Photographie numérique / Digital Photograph (10 mégapixels)
Photo 4 :
Localisation / Location : Tilos, Livadia
Date : 01/10/2008
GPS : Lat. 36,41523° N / Long. 27,38506° E / Alt. 8 m
Type : Photographie numérique / Digital Photograph (10 mégapixels)
Photo 5 :
Localisation / Location : Tilos, Livadia
Date : 01/10/2008
GPS : Lat. 36,41523° N / Long. 27,38506° E / Alt. 8 m
Type : Photographie numérique / Digital Photograph (10 mégapixels)