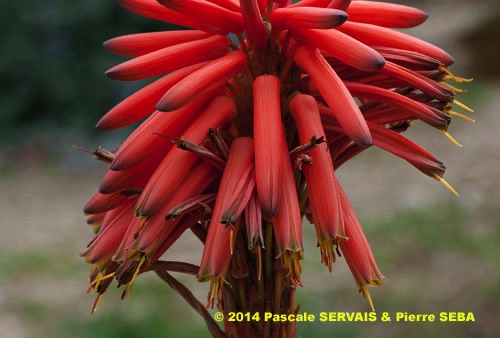 © Pascale SERVAIS & Pierre SEBA, 2018. Tilo Botanica: Flore de Tilos et du Dodécanèse / Flora of Tilos and of the Dodecanese
English translation by Brenda Bradbury, Howard Bradbury and Stéphane Léonard
Arbrisseau hermaphrodite, à tiges de 1 à 5 cm de diamètre, érigées, ramifiées à la base, glabres, cylindriques.
Feuilles alternes, insérées en spirale sur la tige, simples, lancéolées à deltoïdes, embrassantes, persistantes, non pétiolées, étalées ou retombantes, épaisses, charnues et coriaces, gris vert, glabres sur les deux faces, de 50 à 60 cm de long, de 2 à 6 cm de large, à dents jaune vert et à bords épineux.
Fleurs à symétrie radiaire, tubulaires, rouge orangé, de 7 à 8 mm de diamètre et de 35 à 40 mm de long, pendantes, réunies en grappes compactes, non ramifiées, de 15 à 20 cm de long. Périanthe à 6 tépales, les 3 externes orange, les 3 internes blanc jaunâtre avec 2 lignes jaunes et une ligne orange au centre. 6 étamines à filet jaune et à anthère orange puis brunâtre. 1 style jaune à 1 stigmate. Ovaire supère.
Fruits, capsules à nombreuses graines.
___________________________
Shrub hermaphrodite. Stems from 1 to 5 cm in diameter, erect, branched at the base, glabrous, cylindrical.
Leaves alternate, spirally inserted on the stem, simple, lanceolate to deltoid, clasping, persistent, nonpetiolate, spread out or hanging down, thick, fleshy and tough, green grey, glabrous on the two faces, from 50 to 60 cm long, from 2 to 6 cm across, with green yellow teeth and spiny edges.
Flowers radially symmetrical, tubular, orange-red, from 7 to 8 mm in diameter and from 35 to 40 mm long, hanging, joined together in unbranched, compact racemes from 15 to 20 cm long. Perianth with 6 tepals, the 3 external ones orange, the 3 internal ones yellowish white with 2 yellow lines and with an orange line in the centre. 6 stamens with a yellow filament and an anther orange then brownish. 1 yellow style with 1 stigma. Ovary superior.
Fruits, capsules with numerous seeds.
Descripteurs / Identifying features: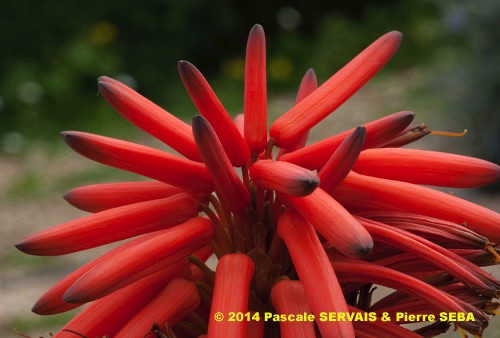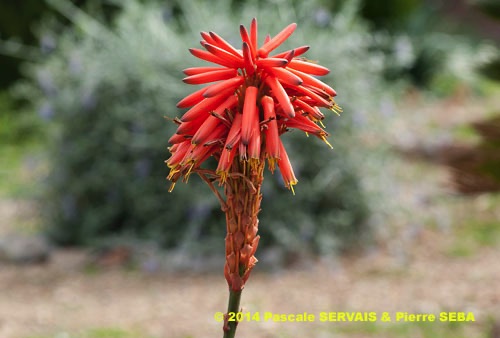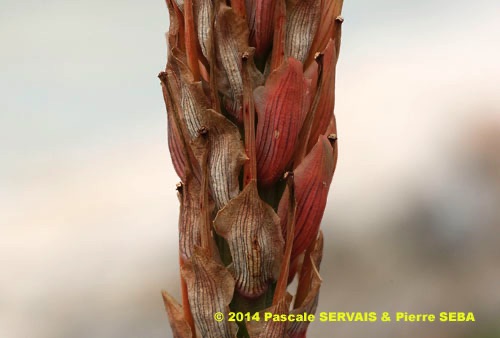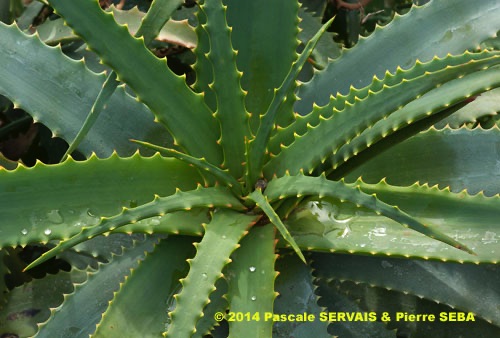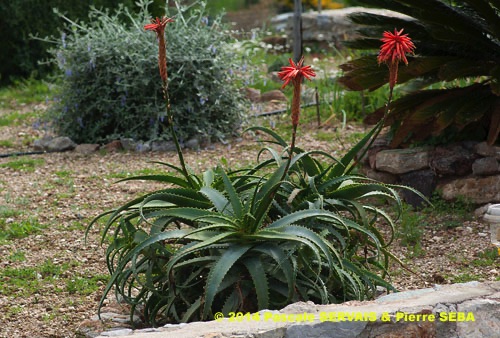 Étymologie / Etymology :
Aloë : emprunt du latin aloe, -es (nom), nom donné à la plante
par Pline, naturaliste latin mort en 79 apr. J.-C.
Arborescens : emprunt du latin arborescens (adj.)
[ < arbor, -oris (nom) = l'arbre ] = qui a la forme d'un arbre, qui a
l'apparence d'un arbre, en référence à la hauteur de la plante.
Aloë : borrowed from Latin aloe, -es (noun), name given to the
plant by Plinius, Latin naturalist died in 79 AD.
Arborescens : borrowed from Latin arborescens (adj)
[ < arbor, -oris (noun) = tree ] = tree-shaped, which has the
appearance of a tree, referring to the plant height.
Synonyme / Synonym :
—
Noms vernaculaires / Common names :
Noms français / French names :
Aloé arborescent — Aloé de Krantz — Aloès arborescent —
Aloès candélabre — Corne-de-bélier — Corne-de-cerf.
Noms grecs / Greek names :
Αλόη δενδρώδης — Αλόη η δενδρώδης.
Noms anglais / English names :
Candelabra aloe — Kranz aloe.
Noms espagnols / Spanish names :
Acíbar — Aloe — Aloe candelabro — Candelabros — Planta pulpo —
Sávila — Zabila — Zabira.
Nom italien / Italian name :
Aloe arborescente.
Habitat :
Jardins.
Gardens.
Île / Island :
Tilos.
Hauteur / Height range :
De 70 cm à 2,50 m.
From 70 cm to 2.50 m.
Floraison / Flowering time :
De décembre à mars.
From December to March.
Groupe / Classification :
Monocotylédones.
Monocotyledons.
Pérennité / Lifespan :
Vivace.
Perennial.
Description :
Photo 1 :
Localisation / Location : Tilos, Livadia
Date : 14/02/2014
GPS : Lat. 36,40971° N / Long. 27,38859° E / Alt. 23 m
Type : Photographie numérique / Digital Photograph (10 mégapixels)
Photo 2 :
Localisation / Location : Tilos, Livadia
Date : 14/02/2014
GPS : Lat. 36,40971° N / Long. 27,38859° E / Alt. 23 m
Type : Photographie numérique / Digital Photograph (10 mégapixels)
Photo 3 :
Localisation / Location : Tilos, Livadia
Date : 14/02/2014
GPS : Lat. 36,40971° N / Long. 27,38859° E / Alt. 23 m
Type : Photographie numérique / Digital Photograph (10 mégapixels)
Photo 4 :
Localisation / Location : Tilos, Livadia
Date : 14/02/2014
GPS : Lat. 36,40971° N / Long. 27,38859° E / Alt. 23 m
Type : Photographie numérique / Digital Photograph (10 mégapixels)
Photo 5 :
Localisation / Location : Tilos, Livadia
Date : 14/02/2014
GPS : Lat. 36,40971° N / Long. 27,38859° E / Alt. 23 m
Type : Photographie numérique / Digital Photograph (10 mégapixels)
Photo 6 :
Localisation / Location : Tilos, Livadia
Date : 14/02/2014
GPS : Lat. 36,40971° N / Long. 27,38859° E / Alt. 23 m
Type : Photographie numérique / Digital Photograph (10 mégapixels)