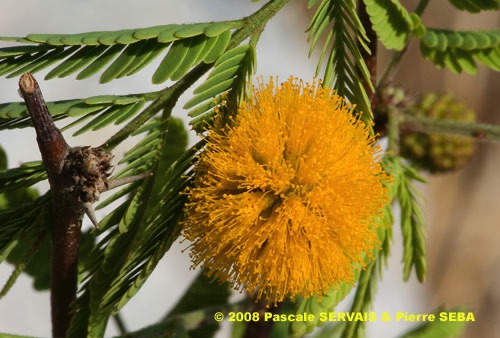 Acacia farnesiana (L.) Willd.
© Pascale SERVAIS & Pierre SEBA, 2018. Tilo Botanica: Flore de Tilos et du Dodécanèse / Flora of Tilos and of the Dodecanese
English translation by Brenda Bradbury, Howard Bradbury and Stéphane Léonard
Arbuste hermaphrodite, très ramifié, à tiges glabres munies de longues épines (jusqu'à 35 mm).
Feuilles alternes, caduques, composées bipennées, vert clair, à 3 à 10 paires de divisions primaires et de nombreuses folioles de 3 à 5 mm de long, linéaires, glabres.
Fleurs à symétrie bilatérale, jaune pâle à orange, d'environ 5 mm de long, odorantes, réunies en glomérules de 10 à 12 mm de diamètre. Ovaire supère.
Fruits, gousses dressées, droites, cylindriques, de 5 à 9 cm de long, brunes à maturité.
___________________________
Treelet hermaphrodite, very branched. Stems glabrous provided with long spines (up to 35 mm).
Leaves alternate, deciduous, compound bipinnately, pale green, with 3 to 10 pairs of primary divisions and many leaflets from 3 to 5 mm long, linear, glabrous.
Flowers bilaterally symmetrical, pale yellow to orange, approximately 5 mm long, odorous, joined together in glomerulus from 10 to 12 mm in diameter. Ovary superior.
Fruits, erect, straight, cylindrical pods, from 5 à 9 cm long, brown at maturity.
Descripteurs / Identifying features: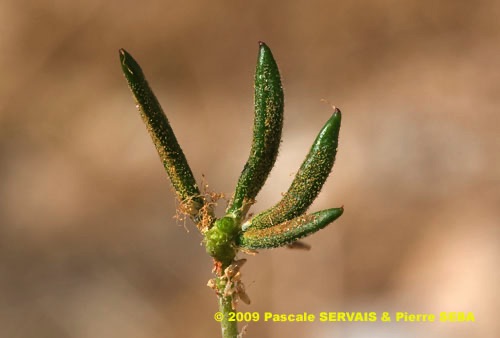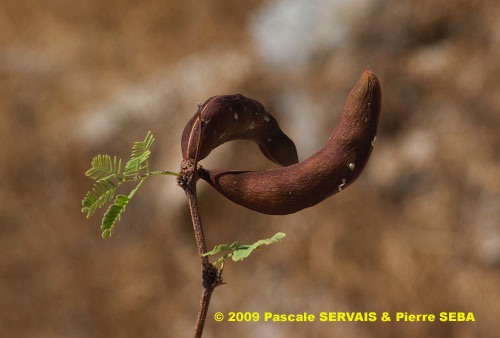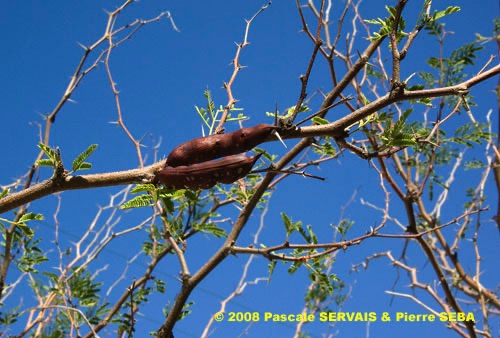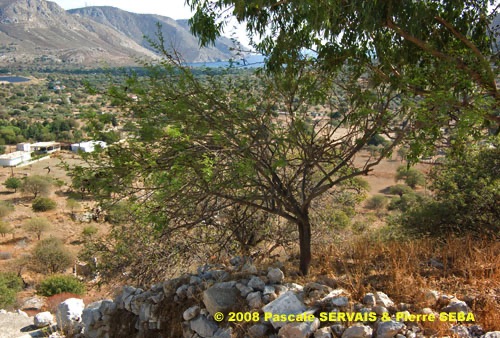 Étymologie / Etymology :
Acacia : nom donné à l'arbre par Pline, naturaliste latin mort
en 79 apr. J.-C.
Farnesiana : emprunt du latin farnesianus, -a, -um (adj.) = qui
appartient à la famille Farnèse, en référence à la richesse des jardins
du palais Farnèse à Rome, construit par le cardinal
Alessandro Farnese (1520-1589).
Acacia : name given to the tree by Plinius, Latin naturalist died in 79 AD.
Farnesiana : borrowed from Latin farnesianus, -a, -um (adj) = which
belongs to the Farnese family, referring to the richness of the gardens
of the Farnese Palace in Rome, built by Cardinal Alessandro Farnese
(1520-1589).
Synonymes / Synonyms :
Acacia acicularis Willd.
Acacia indica (Poir.) Desv.
Acacia lenticellata F.Muell.
Acacia minuta (M.E.Jones) R.M.Beauch.
Farnesia odora Gasp.
Farnesiana odora Gasp.
Mimosa acicularis Poir.
Mimosa farnesiana L.
Mimosa indica Poir.
Mimosa suaveolens Salisb.
Pithecellobium acuminatum M.E.Jones
Pithecellobium minutum M.E.Jones
Poponax farnesiana (L.) Raf.
Vachellia farnesiana (L.) Wight & Arn.
Noms vernaculaires / Common names :
Noms français / French names :
Cassie ancienne — Cassie du Levant — Cassier — Mimosa de Farnèse.
Noms grecs / Greek names :
Ακακία — Αμπεριά — Γαζιά.
Noms anglais / English names :
Ancient cassie — Cascalotte — Cassie — Dead finish —
Farnese wattle — Mealy wattle — Mimosa bush — Mimosa wattle —
Needle bush — Popinac — Prickly moses — Spunge tree —
Sweet acacia — Thorny acacia.
Noms allemands / German names :
Amerikanische Akazie — Farnesische Akazie — Schwammbaum —
Süße Akazie.
Noms espagnols / Spanish names :
Aromo — Bayahonda — Espinillo — Huisache.
Nom italien / Italian name :
Acacia farnesiana.
Habitat :
Jardins.
Gardens.
Île / Island :
Tilos.
Hauteur / Height range :
De 2,50 m à 5 m.
From 2.50 m to 5 m.
Floraison / Flowering time :
De septembre à mars.
From September to March.
Groupe / Classification :
Dicotylédones.
Dicotyledons.
Pérennité / Lifespan :
Vivace.
Perennial.
Description :
Descripteurs distinctifs des 2 espèces / Distinctive identifying features of the 2 species
Photo 1 :
Localisation / Location : Tilos, Megalochorio
Date : 23/09/2008
GPS : Lat. 36,45417° N / Long. 27,34388° E / Alt. 99 m
Type : Photographie numérique / Digital Photograph (10 mégapixels)
Photo 2 :
Localisation / Location : Tilos, Megalochorio
Date : 12/10/2009
GPS : Lat. 36,45417° N / Long. 27,34388° E / Alt. 99 m
Type : Photographie numérique / Digital Photograph (10 mégapixels)
Photo 3 :
Localisation / Location : Tilos, Megalochorio
Date : 12/10/2009
GPS : Lat. 36,45417° N / Long. 27,34388° E / Alt. 99 m
Type : Photographie numérique / Digital Photograph (10 mégapixels)
Photo 4 :
Localisation / Location : Tilos, Megalochorio
Date : 12/10/2009
GPS : Lat. 36,45417° N / Long. 27,34388° E / Alt. 99 m
Type : Photographie numérique / Digital Photograph (10 mégapixels)
Photo 5 :
Localisation / Location : Tilos, Panaghia Kamariani
Date : 23/09/2008
GPS : Lat. 36,45669° N / Long. 27,32291° E / Alt. 47 m
Type : Photographie numérique / Digital Photograph (10 mégapixels)
Photo 6 :
Localisation / Location : Tilos, Megalochorio
Date : 23/09/2008
GPS : Lat. 36,45417° N / Long. 27,34388° E / Alt. 99 m
Type : Photographie numérique / Digital Photograph (10 mégapixels)