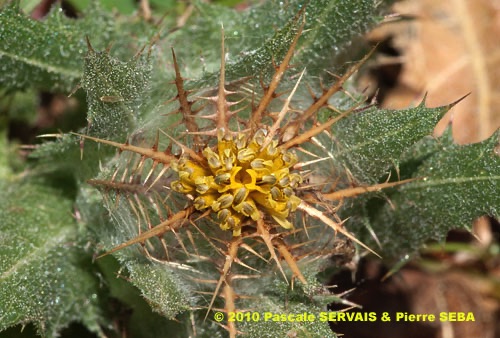 © Pascale SERVAIS & Pierre SEBA, 2018. Tilo Botanica: Flore de Tilos et du Dodécanèse / Flora of Tilos and of the Dodecanese
English translation by Brenda Bradbury, Howard Bradbury and Stéphane Léonard
Plante herbacée, hermaphrodite, à tiges pourpre rougeâtre, anguleuses, couvertes de poils laineux, ramifiées seulement à la base, à rameaux nombreux écartés les uns des autres.
Feuilles de la base en rosette, pétiolées et divisées pennatifides, feuilles caulinaires alternes, simples, oblongues, velues, parcourues par des nervures blanches et saillantes en dessous.
Fleurs jaunes et vert pâle, réunies en capitules de 25 à 40 mm de diamètre, à fleurs toutes tubulées, dépassées par les bractées foliacées et bordées d'épines de l'involucre. Ovaire infère.
Fruits, akènes plumeux, presque cylindriques, de couleur fauve et couverts de longs poils.
___________________________
Plant herbaceous, hermaphrodite. Stems reddish purple, angular, covered in woolly hairs, branched only at the base, with many branches isolated from each other.
Leaves in a rosette, petiolate and dissected pinnatifid, stem-leaves alternate, simple, oblong, hairy, with a network of white veins protruding in the lower part.
Flowers yellow and pale green, joined together in capitula from 25 to 40 mm in diameter, with only disk-florets, exceeded by the foliaceous bracts and bordered by thorns of the involucre. Ovary inferior.
Fruits, feathery, almost cylindrical achenes, fawn-coloured and covered in long hairs.
Descripteurs / Identifying features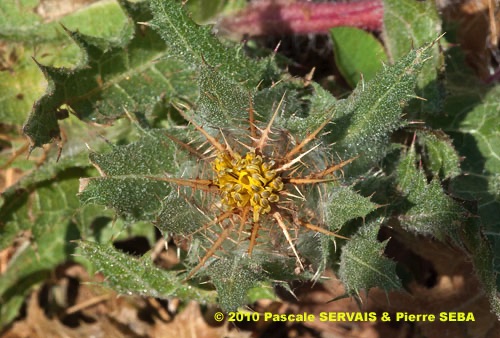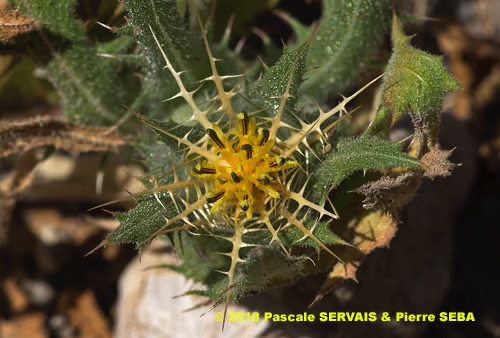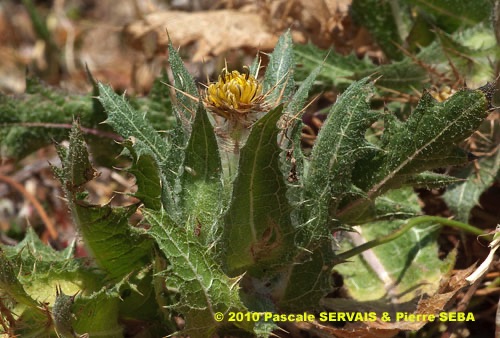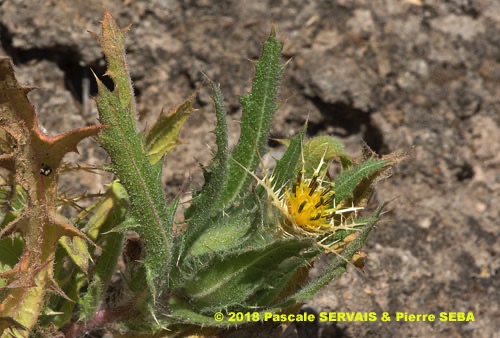 Étymologie / Etymology :
Cnicus : emprunt du grec ancien κνῆκος, -ου (nom) = le carthame,
nom donné à un chardon à fleurs orangées par Théophraste,
philosophe péripatéticien, disciple d'Aristote, botaniste et naturaliste,
mort vers 288 av. J.-C.
Benedictus : emprunt du latin benedictus, -a, -um (part. passé)
[ < benedico, -is, -ere (verbe) = dire du bien, bénir ] = béni, dont
on fait l'éloge.
Cnicus : borrowed from Classical Greek κνῆκος, -ου (noun)
= carthamus, name given to a thistle with orange flowers by
Theophrastus, peripatetic philosopher, disciple of Aristotle, botanist
and naturalist, died towards 288 BC.
Benedictus : borrowed from Latin benedictus, -a, -um (past participle)
[ < benedico, -is, -ere (verb) = to bless, to speak well of something ]
= blessed, praiseworthy.
Synonymes / Synonyms :
Centaurea benedicta (L.) L.
Benedicta officinalis Bernh.
Calcitrapa benedicta (L.) Sweet
Calcitrapa benedicta (L.) Dum.Cours.
Calcitrapa lanuginosa Lam.
Carbeni benedicta (L.) Arcang.
Cardosanctus officinalis Bubani
Cnicus kotschyi Sch.Bip.
Hierapicra benedicta (L.) Kuntze
Noms vernaculaires / Common names :
Noms français / French names :
Centaurée bénie — Chardon béni — Cnicaut béni.
Noms grecs / Greek names :
Αγιάγκαθο — Γαϊδουράγκαθα — Καλάγκαθο — Καρδοσάντο —
Κνίκος βενεδίκτος — Κνίκος ο βενεδίκτος.
Noms anglais / English names :
Bitter thistle — Blessed thistle — Holy thistle —
Our lady's thistle — Spotted thistle — St.-Benedict's thistle.
Noms allemands / German names :
Acker-Schachtelhalm — Benediktendistel — Benediktenkraut —
Bernhardinerkraut — Bitterdistel — Heildistel —
Kardobenedikte — Kardobenediktenkraut — Spinnendistel.
Noms espagnols / Spanish names :
Cardo bendito — Cardo benedictino — Cardo santo.
Nom italien / Italian name :
Cardo benedetto.
Habitat :
Cultures - Lieux incultes - Chemins.
Cultivated places - Waste ground - Waysides.
Île / Island :
Tilos.
Hauteur / Height range :
De 10 cm à 70 cm.
From 10 cm to 70 cm.
Floraison / Flowering time :
De février à juillet.
From February to July.
Groupe / Classification :
Dicotylédones.
Dicotyledons.
Pérennité / Lifespan :
Annuelle.
Annual.
Description :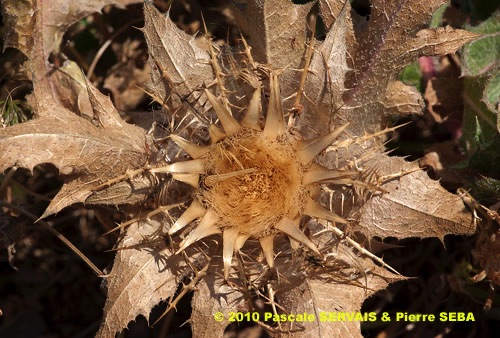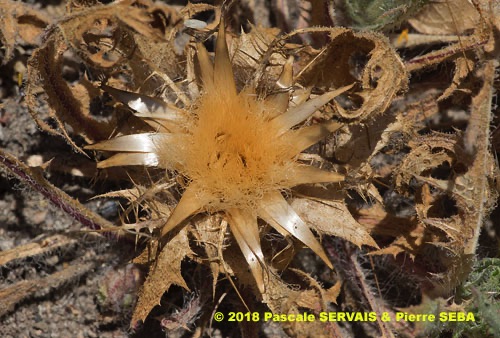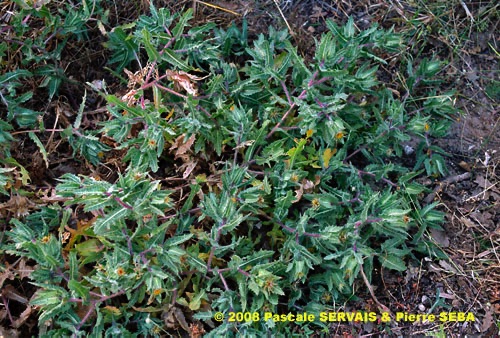 Photo 1 :
Localisation / Location : Tilos, Megalochorio (environs / surroundings)
Date : 29/04/2010
GPS : —
Type : Photographie numérique / Digital Photograph (10 mégapixels)
Photo 2 :
Localisation / Location : Tilos, Megalochorio (environs / surroundings)
Date : 29/04/2010
GPS : —
Type : Photographie numérique / Digital Photograph (10 mégapixels)
Photo 3 :
Localisation / Location : Tilos, Plaine d'Erystos / Plain of Erystos
Date : 23/04/2018
GPS : Lat. 36,44319° N / Long. 27,34757° E / Alt. 29 m
Type : Photographie numérique / Digital Photograph (24 mégapixels)
Photo 4 :
Localisation / Location : Tilos, Megalochorio (environs / surroundings)
Date : 29/04/2010
GPS : —
Type : Photographie numérique / Digital Photograph (10 mégapixels)
Photo 5 :
Localisation / Location : Tilos, Plaine d'Erystos / Plain of Erystos
Date : 23/04/2018
GPS : Lat. 36,44319° N / Long. 27,34757° E / Alt. 29 m
Type : Photographie numérique / Digital Photograph (24 mégapixels)
Photo 6 :
Localisation / Location : Tilos, Megalochorio (environs / surroundings)
Date : 29/04/2010
GPS : —
Type : Photographie numérique / Digital Photograph (10 mégapixels)
Photo 7 :
Localisation / Location : Tilos, Plaine d'Erystos / Plain of Erystos
Date : 23/04/2018
GPS : Lat. 36,44319° N / Long. 27,34757° E / Alt. 29 m
Type : Photographie numérique / Digital Photograph (24 mégapixels)
Photo 8 :
Localisation / Location : Tilos, Plaine d'Erystos / Plain of Erystos
Date : 04/05/2007
GPS : —
Type : Kodak Gold 200 ASA