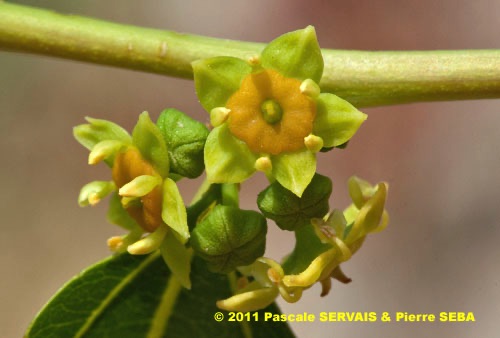 Ziziphus zizyphus (L.) Meikle
© Pascale SERVAIS & Pierre SEBA, 2019. Tilo Botanica: Flore de Tilos et du Dodécanèse / Flora of Tilos and of the Dodecanese
English translation by Brenda Bradbury, Howard Bradbury and Stéphane Léonard
Arbuste hermaphrodite, très ramifié, à écorce blanchâtre ou brun pâle, écailleuse, à profondes gerçures, à tiges souples, en zigzag, glabres, vertes à l'état jeune.
Feuilles alternes, disposées sur 2 rangs opposés, simples, ovales à oblongues, à 3 nervures longitudinales, à bords à dents glanduleuses, à pétiole court. Stipules inégales en forme d'épines.
Fleurs à symétrie radiaire, jaunâtres, de 5 à 8 mm de diamètre, réunies en bouquets à la base des feuilles. Corolle à 5 pétales enroulés en dedans, soudés à la base, plus courts que les sépales. Calice à 5 sépales soudés entre eux. 4 étamines. Ovaire supère.
Fruits, drupes ovoïdes, de 15 à 30 mm de long, rouge sombre ou noires, comestibles.
___________________________
Treelet hermaphrodite, very branched. Bark whitish or pale brown, scaly, with deep shakes. Stems supple, glabrous, zigzag, green at the youthful state.
Leaves alternate, laid out on 2 opposite rows, simple, ovate to oblong, with 3 longitudinal veins, with edges with glandulous teeth, with a short petiole. Stipules unequal in the shape of thorns.
Flowers radially symmetrical, yellowish, from 5 to 8 mm in diameter, joined together in clusters at the base of the leaves. Corolla with 5 petals coiled inside, partly fused, shorter than the sepals. Calyx with 5 sepals fused with each other. 4 stamens. Ovary superior.
Fruits, ovoid drupes, from 15 to 30 mm long, dark red or black, edible.
Descripteurs / Identifying features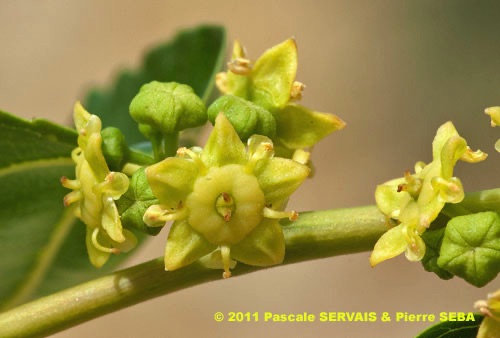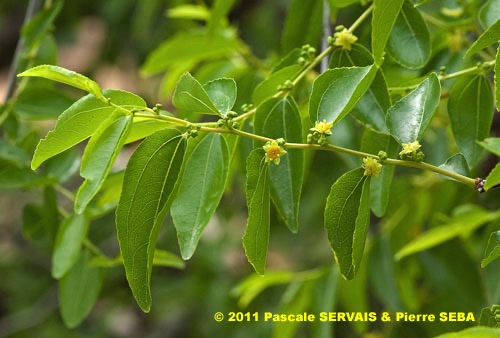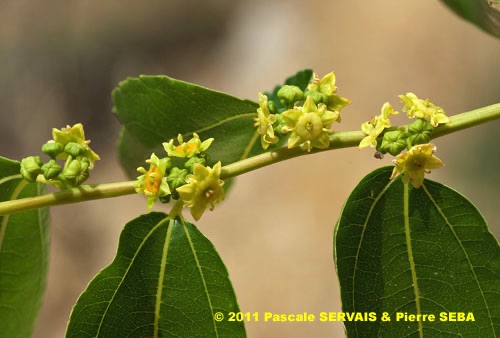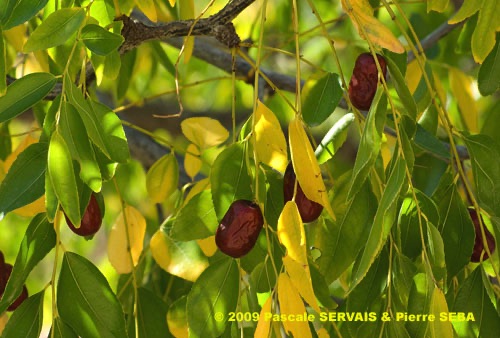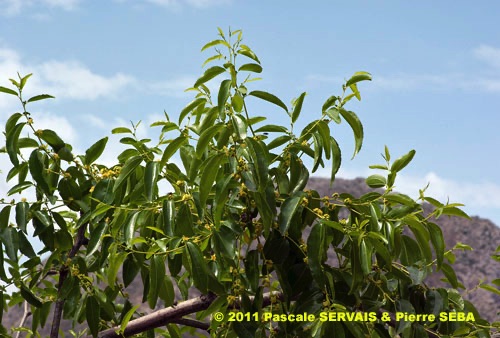 Étymologie / Etymology :
Ziziphus : Variante orthographique de zizyphus.
Zizyphus : emprunt du latin zizyphus (ziziphus), -i (nom)
= le jujubier, forme latinisée du grec ancien ζίζυφον, -ου (nom)
= le jujubier.
Ziziphus : Spelling variant of zizyphus.
Zizyphus : borrowed from Latin zizyphus (ziziphus), -i (noun)
= chinese date, jujube, Latinized form of the Classical Greek
ζίζυφον, -ου (noun) = chinese date, jujube.
Synonymes / Synonyms :
Ziziphus jujuba Mill.
Ziziphus vulgaris Lam.
Jujuba mediterranea Bubani
Mansana arborea J.F.Gmel.
Rhamnus zizyphus L.
Ziziphus officinarum Medik.
Zizyphus sativa Gaertn.
Noms vernaculaires / Common names :
Noms français / French names :
Cicourlier — Dattier de Chine — Guindanlier —
Jujube de Chine — Jujubier — Jujubier commun —
Jujubier de Chine.
Noms grecs / Greek names :
Ζιζιφιά — Ζίζιφο — Ζιζυφιά — Ζίζυφον — Τζιτζιφιά.
Noms anglais / English names :
Chinese date — Chinese jujube — Common jujube — Indian date —
Jujuba — Jujube — Red date.
Noms allemands / German names :
Brustbeerbaum — Brustbeerbaum — Brustbeere —
Chinesische Dattel — Domjujube — Judendorn — Jujube.
Noms espagnols / Spanish names :
Achifaifa — Azofaifa — Azufaifo — Azufaifo común — Ginjoler —
Ginjolero — Jinjol — Jinjolero — Jujuba — Zofaifo.
Noms italiens / Italian names :
Giuggiole — Giuggiolo — Giuggiolo comune.
Habitat :
Cultures - Haies, fourrés, broussailles.
Cultivated places - Hedges, thickets.
Île / Island :
Tilos.
Hauteur / Height range :
De 2,50 m à 5 m.
From 2.50 m to 5 m.
Floraison / Flowering time :
De mai à juin.
From May to June.
Groupe / Classification :
Dicotylédones.
Dicotyledons.
Pérennité / Lifespan :
Vivace.
Perennial.
Description :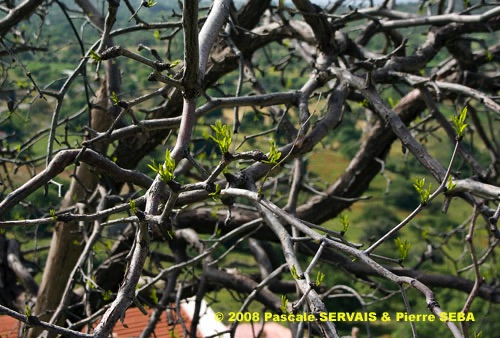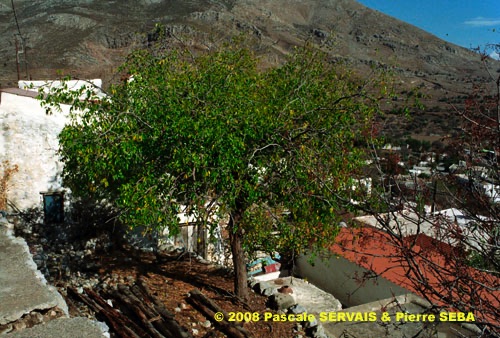 Photo 1 :
Localisation / Location : Tilos, Megalochorio, Village
Date : 26/05/2011
GPS : Lat. 36,45434° N / Long. 27,34418° E / Alt. 100 m
Type : Photographie numérique / Digital Photograph (10 mégapixels)
Photo 2 :
Localisation / Location : Tilos, Megalochorio, Village
Date : 26/05/2011
GPS : Lat. 36,45434° N / Long. 27,34418° E / Alt. 100 m
Type : Photographie numérique / Digital Photograph (10 mégapixels)
Photo 3 :
Localisation / Location : Tilos, Megalochorio, Village
Date : 26/05/2011
GPS : Lat. 36,45434° N / Long. 27,34418° E / Alt. 100 m
Type : Photographie numérique / Digital Photograph (10 mégapixels)
Photo 4 :
Localisation / Location : Tilos, Megalochorio, Village
Date : 26/05/2011
GPS : Lat. 36,45434° N / Long. 27,34418° E / Alt. 100 m
Type : Photographie numérique / Digital Photograph (10 mégapixels)
Photo 5 :
Localisation / Location : Tilos, Megalochorio, Village
Date : 12/10/2009
GPS : Lat. 36,45434° N / Long. 27,34418° E / Alt. 100 m
Type : Photographie numérique / Digital Photograph (10 mégapixels)
Photo 6 :
Localisation / Location : Tilos, Megalochorio, Village
Date : 26/05/2011
GPS : Lat. 36,45434° N / Long. 27,34418° E / Alt. 100 m
Type : Photographie numérique / Digital Photograph (10 mégapixels)
Photo 7 :
Localisation / Location : Tilos, Megalochorio, Village
Date : 14/04/2008
GPS : Lat. 36,45434° N / Long. 27,34418° E / Alt. 100 m
Type : Photographie numérique / Digital Photograph (10 mégapixels)
Photo 8 :
Localisation / Location : Tilos, Megalochorio, Village
Date : 21/10/2007
GPS : Lat. 36,45434° N / Long. 27,34418° E / Alt. 100 m
Type : Kodak Gold 200 ASA