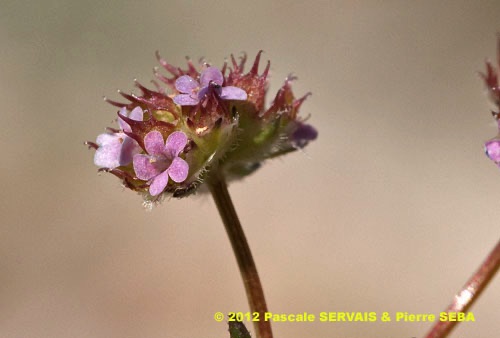 Valerianella obtusiloba Boiss.
© Pascale SERVAIS & Pierre SEBA, 2018. Tilo Botanica: Flore de Tilos et du Dodécanèse / Flora of Tilos and of the Dodecanese
English translation by Brenda Bradbury, Howard Bradbury and Stéphane Léonard
Plante herbacée, hermaphrodite, à tiges cylindriques, dichotomes, érigées, ramifiées, à poils courts et clairsemés.
Feuilles opposées, simples, linéaires à spatulées, entières à dentées, glabres et ciliées, sans stipules, les supérieures avec 2 lobes à la base.
Fleurs à symétrie presque radiaire, en tube, roses, de 2 mm de diamètre, réunies en bouquets de 5 à 10 mm de diamètre. Corolle à 5 pétales soudés à la base. Calice poilu à l'intérieur, à 6 sépales soudés à la base, vert pâle, unis, terminés chacun par 3 dents crochues rosées, à 1 nervure peu marquée. 3 étamines. Ovaire infère.
Fruits, akènes vert pâle, à poils blancs, de 5 mm de diamètre, garnis du calice à 18 dents rouges.
___________________________
Plant herbaceous, hermaphrodite. Stems cylindrical, dichotomous, erect, branched, with short and sparse hairs.
Leaves opposite, simple, linear to spatulate, entire to toothed, glabrous and ciliate, without stipules, the higher ones with 2 lobes at the base.
Flowers almost radially symmetrical, tubular, pink, 2 mm in diameter, joined together in clusters from 5 to 10 mm in diameter. Corolla with 5 partly fused petals. Calyx hairy inside, with 6 pale green, self-coloured, partly fused sepals, each one finished by 3 hooked, pinkish teeth, with 1 sparsely conspicuous vein. 3 stamens. Ovary inferior.
Fruits, pale green achenes, with white hairs, 5 mm in diameter, provided with the calyx with 18 red teeth.
Descripteurs / Identifying features: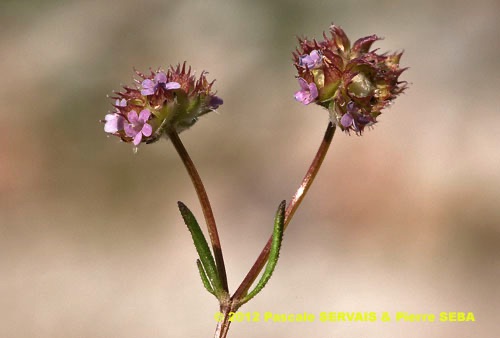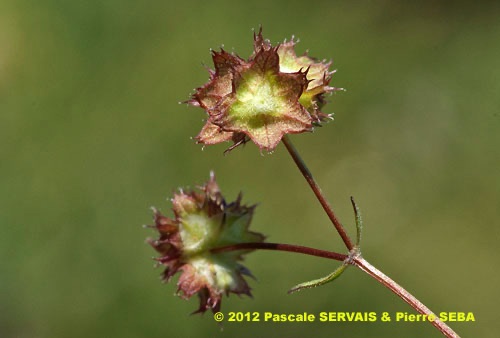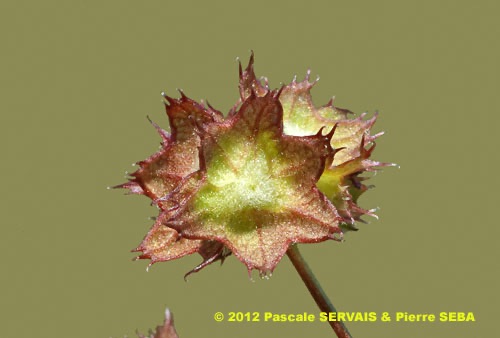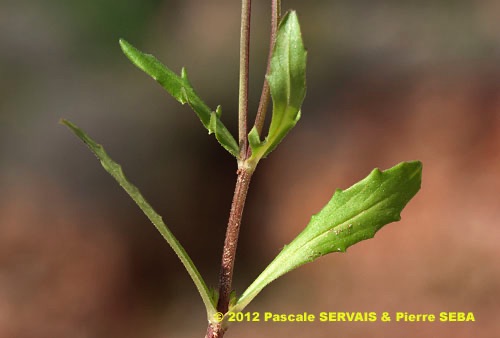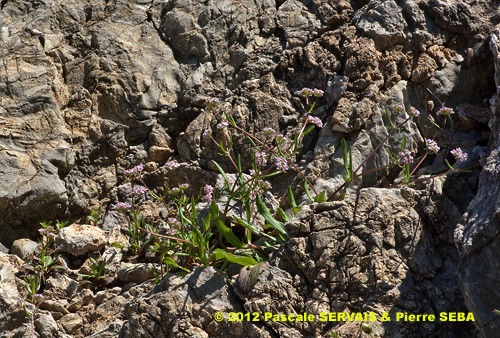 Étymologie / Etymology :
Valerianella : nom créé par les botanistes [ < valeriana, -ae (nom)
= la valériane + -ella (suffixe) = petit ] = la petite valériane.
Obtusiloba : adjectif créé par les botanistes [ < obtusus, -a, -um (adj.)
= émoussé, atténué, obtus + lobus, -i (nom) = le lobe, la gousse ]
= à lobes émoussés.
Valerianella : name created by botanists [ < valeriana, -ae (noun)
= valerian + -ella (suffix) = petit ] = small valerian.
Obtusiloba : adjective created by botanists [ < obtusus, -a, -um (adj)
= blunt, attenuated, obtuse + lobus, -i (noun) = lobe, pod ] = with
blunt lobes.
Synonyme / Synonym :
—
Noms vernaculaires / Common names :
Nom français / French name :
Valérianelle à lobes obtus.
Nom allemand / German name :
Stumpfblättriger Feldsalat.
Habitat :
Cultures - Prairies - Lieux pierreux - Lieux incultes - Chemins.
Cultivated places - Meadows - Stony places - Waste ground -
Waysides.
Île / Island :
Tilos.
Hauteur / Height range :
De 10 cm à 20 cm.
From 10 cm to 20 cm.
Floraison / Flowering time :
De février à avril.
From February to April.
Groupe / Classification :
Dicotylédones.
Dicotyledons.
Pérennité / Lifespan :
Annuelle.
Annual.
Description :
Descripteurs distinctifs des 5 espèces / Distinctive identifying features of the 5 species
Photo 1 :
Localisation / Location : Tilos, Livadia
Date : 15/03/2012
GPS : Lat. 36,41897° N / Long. 27,38585° E / Alt. 24 m
Type : Photographie numérique / Digital Photograph (10 mégapixels)
Photo 2 :
Localisation / Location : Tilos, Livadia
Date : 15/03/2012
GPS : Lat. 36,41897° N / Long. 27,38585° E / Alt. 24 m
Type : Photographie numérique / Digital Photograph (10 mégapixels)
Photo 3 :
Localisation / Location : Tilos, Livadia (environs / surroundings)
Date : 19/03/2012
GPS : Lat. 36,41035° N / Long. 27,38420° E / Alt. 53 m
Type : Photographie numérique / Digital Photograph (10 mégapixels)
Photo 4 :
Localisation / Location : Tilos, Livadia (environs / surroundings)
Date : 19/03/2012
GPS : Lat. 36,41035° N / Long. 27,38420° E / Alt. 53 m
Type : Photographie numérique / Digital Photograph (10 mégapixels)
Photo 5 :
Localisation / Location : Tilos, Livadia
Date : 15/03/2012
GPS : Lat. 36,41897° N / Long. 27,38585° E / Alt. 24 m
Type : Photographie numérique / Digital Photograph (10 mégapixels)
Photo 6 :
Localisation / Location : Tilos, Chemin de Lethra / Path to Lethra
Date : 18/03/2012
GPS : Lat. 36,42169° N / Long. 27,38813° E / Alt. 49 m
Type : Photographie numérique / Digital Photograph (10 mégapixels)