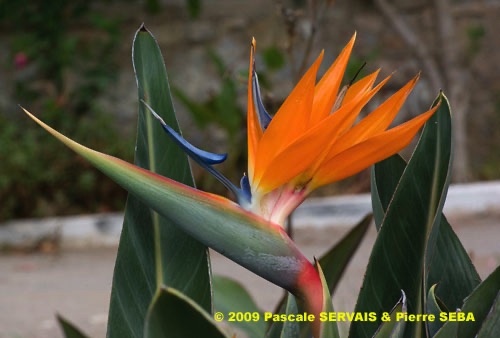 Strelitzia reginae Banks in W.Aiton
© Pascale SERVAIS & Pierre SEBA, 2018. Tilo Botanica: Flore de Tilos et du Dodécanèse / Flora of Tilos and of the Dodecanese
English translation by Brenda Bradbury, Howard Bradbury and Stéphane Léonard
Plante herbacée, hermaphrodite, en touffe érigée, originaire d'Afrique du Sud.
Feuilles à la base, simples, lancéolées, charnues, gris vert, glauques dessous, persistantes, en gouttière, pointues, de 20 à 70 cm de long, de 10 à 30 cm de large, longuement pétiolées.
Fleurs à symétrie bilatérale, orange et bleues, d'environ 20 cm de long, solitaires, émergeant une par une d'une spathe de couleur verte, bordée de rouge, orientée perpendiculairement à la tige, ce qui donne à la fleur une apparence de tête et de bec d'oiseau. Périanthe à 3 sépales orange brillant, libres ou à peine soudés à la base, de 12 cm de long, et à 3 pétales bleu pourpre. 2 de ces 3 pétales sont réunis pour former un nectaire en forme de flèche. Ovaire infère.
Fruits, capsules très dures s'ouvrant à maturité, contenant des graines noires et sphériques.
___________________________
Plant herbaceous, hermaphrodite, tufted, erect, native to South Africa.
Leaves at the base, simple, lanceolate, fleshy, grey green, glaucous on the lower surface, persistent, in gutter, pointed, from 20 to 70 cm long, from 10 to 30 cm across, lengthily petiolate.
Flowers bilaterally symmetrical, orange and blue, of approximately 20 cm long, solitary, emerging one by one from a green spathe with red edges, growing perpendicular to the stem, which gives to the flower an appearance of head and beak of bird. Perianth with 3 bright orange sepals free or scarcely partly fused, of 12 cm long, and with 3 blue purple petals. 2 of these 3 petals are joined together to form a nectary in the shape of an arrow. Ovary inferior.
Fruits, very hard capsules opening at maturity, containing black and spherical seeds.
Descripteurs / Identifying features: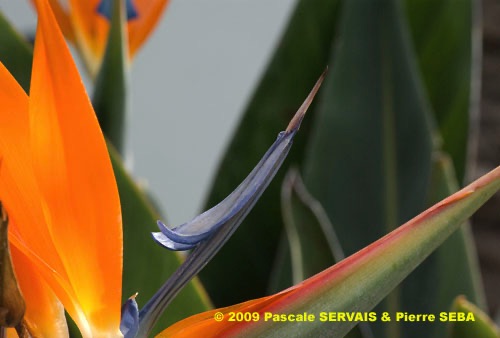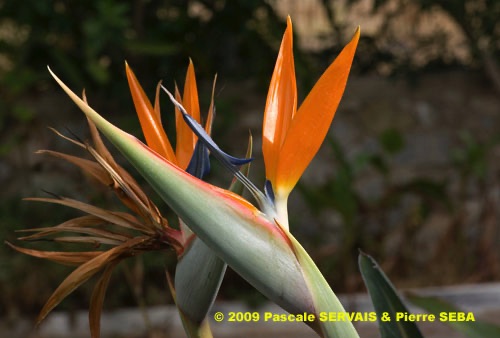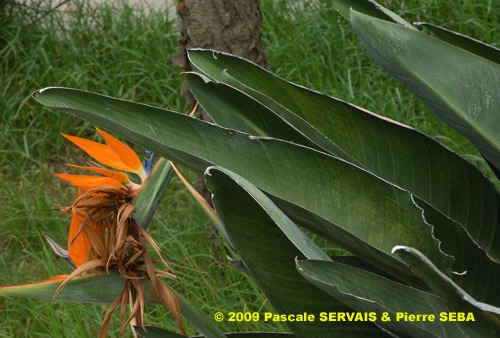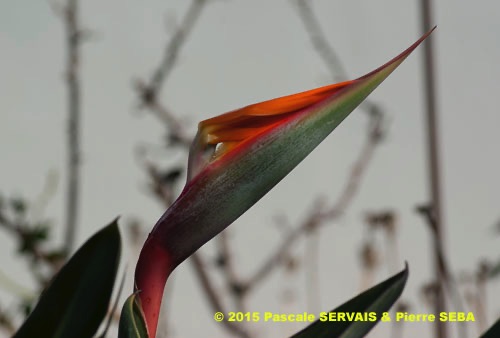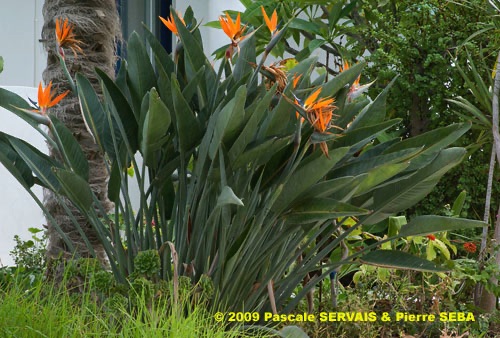 Étymologie / Etymology :
Strelitzia : nom donné en l'honneur de la reine d'Angleterre Sophie
Charlotte de Mecklembourg-Strelitz (1744-1818), épouse du roi
Georges III et grand-mère de la reine Victoria. Botaniste à ses heures,
elle contribua à l'agrandissement des jardins botaniques royaux
de Kew.
Reginae : emprunt du latin regina, -ae (nom) = la reine.
Reginae est une forme de génitif latin = de la reine.
Strelitzia : name given in honour of the Queen of England Sophia
Charlotte of Mecklenburg-Strelitz (1744-1818), wife of King George III
and grandmother of Queen Victoria. Amateur botanist, she helped
expand the Royal Botanic Gardens at Kew.
Reginae : borrowed from Latin regina, -ae (noun) = Queen.
Reginae is a form of Latin genitive = of the Queen.
Synonyme / Synonym :
Strelitzia parvifolia W.T.Aiton
Noms vernaculaires / Common names :
Noms français / French names :
Oiseau des îles — Oiseau du paradis.
Noms grecs / Greek names :
Πτηνό του παραδείσου — Στερλίτζια βασίλισσα —
Στερλίτζια της βασιλίσσης.
Noms anglais / English names :
Bird-of-paradise — Crane lily — Craneflower — Geel piesang.
Noms allemands / German names :
Bunter Reiherkopf — Paradiesvogelblume.
Habitat :
Jardins.
Gardens.
Île / Island :
Tilos.
Hauteur / Height range :
De 1 m à 1,50 m.
From 1 m to 1.50 m.
Floraison / Flowering time :
De juin à janvier.
From June to January.
Groupe / Classification :
Monocotylédones.
Monocotyledons.
Pérennité / Lifespan :
Vivace.
Perennial.
Description :
Photo 1 :
Localisation / Location : Tilos, Plaine d'Erystos / Plain of Erystos
Date : 24/10/2009
GPS : Lat. 36,43475° N / Long. 27,34940° E / Alt. 10 m
Type : Photographie numérique / Digital Photograph (10 mégapixels)
Photo 2 :
Localisation / Location : Tilos, Plaine d'Erystos / Plain of Erystos
Date : 24/10/2009
GPS : Lat. 36,43475° N / Long. 27,34940° E / Alt. 10 m
Type : Photographie numérique / Digital Photograph (10 mégapixels)
Photo 3 :
Localisation / Location : Tilos, Plaine d'Erystos / Plain of Erystos
Date : 24/10/2009
GPS : Lat. 36,43475° N / Long. 27,34940° E / Alt. 10 m
Type : Photographie numérique / Digital Photograph (10 mégapixels)
Photo 4 :
Localisation / Location : Tilos, Plaine d'Erystos / Plain of Erystos
Date : 24/10/2009
GPS : Lat. 36,43475° N / Long. 27,34940° E / Alt. 10 m
Type : Photographie numérique / Digital Photograph (10 mégapixels)
Photo 5 :
Localisation / Location : Tilos, Plaine d'Erystos / Plain of Erystos
Date : 15/11/2014
GPS : Lat. 36,43475° N / Long. 27,34940° E / Alt. 10 m
Type : Photographie numérique / Digital Photograph (10 mégapixels)
Photo 6 :
Localisation / Location : Tilos, Plaine d'Erystos / Plain of Erystos
Date : 24/10/2009
GPS : Lat. 36,43475° N / Long. 27,34940° E / Alt. 10 m
Type : Photographie numérique / Digital Photograph (10 mégapixels)