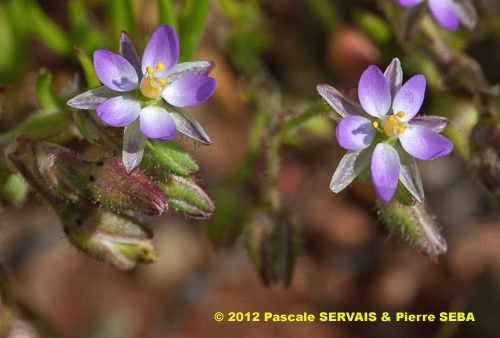 Spergularia marina (L.) Besser
© Pascale SERVAIS & Pierre SEBA, 2018. Tilo Botanica: Flore de Tilos et du Dodécanèse / Flora of Tilos and of the Dodecanese
English translation by Brenda Bradbury, Howard Bradbury and Stéphane Léonard
Plante herbacée, hermaphrodite, en touffe, à tiges étalées, poilues, épaissies aux nœuds.
Feuilles opposées semblant verticillées, simples, linéaires, charnues, glabres, à stipules membraneuses engainant la tige et formant souvent un verticille unilatéral à chaque nœud.
Fleurs à symétrie radiaire, blanches, mauves ou rosées, à base blanche, de 3 à 6 mm de diamètre, réunies en grappes de 1 à 5 cm de long. Corolle à 5 pétales libres sensiblement de même longueur que les 5 sépales libres et poilus. Fleurs se refermant rapidement par temps couvert. Ovaire supère.
Fruits, capsules de 4 à 6 mm de long, dépassant un peu les sépales, à graines de 0,5 à 0,7 mm de long, souvent ailées, couvertes de petits tubercules.
___________________________
Plant herbaceous, hermaphrodite, tufted. Stems spread out, hairy, thickened at the nodes.
Leaves opposite seeming whorled, simple, linear, fleshy, glabrous, with membranous stipules sheathing the stem and often forming an unilateral whorl at each node.
Flowers radially symmetrical, white, mauve or pink, with a white base, from 3 to 6 mm in diameter, joined together in racemes from 1 to 5 cm long. Corolla with 5 free petals approximately of the same length than the 5 free and hairy sepals. Flowers closing quickly in covered weather. Ovary superior.
Fruits, capsules from 4 to 6 mm long, sliightly exceeding sepals, with seeds from 0.5 to 0.7 mm long, often winged, covered in small tubers.
Descripteurs / Identifying features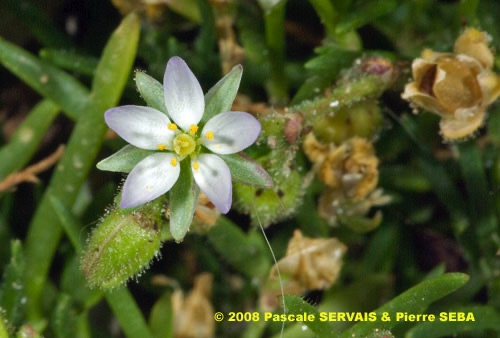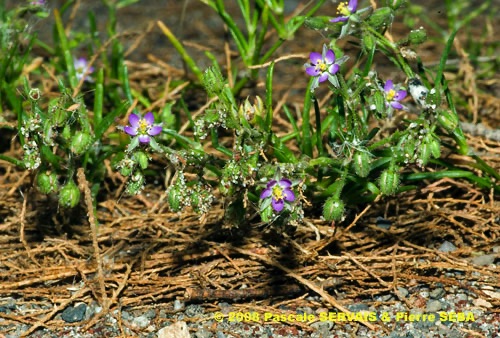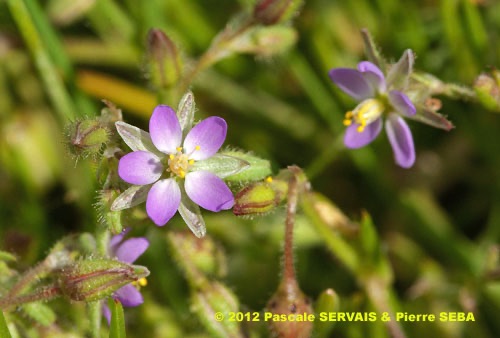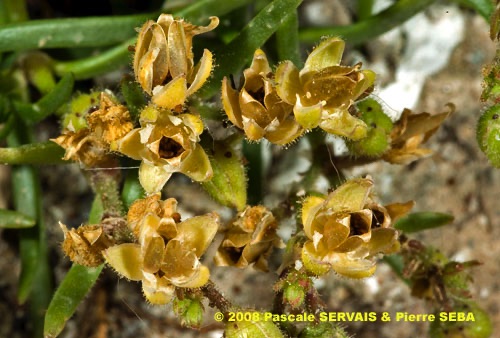 Étymologie / Etymology :
Spergularia : emprunt du latin médiéval spergularia, -ae (nom)
[ < spergula, -ae (nom) = la spergule ] = qui a l'apparence de la
spergule, qui ressemble à la spergule.
Marina : emprunt du latin marinus, -a, -um (adj.) [ < mare, -is (nom)
= la mer ] = marin, de mer.
Spergularia : borrowed from medieval Latin spergularia, -ae (noun)
[ < spergula, -ae (noun) = corn spurrey ] = which has the appearance
of corn spurrey, resembling corn spurrey.
Marina : borrowed from Latin marinus, -a, -um (adj) [ < mare, -is (noun)
= sea ] = marine, of or from the sea.
Synonymes / Synonyms :
Spergula marina (L.) Bartl. & H.L.Wendl.
Spergularia salina J.Presl & C.Presl
Alsine marina (L.) Mert. & W.D.J.Koch
Alsine salina (J.Presl & C.Presl) Heldmann
Arenaria marina (L.) All.
Corion halophilum (Bunge) Merino
Corion marinum (L.) N.E.Br.
Holosteum sperguloides Lehm.
Lepigonum heterospermum (Guss.) Grech
Lepigonum marinum (L.) Wahlb.
Lepigonum medium Fr.
Lepigonum neglectum Kindb.
Lepigonum salinum (J.Presl & C.Presl) G.Don
Spergula canina (Leffler) Ahlfv.
Spergula filipensis D.Dietr.
Spergula salina (J.Presl & C.Presl) D.Dietr.
Spergularia bofillii Sennen
Spergularia canina (Leffler) Leffler
Spergularia dillenii Lebel
Spergularia halophila (Bunge) T.Marsson
Spergularia heterosperma (Guss.) Lebel
Spergularia longicaulis Pomel
Spergularia marina Willk.
Spergularia marina (L.) Griseb.
Spergularia spergula (Dufour) G.Don
Spergularia sperguloides (Lehm.) Heynh.
Spergularia urbica (Leffler) Nyman
Tissa marina (L.) Britton
Noms vernaculaires / Common names :
Noms français / French names :
Spergulaire des marais salés — Spergulaire du sel —
Spergulaire marine.
Noms grecs / Greek names :
Αμόφυτον — Σπέργουλα.
Noms anglais / English names :
Lesser sea-spurrey — Salt sandspurrey — Sea spurrey.
Nom allemand / German name :
Salz-Schuppenmiere.
Nom espagnol / Spanish name :
Rabaniza de los soseros.
Noms italiens / Italian names :
Spergularia costiera — Spergularia marina.
Habitat :
Cultures - Lieux incultes - Lieux saumâtres, bords de mer.
Cultivated places - Waste ground - Salty places, seaside.
Île / Island :
Tilos.
Hauteur / Height range :
De 5 cm à 20 cm.
From 5 cm to 20 cm.
Floraison / Flowering time :
De mars à septembre.
From March to September.
Groupe / Classification :
Dicotylédones.
Dicotyledons.
Pérennité / Lifespan :
Annuelle ou vivace.
Annual or perennial.
Description :
Photo 1 :
Localisation / Location : Tilos, Livadia
Date : 21/03/2012
GPS : Lat. 36,41237° N / Long. 27,38744° E / Alt. 6 m
Type : Photographie numérique / Digital Photograph (10 mégapixels)
Photo 2 :
Localisation / Location : Tilos, Aghios Andonis
Date : 13/04/2008
GPS : —
Type : Photographie numérique / Digital Photograph (10 mégapixels)
Photo 3 :
Localisation / Location : Tilos, Erystos
Date : 12/04/2008
GPS : —
Type : Photographie numérique / Digital Photograph (10 mégapixels)
Photo 4 :
Localisation / Location : Tilos, Livadia
Date : 21/03/2012
GPS : Lat. 36,41237° N / Long. 27,38744° E / Alt. 6 m
Type : Photographie numérique / Digital Photograph (10 mégapixels)
Photo 5 :
Localisation / Location : Tilos, Aghios Andonis
Date : 13/04/2008
GPS : —
Type : Photographie numérique / Digital Photograph (10 mégapixels)
Photo 6 :
Localisation / Location : Tilos, Aghios Andonis
Date : 13/04/2008
GPS : —
Type : Photographie numérique / Digital Photograph (10 mégapixels)

Clés dichotomiques et descripteurs distinctifs des 2 espèces / Dichotomous keys and distinctive identifying features of the 2 species