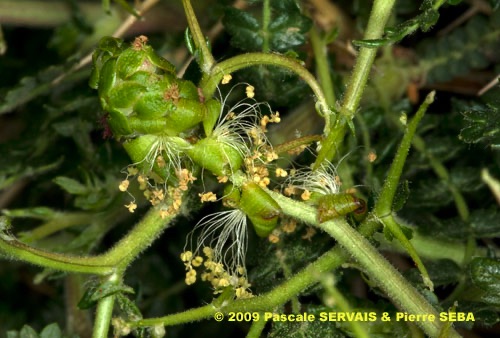 Sarcopoterium spinosum (L.) Spach
© Pascale SERVAIS & Pierre SEBA, 2018. Tilo Botanica: Flore de Tilos et du Dodécanèse / Flora of Tilos and of the Dodecanese
English translation by Brenda Bradbury, Howard Bradbury and Stéphane Léonard
Arbrisseau monoïque, épineux, très ramifié, en dôme, à rameaux latéraux fourchus formant un réseau d'épines. Jeunes pousses velues, les plus âgées brunes et glabres.
Feuilles alternes, composées imparipennées, à 9 à 15 folioles ovales, de 4 à 6 mm de long, à bords dentés et enroulés dessous.
Fleurs à symétrie radiaire, verdâtres, minuscules, réunies en bouquets sphériques ou oblongs, de 15 à 30 mm de long. Fleurs femelles sans pétales, à styles pourpres plumeux, situées au-dessus des fleurs mâles à pétales jaune blanc. Ovaire supère.
Fruits, baies rouge vif, un peu charnues.
___________________________
Shrub monoecious, spiny, very branched, in the shape of a dome, with lateral branches furcate, forming a network of thorns. Youthful shoots very hairy, the oldest ones brown and glabrous.
Leaves alternate, compound imparipinnate, with 9 to 15 ovate leaflets, from 4 to 6 mm long, with edges toothed and coiled below.
Flowers radially symmetrical, greenish, tiny, joined together in spherical or oblong clusters, from 15 to 30 mm long. Female flowers without petals, with feathery purple styles, located above the male flowers with white yellow petals. Ovary superior.
Fruits, bright red, a little fleshy berries.
Descripteurs / Identifying features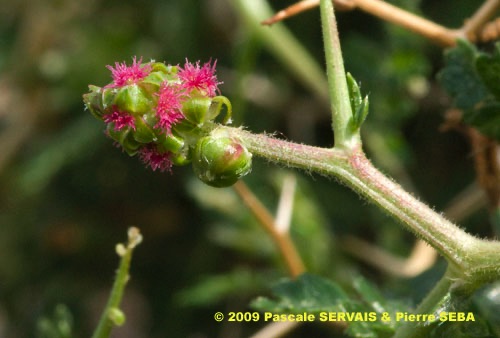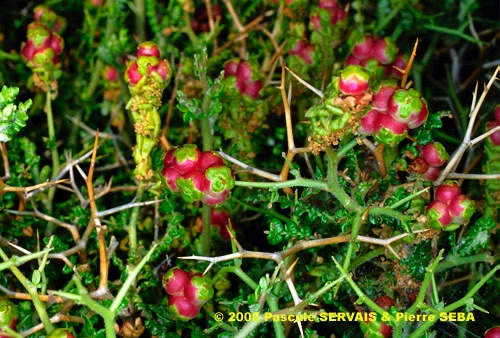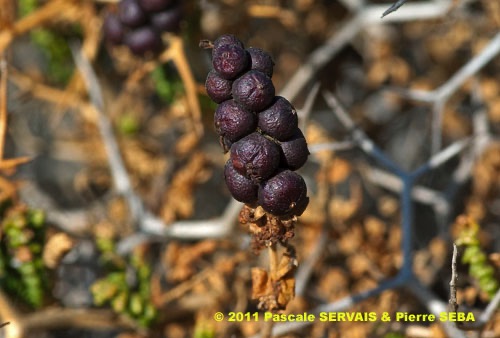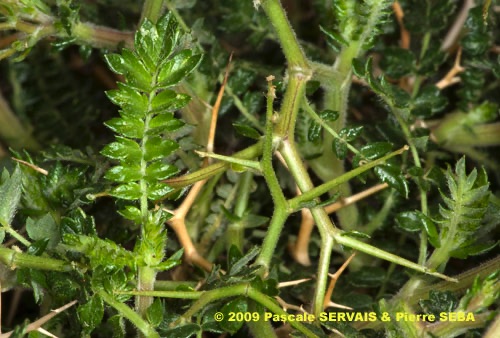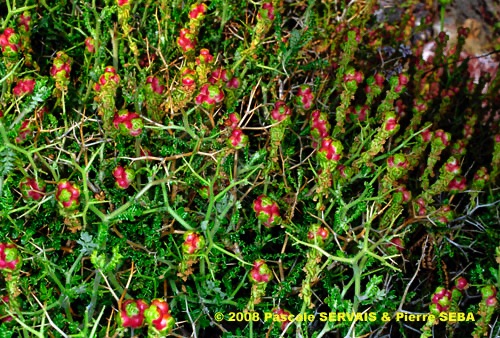 Étymologie / Etymology :
Sarcopoterium : nom créé par les botanistes [ < σάρξ, σαρκός (nom)
= la chair, le corps, la pulpe + poterium, -ii (nom) = la pimprenelle ]
= la pimprenelle charnue, la pimprenelle pulpeuse.
Spinosum : emprunt du latin spinosus, -a, -um (adj.) [ < spina, -ae
(nom) = l'épine ] = pointu, épineux, couvert d'épines, en référence aux
parties épineuses de la plante.
Sarcopoterium : name created by botanists [ < σάρξ, σαρκός (noun)
= flesh, body, pulp + poterium, -ii (noun) = burnet ] = fleshy burnet,
pulpy burnet.
Spinosum : borrowed from Latin spinosus, -a, -um (adj) [ < spina, -ae
(noun) = spine ] = sharp, spiny, covered in thorns, referring to the
spiny parts of the plant.
Synonymes / Synonyms :
Poterium spinosum L.
Sanguisorba spinosa (L.) Bertol.
Noms vernaculaires / Common names :
Nom français / French name :
Pimprenelle épineuse.
Noms grecs / Greek names :
Αστιβίδα — Αστοιβή — Αστοιβίδα — Αστυφίδα — Αφάνα —
Αχυροστουβιά — Σαρκοποτήριο το ακανθώδες — Στοιβάδα —
Στοιβή.
Nom anglais / English name :
Thorny burnet.
Noms allemands / German names :
Dornige Becherblume — Dornige Bibernelle —
Dornstrauch-Wiesenknopf.
Habitat :
Lieux pierreux - Lieux incultes - Chemins.
Stony places - Waste ground - Waysides.
Île / Island :
Tilos.
Hauteur / Height range :
De 30 cm à 70 cm.
From 30 cm to 70 cm.
Floraison / Flowering time :
De mars à mai.
From March to May.
Groupe / Classification :
Dicotylédones.
Dicotyledons.
Pérennité / Lifespan :
Vivace.
Perennial.
Description :
Photo 1 :
Localisation / Location : Tilos, Plaka
Date : 02/04/2009
GPS : Lat. 36,46384° N / Long. 27,30577° E / Alt. 42 m
Type : Photographie numérique / Digital Photograph (10 mégapixels)
Photo 2 :
Localisation / Location : Tilos, Plaka
Date : 02/04/2009
GPS : Lat. 36,46384° N / Long. 27,30577° E / Alt. 42 m
Type : Photographie numérique / Digital Photograph (10 mégapixels)
Photo 3 :
Localisation / Location : Tilos, Chemin de Lethra / Path to Lethra
Date : 25/04/2006
GPS : Lat. 36,42133° N / Long. 27,38810° E / Alt. 46 m
Type : Kodak Gold 200 ASA
Photo 4 :
Localisation / Location : Tilos, Erystos
Date : 28/09/2011
GPS : Lat. 36,43254° N / Long. 27,35380° E / Alt. 8 m
Type : Photographie numérique / Digital Photograph (10 mégapixels)
Photo 5 :
Localisation / Location : Tilos, Plaka
Date : 02/04/2009
GPS : Lat. 36,46384° N / Long. 27,30577° E / Alt. 42 m
Type : Photographie numérique / Digital Photograph (10 mégapixels)
Photo 6 :
Localisation / Location : Tilos, Chemin de Lethra / Path to Lethra
Date : 25/04/2006
GPS : Lat. 36,42133° N / Long. 27,38810° E / Alt. 46 m
Type : Kodak Gold 200 ASA