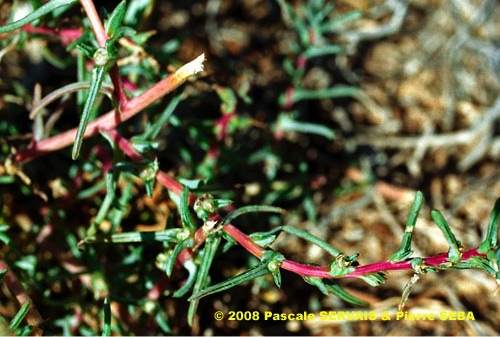 © Pascale SERVAIS & Pierre SEBA, 2018. Tilo Botanica: Flore de Tilos et du Dodécanèse / Flora of Tilos and of the Dodecanese
English translation by Brenda Bradbury, Howard Bradbury and Stéphane Léonard
Plante herbacée, hermaphrodite, étalée à dressée, à tiges fragiles, glabres, lisses, un peu luisantes, souvent rougeâtres.
Feuilles alternes, simples, étroites, embrassant la tige, semi-cylindriques, pointues à leur extrémité mais sans épine. Bractées foliacées plus courtes que les feuilles.
Fleurs à symétrie radiaire, verdâtres à rosâtres, solitaires ou groupées par 2 en épis dépassés par les bractées foliacées. Périanthe à 5 tépales soudés entre eux dans leur partie inférieure, devenant coriaces et membraneux à maturité. Ovaire supère.
Fruits, akènes membraneux noirs, de 4 à 5 mm de long sur 3 mm de large, entourés complètement par le périanthe qui s'est agrandi à la fructification.
___________________________
Plant herbaceous, hermaphrodite, spread out to erect. Stems brittle, glabrous, smooth, a little shiny, often reddish.
Leaves alternate, simple, narrow, clasping the stem, semi-cylindrical, pointed at their tip but without a thorn. Foliaceous bracts shorter than the leaves.
Flowers radially symmetrical, greenish to pinkish, solitary or joined together by 2 in spikes exceeded by the foliaceous bracts. Perianth with 5 tepals fused with each other in their lower part, becoming tough and membranous at maturity. Ovary superior.
Fruits, black membranous achenes, from 4 to 5 mm long, 3 mm across, completely surrounded by the perianth which increased at fructification.
Descripteurs / Identifying features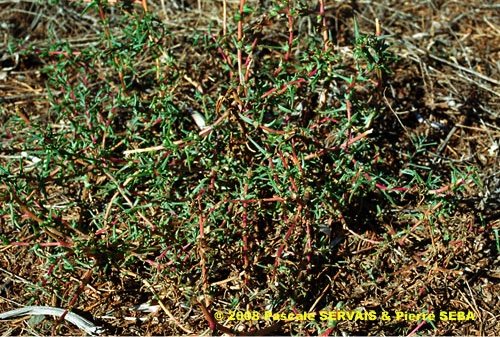 Étymologie / Etymology :
Salsola : emprunt du latin salsus, -a, -um (adj.) [ < sal, salis (nom)
= le sel ] = salé, en référence à son habitat en bord de mer.
Soda : emprunt de l'italien soda (nom) = la soude, en référence à
la teneur en carbonate de soude de la plante.
Salsola : borrowed from Latin salsus, -a, -um (adj) [ < sal, salis (noun)
= salt ] = salty, referring to its habitat at the seaside.
Soda : borrowed from Italian soda (noun) = soda (sodium hydroxide),
referring to the content of sodium hydroxide of the plant.
Synonymes / Synonyms :
Kali soda (L.) Scop.
Salsola longifolia Lam.
Salsola mutica C.A.Mey.
Soda inermis Fourr.
Noms vernaculaires / Common names :
Noms français / French names :
Herbe au verre — Soude commune.
Nom grec / Greek name :
Βρωμόχορτο.
Noms anglais / English names :
Barilla plant — Opposite leaved saltwort —
Oppositeleaf Russian thistle — Soda saltwort.
Noms allemands / German names :
Soda-Salzkraut — Sodakraut.
Noms espagnols / Spanish names :
Barrilla — Barrilla común — Barrilla de Sevilla — Peralejo —
Salicor — Salicor de la Mancha — Soda — Sosa álcali —
Sosa común.
Noms italiens / Italian names :
Liscari sativa — Ríscoli — Róscano — Salsola barba di frate —
Salsola soda.
Habitat :
Lieux saumâtres, bords de mer - Sols sableux.
Salty places, seaside - Sandy soils.
Île / Island :
Tilos.
Hauteur / Height range :
De 10 cm à 70 cm.
From 10 cm to 70 cm.
Floraison / Flowering time :
De mai à octobre.
From May to October.
Groupe / Classification :
Dicotylédones.
Dicotyledons.
Pérennité / Lifespan :
Annuelle.
Annual.
Description :
Clés dichotomiques et descripteurs distinctifs des 2 espèces / Dichotomous keys and distinctive identifying features of the 2 species
Photo 1 :
Localisation / Location : Tilos, Aghios Andonis
Date : 15/10/2007
GPS : Lat. 36,45778° N / Long. 27,33083° E / Alt. 2 m
Type : Kodak Gold 200 ASA
Photo 2 :
Localisation / Location : Tilos, Aghios Andonis
Date : 15/10/2007
GPS : Lat. 36,45778° N / Long. 27,33083° E / Alt. 2 m
Type : Kodak Gold 200 ASA